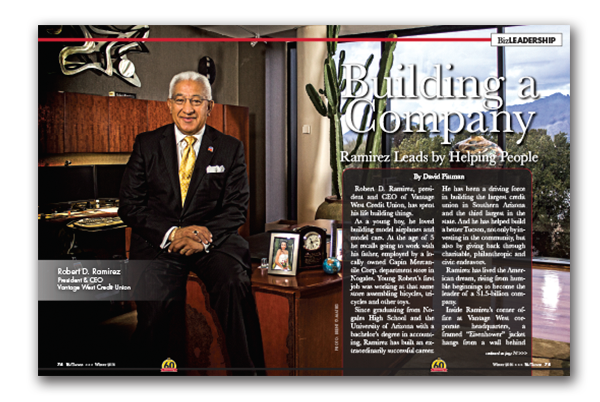 Robert D. Ramirez, president and CEO of Vantage West Credit Union
By David Pittman –
Building a Company
Ramirez Leads by Helping People
Robert D. Ramirez, president and CEO of Vantage West Credit Union, has spent his life building things.
As a young boy, he loved building model airplanes and model cars. At the age of 5 he recalls going to work with his father, employed by a locally owned Capin Mercantile Corp. department store in Nogales. Young Robert's first job was working at that same store assembling bicycles, tricycles and other toys.
Since graduating from Nogales High School and the University of Arizona with a bachelor's degree in accounting, Ramirez has built an extraordinarily successful career. He has been a driving force in building the largest credit union in Southern Arizona and the third largest in the state. And he has helped build a better Tucson, not only by investing in the community, but also by giving back through charitable, philanthropic and civic endeavors.
Ramirez has lived the American dream, rising from humble beginnings to become the leader of a $1.5-billion company.
Inside Ramirez's corner office at Vantage West corporate headquarters, a framed "Eisenhower" jacket hangs from a wall behind his desk. The jacket was worn by Ramirez's father, a U.S. fighter pilot who flew many successful missions over Germany during World War II.
"My father went into the Army Air Corps when he was 18. He married my mom, they were childhood sweethearts," Ramirez said. "I was one of four kids. My father didn't finish high school, but he was probably the smartest man I ever knew. He worked very long hours and instilled a strong work ethic in me. He taught me it was OK to work hard and have fun working hard."
However, Ramirez said it was his mother, who did graduate from high school, who was his "mentor and lifetime coach." He said she taught him basic math and tutored him during his early schooling.
"My mom taught me to never, ever give up," Ramirez said. "She told all us kids that we were going to college, and all four of us are college graduates. I was taught the importance of education and that the more you know, the more you're worth."
After graduating from UA in 1976, Ramirez returned to work in Nogales as the controller of Capin Mercantile, the family-owned retail operation where he worked while growing up. After 2½ years there, he moved to an accounting position at M.M. Sundt Construction Co. in Tucson, and passed his CPA exam. In 1985, he took a job at Vantage West, then known as DM Federal Credit Union, as controller.
"My first day at the credit union, I'm waiting for my boss, the CFO," Ramirez said. "He comes in 30 minutes late, drops a set of keys on the table and says, 'I just resigned, good luck to you,' and walks out. Within a half hour of starting my job, I became acting CFO."
Six months later, while the credit union was still in search of a permanent CFO, federal banking regulators hit the organization with a poor performance rating.
"The former CEO was upset. He wanted to let everybody go," Ramirez recalled. "I said, 'Give me three months and I'll get back your superior rating.' He responded that if I did that, he would double my salary and make me CFO permanently."
Fast forward three months: The regulators are back and they restore the institution's sterling rating, resulting in Ramirez receiving a well-earned raise and becoming the official CFO.
Ramirez has now been at Vantage West 31 years, nearly 16 as president and CEO. During that time, the company has been profitable every year but one. In 2008 – when a cataclysmic financial crisis struck the nation – Vantage West had losses of $10 million. In response to the severe economic downturn, businesses across the country were reducing workforces, cutting benefits and salaries, and slashing overhead in an attempt to survive another day.
Ramirez bucked conventional wisdom and convinced his board of directors to support his plan "to grow our way into profitability, as opposed to trying to save ourselves into profitability."
"The idea was simple, it's all about people, and the most important people are my employees," Ramirez said. "I could not expect them to be motivated and focused if I cut their salaries and benefits. The same was true for my members; I couldn't expect them to frequent our branches unless I had highly trained employees and the latest technology to care for their financial needs."
No workforce reductions were made and salaries and employee benefits actually increased. Ramirez's strategy proved successful.
At the beginning of 2008, Vantage West had $948 million in total assets and 322 employees. By the end of 2009, the company had surpassed the billion-dollar mark with $1.07 billion in assets and had 323 employees. Today, the company has assets of $1.57 billion and 440 employees.
It's no exaggeration to say Ramirez is revered by his employees.
"Bob is a fearless, impactful, inspirational and compassionate leader," said Jill Casey, assistant VP of communications and content marketing for Vantage West. "He is always looking at innovation and the next best thing for the members, the employees and the community."
Examples of Vantage West efforts to benefit Southern Arizona go on and on, as do Ramirez's volunteer efforts on behalf of civic and charitable nonprofit boards. Those boards include the Pima Community College Foundation, Tucson Metro Chamber, El Rio Health Center, DM50, San Miguel High School, Sun Corridor Inc., and Southern Arizona Leadership Council. Ramirez also is chair of the 2015-2016 United Way of Tucson and Southern Arizona fundraising campaign.
Tony Penn, president and CEO of the United Way of Tucson and Southern Arizona, said Ramirez was selected as campaign chairman because he's "a driven leader who has demonstrated great skills in organizing and inspiring people. I've had the good fortune of working with Bob on a number of occasions and he's influenced me personally."
Ramirez will take over as chairman of the board of the Tucson Metro Chamber in April.
"Bob is a terrific guy. I don't know if there are words to describe how great a guy he is," said Mike Varney, president and CEO of the Tucson Metro Chamber. "He is engaged and energetic and he wants to build a better Tucson. He is all about constant improvement."
Ramirez said the most rewarding part of his job is "helping people with financial challenges and making a real difference in their lives." He said what he likes least is an overly burdensome regulatory environment that adds unneeded costs.
Ramirez has received a bevy of awards and designations including the Eller College Associate of the Year (2004), Tucson Hispanic Chamber Business Man of the Year (2009), Outstanding Community Leader from the Eller Hispanic Honorary (2014), and this year he was named Professional of the Year by the Mountain West Credit Union Association. In November, Ramirez was inducted into the CUES Hall of Fame for his years of commitment and dedication to the credit union industry. He was honored as Father of the Year in 2010 by Father's Day Council Tucson in recognition of his work to raise funds to fight type 1 diabetes.
"My mother died from complications of diabetes," Ramirez said. "We didn't even know she had it because she kept it a secret."
There is more evidence of Ramirez's remarkable abilities as a father written on the corner of a white board in his office. It is a note from his daughter, Gabriella, 19, that she wrote in August just before leaving Tucson to attend Regis University in Denver. The note says, "My dad is the best dad ever! P.S. He is awesome." It is signed "Gabbie R."
Ramirez and his wife, Katharine A. Ramirez, are proud of their daughter, a recent honors graduate of Salpointe Catholic High School. She was one of two graduating seniors to receive the Carmelite Medal, which honors a male and female student for consistently demonstrating the ideals of the Christian spirit of Salpointe.
Ramirez also made a point to thank Katharine, his wife of 25 years who he also refers to as his girlfriend of 28 years, for her passion, commitment and dedication in helping him work through the many opportunities and challenges in growing Vantage West.
Ramirez has never forgotten where he came from.
"My mother used to say, 'You have to give before you can get.' I believe that," Ramirez said. "If we help people find work and get people back on their feet, what do they need? Checking accounts, debit and credit cards, car loans and home loans – and who offers that? It's a win/win. Helping people reach their financial goals helps us. It is part of my job, it's in my DNA."