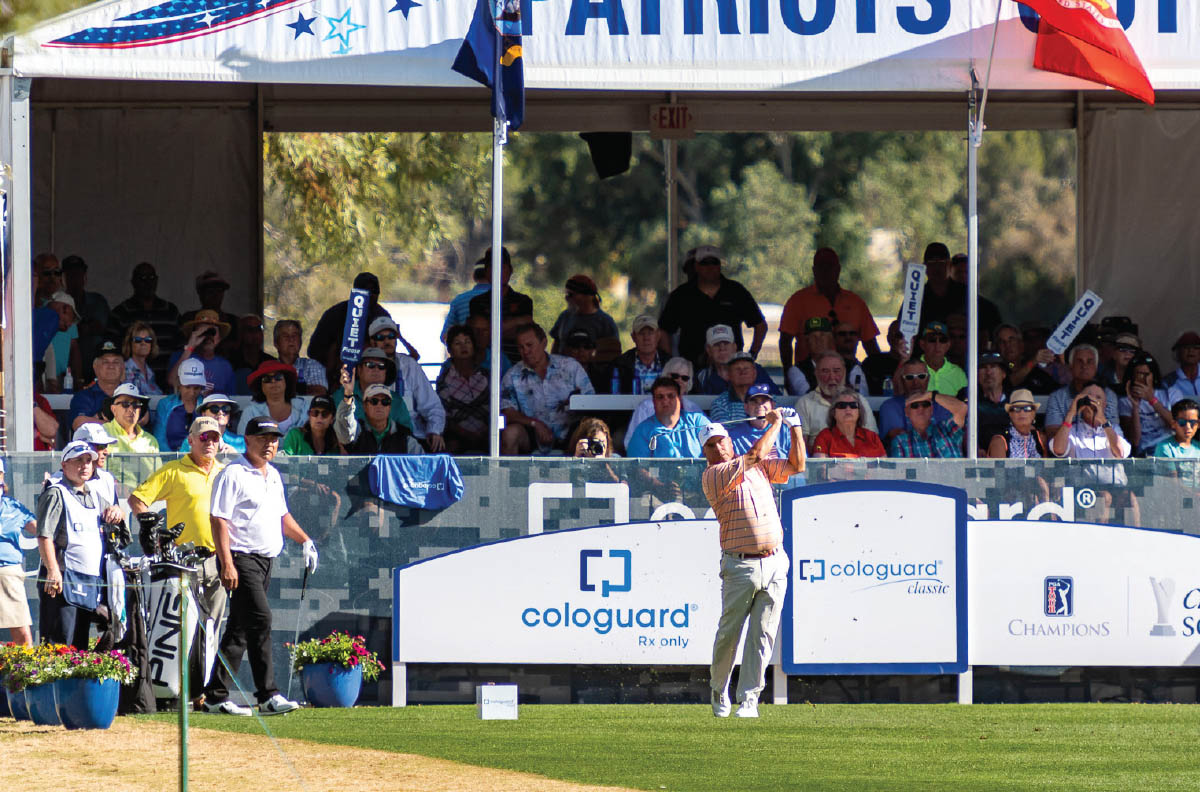 Exact Sciences Becomes New Presenting Sponsor of Cologuard Classic
The PGA TOUR Champions, the Tucson Conquistadores, the First Tee Tucson and Exact Sciences, the maker of Cologuard®, has announced that the Madison, Wisconsin-based company will now be the presenting sponsor of the Cologuard Classic.
The announcement also extends Cologuard's title sponsorship through the 2027 season. The 2023 Cologuard Classic by Exact Sciences will take place at the Omni Tucson National Resort from Feb. 27through Mar. 5 and will have a $2.2 million purse, with $330,000 to the winner.
"We are thrilled to add Exact Sciences as our presenting sponsor and to extend Cologuard's partnership with PGA TOUR Champions," said PGA TOUR Champions President Miller Brady. "We have seen firsthand how important this event is to the Tucson community, and with Exact Sciences joining as a presenting sponsor, this extension ensures its continued positive impact. The Cologuard Classic stands out as a player-favorite on our Tour thanks to the effective colorectal cancer awareness efforts of Exact Sciences, the tremendous work of the Tucson Conquistadores in hosting the event, and the dedicated fans that support the tournament."
Exact Sciences is committed to providing earlier answers and life-changing treatment guidance to support patients before, during, and after a cancer diagnosis. The company's flagship test, Cologuard, is an FDA-approved, noninvasive stool-based DNA screening test for adults 45 and older who are at average risk for colorectal cancer. Since its launch in 2014, more than 10 million people have used Cologuard to screen for CRC at home.
CRC affects all races, genders, and ethnicities, and it's on the rise in people younger than 50.Many people with early-stage CRC have no symptoms or family history – that's why screening is critical because it can detect the disease in early stages, when it's more treatable.Played each March, the Cologuard Classic kicks off national Colorectal Cancer Awareness Month, raising awareness of CRC, highlighting different screening options, and honoring those affected by the disease.
"The Cologuard Classic brings together golf enthusiasts, cancer advocates, survivors, and caretakers to help raise colorectal cancer awareness and drive home the importance of early detection," said Kevin Conroy, chairman and CEO of Exact Sciences. "Extending our title sponsorship allows us to touch more lives through stories of cancer screening and survivorship. Our deepest thanks to the PGA TOUR Champions, Tucson Conquistadores, and First Tee Tucson for their continued partnership."
Over the past six years, charity and community impact have been at the core of the event. Southern Arizona youth athletic programs, First Tee Tucson, and CRC screening and awareness programs have benefitted from tournament proceeds and the fundraising efforts of the Conquistadores. Since 1962, the group has contributed over $37.2 million to youth athletic programs, including nearly $3.1 million since the 2018 tournament, the first with Cologuard as title sponsor.
"The Tucson Conquistadores are honored to partner with Exact Sciences and Cologuard for another five years. The Cologuard Classic has impacted thousands of lives throughout Southern Arizona and beyond. Together, we look forward to advancing both our missions in raising awareness for colorectal cancer and supporting youth athletics throughout our community," said Tucson Conquistadores President Andrew Rosen.