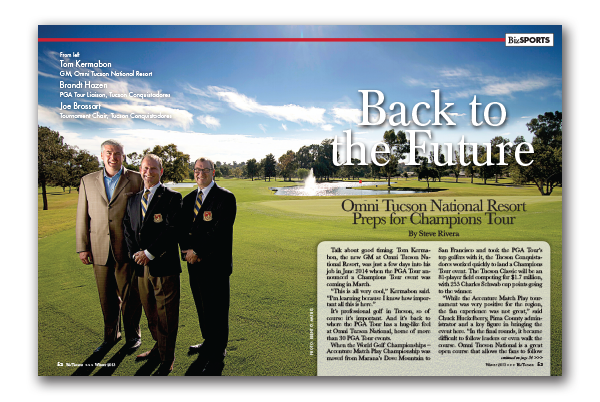 Back to the Future – Omni Tucson National Resort Preps for Champions Tour
By Steve Rivera –
Talk about good timing. Tom Kermabon, the new GM at Omni Tucson National Resort, was just a few days into his job in June 2014 when the PGA Tour announced a Champions Tour event was coming in March.
"This is all very cool," Kermabon said. "I'm learning because I know how important all this is here."
It's professional golf in Tucson, so of course it's important. And it's back to where the PGA Tour has a hug-like feel at Omni Tucson National, home of more than 30 PGA Tour events.
When the World Golf Championships – Accenture Match Play Championship was moved from Marana's Dove Mountain to San Francisco and took the PGA Tour's top golfers with it, the Tucson Conquistadores worked quickly to land a Champions Tour event. The Tucson Classic will be an 81-player field competing for $1.7 million, with 255 Charles Schwab cup points going to the winner.
"While the Accenture Match Play tournament was very positive for the region, the fan experience was not great," said Chuck Huckelberry, Pima County administrator and a key figure in bringing the event here. "In the final rounds, it became difficult to follow leaders or even walk the course. Omni Tucson National is a great open course that allows the fans to follow their favorite players."
The no-cut format features three days of competition March 20-22, with players and amateurs participating in pro-am events March 18 and March 19. The match play event did not have pro-ams.
"To be that close to some of the best in the game is exciting," said Tucson Conquistadores member Russ Perlich, who has participated in many pro-ams. "And the interaction between you and the pro, and the insights they give, is invaluable. It helps with your golf game and it is fun."
Kermabon is hoping it will be fun. All indications are Tucson and all parties involved are thrilled to continue to bring professional golf to Southern Arizona. Tucson has played host to a pro golf event since 1945 in various forms, returning to its home where it was last known as the Chrysler Classic of Tucson.
"The history of this is great," Kermabon said. "I've worked at some landmark properties, and this is a landmark property, too. That's what intrigued me about it (in coming to Tucson)."
As Kermabon gazed upon the course from the 18th hole, he envisioned great golf with great crowds.
"We're ready to do this," he said.
So are the Conquistadores, masters of putting on PGA Tour golf events. For more than 40 years the Conquistadores operated the Tucson Open, then helped with the sales and leadership of the WGC-Match Play.
"The importance of professional golf remaining here in Tucson is beyond words," said Brandt Hazen, the Conquistadores' PGA Tour liaison. "With all the losses we've had (in Tucson through the years), it's of paramount importance economically and helps (continue) to promote Tucson."
While there were no clear-cut figures or economic impact studies done on the Match Play event, and the worldwide media coverage was always trumpeted, the mid-March event will still have an effect, just on a smaller scale.
The Conquistadores' mission hasn't changed: bring the best golf it can to Southern Arizona and raise money for local charities, including The First Tee of Tucson, Boys & Girls Clubs of Tucson, YMCA and others. The group has raised more than $29 million in 52 years.
"We could do it in other ways, but why we like golf so much is because, yes, it's a great sport, but it also promotes Tucson," Hazen said. "And that's important.
"The (pros) have embraced the fans and know that the fans at the event embrace them. It's good for Tucson. It's an event the Conquistadores want to hang their hat on and hopefully have it for years to come."