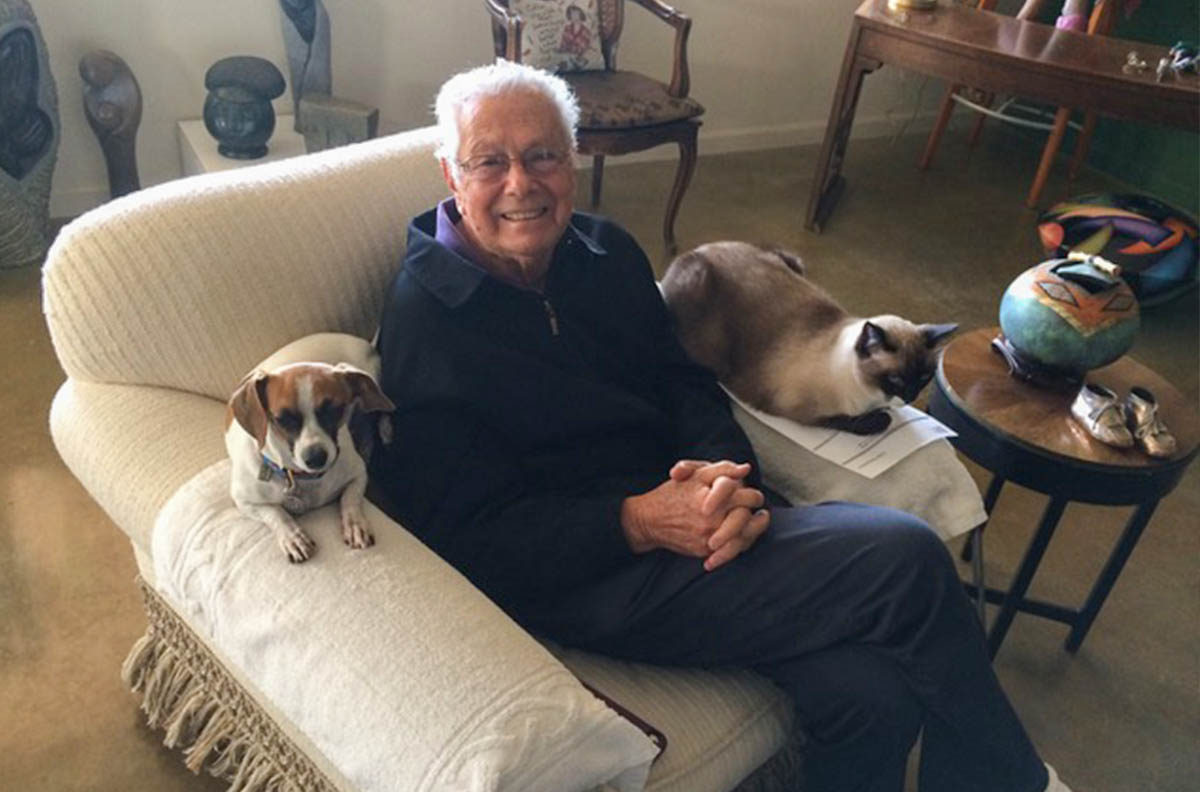 Philanthropist, Restaurateur, Tucson Originals Co-Founder Don Luria Dies at 87
Tucson lost one of its most fervent community champions when Don Luria, 87, passed away after a short illness, surrounded by family, at his Tucson home on Dec. 25. He leaves a legacy of accomplishment in, business, government, education and nonprofit service across more than 50 organizations spanning 65 years.
His favorite quote that sums up how he viewed life was one from Winston Churchill he carried in his wallet: "We make a living by what we get, but we make a life by what we give."
Born March 15, 1935, in Philadelphia, Donald Steven Luria moved to Tucson in 1981 and bought the Tasting Spoon cooking school. It was there he met future wife and famed local chef Donna Nordin, with whom he started Café Terra Cotta in 1986.
Luria went on to co-found Tucson Originals, an alliance of independently owned local restaurants, purveyors and partners working together to raise awareness of the rich and vibrant culinary community in Tucson and Pima County. He also headed up the Council of Independent Restaurants of America. Among the accomplishments of which Luria was most proud are the successes of former Terra Cotta staff members who went on to open their own restaurants: Feast, Kingfisher, Rocco's Pizza, as well as F&B in Scottsdale.
Luria's community contributions were focused on bringing the community together, particularly around the arts, He served as board president of the Tucson Museum of Art, Arizona Citizens for the arts, Advisory Board of UApresents, CIRA, the national board of the Urban & Regional Systems Association, Tucson Culinary Foundation, Slow Food Tucson, Advisory Board of the Arizona State Museum and more than 25 others.
He was a visionary bringing new ideas to the community and philanthropy, including the Ponies de Pueblo, many of which are still on display.
A recipient of numerous awards, Luria's honors included the Scottsdale Center for the Arts inaugural Lifetime Achievement Award, Copper Cactus for community service, Father's Day Council Father of the Year in 2001, Governor's Award for service to the arts, Tucson Weekly Art Patron of the Year (twice), Arizona Theatre Company's Georgie Award. He and wife Donna Nordin jointly received UApresents' Philanthropists of the year and Compass Health Plans Dynamic Duo.
His previous experience included the Office of Planning & Development in the District of Columbia Mayor's office, the Center for Applied User Research in the U.S. Department of Census Bureau of the Census and the US Department of Housing & Urban Development's Office of Policy Development and Research and System Development Corporation. He also worked for IBM Lehigh & Northampton Counties' Joint Planning Commissions. His first job was in his family business, Luria Steel & Trading Corporation
In the area of education, he participated in leading seminars for the National League of Cities, US Conference of Mayors; lectured at the University of Connecticut, University of Denver, Christian University, the University of Iowa, Massachusetts Institute of Technology, Lehigh University, Lafayette University, Boise State College, University of North Carolina and the University of Florida.
Luria earned a bachelor's degree in fine arts from Washington & Lee University and a master's degree in business economics from Lehigh University.
He is survived his wife, Donna Nordin; children Debbie (Wednesday), Cindie, Michael and Andrew (Jeffery Luria); grandchildren Ryan, Casey, Hunter, Max, and great grandchildren Timothy and Hadley. Another granddaughter, Kelsey, predeceased him. Services will be held at 11 am Jan. 8 at Evergreen Cemetery. Memorial donations can be made to the Bald Beauties Project (www.baldbeautiesproject.org).