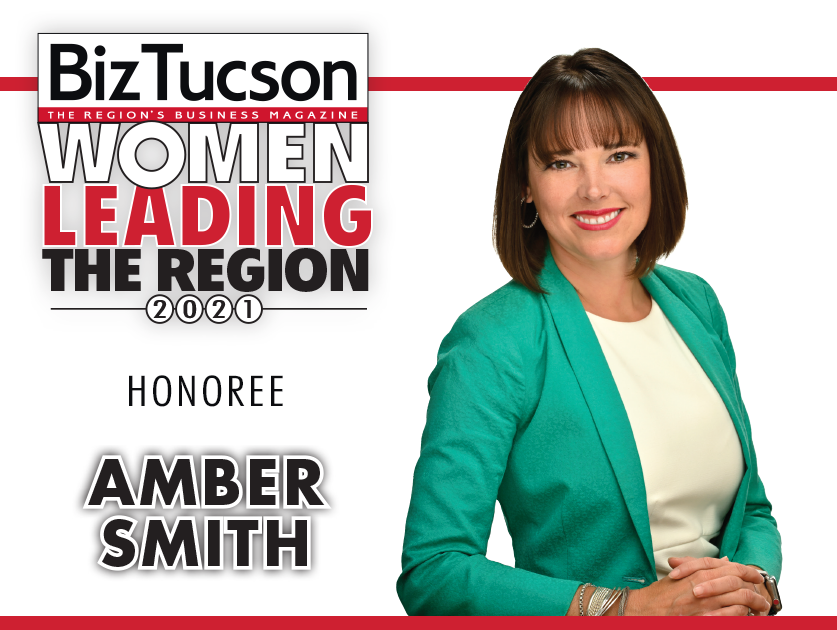 President & CEO
Tucson Metro Chamber
By Tara Kirkpatrick
You won't catch Amber Smith resting on her laurels.
The Tucson Metro Chamber president and CEO is constantly in motion, whether it's at the office, at numerous government, business and community meetings or advocating for regional business interests. Even on weekends, she's busy in her garden or cleaning out closets.
"Getting stuff done makes me feel relaxed," Smith said. "Even as a kid, I was ambitious, career-minded, driven to make good grades with the desire to serve in leadership positions like Student Council. Plus, I was raised by a single mother and my mom drilled it in me that I needed to be financially independent and educated."
"Those two things in combination have created a must-do attitude more than a can-do attitude," said the University of Arizona graduate and former head of the Metropolitan Pima Alliance. "For me, my speech when I graduated from UA with my undergrad, was that I genuinely wanted to make the world a better place. I see problems and I automatically want to jump in and fix them. I can't help it."
Since taking the reins as the chamber's first female president and CEO in 2018, Smith has driven collaboration and innovation as key tenets of her leadership. When the pandemic hit last year, the chamber created a centralized COVID-19 resource page to help businesses, advocated to lessen the burden for restaurants amid the lockdowns and reopenings and lobbied the City of Tucson to increase small business grants, among many other initiatives. Most recently, after months of data collection, the Chamber released five recommendations to enhance and improve the region's workforce development and talent attraction efforts.
Under her leadership, the Chamber aims to be a "100% resource for business."
Smith has clear goals of what she wants to accomplish. "That vision is pulled through with everything my team does," she said. "My staff knows they are the ones bringing the vision to life and that I'll pull a team together and collaborate to problem-solve a minor internal issue or to tackle a community-based initiative. I genuinely believe success isn't a reflection of the work of just one person, but rather the ability to place the right people in the right seats."
"Amber is a true believer in collaboration and innovation," said Ted Maxwell, president and CEO of the Southern Arizona Leadership Council. "Her favorite quote is, 'I have an idea…' It is her leadership ability that brings others together to support her vision."