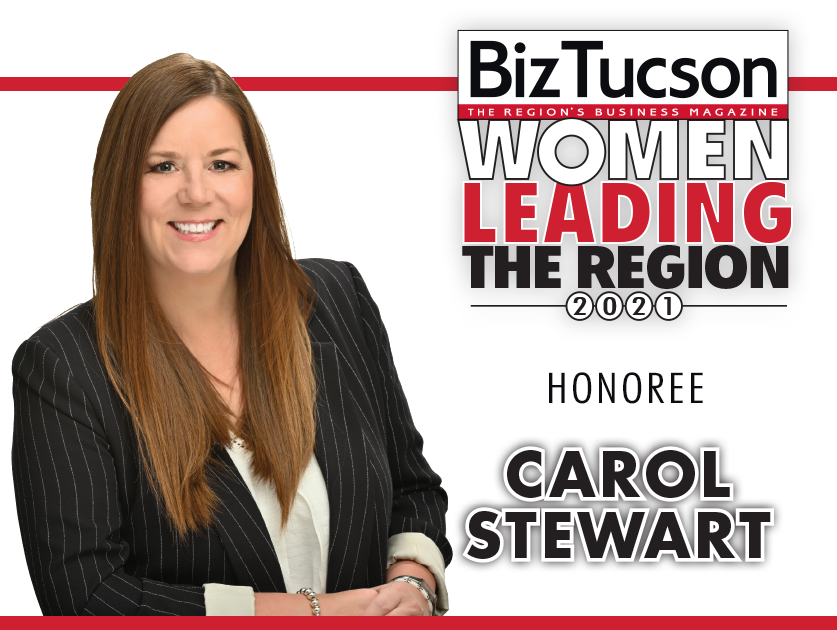 Associate Vice President
Tech Parks Arizona – University of Arizona
By Tara Kirkpatrick
Carol Stewart has often said that "nobody goes to school to learn how to run a tech park."
Yet, the University of Arizona associate VP has been so successful doing just that, perhaps she could teach the first class.
A seasoned leader in research park management in Canada, Stewart came to UArizona in 2018 for the opportunity to build what is now a thriving Tech Parks Arizona, a successful hub of innovation, an incubator network for startup companies and a center for entrepreneurial power that will drive the region's technological future.
"This was an incredible opportunity to work with a great leader like President (Dr. Robert C.) Robbins, and put into play all my lessons learned and best practices from the first 13 years I have been in this space," said Stewart, who helmed the David Johnston Research + Technology Park, affiliated with the University of Waterloo. "I wanted to bring my experience and passion to this community to do something great and make long-lasting impact."
Stewart regularly connects with the Association of University Research Parks, the International Association of Science Parks and the International Business Innovation Association, which focus on innovation and developing parks and incubators across the nation and the world. "Together, we all set the bar and build best practices for our industry," she said.
"We haven't lost a startup due to the pandemic, which is not the norm across the US," Stewart said. "In fact, we have increased our number of startups to 53." Stewart's leadership has ensured advancement with the construction of the new UA Tech Park at the Bridges, as well as a new incubator in Oro Valley. COVID-19 also pushed Stewart's team to new levels of creativity. A "Tamales and Tech Parks" campaign, in which potential clients were sent specialties from Tucson Tamale Company to enjoy during a Zoom meeting, recently won an award from the International Economic Development Council.
"I never stop seeing the potential for new opportunities and collaboration," said Stewart, "whether that be with the university, industry, nonprofit organizations, government, etc. We need to work together to create innovative solutions to the challenges we face as a community. "Every business is important to our success. From the two-person startup to the tech giant, I give all that I have to help them be successful."
"It is truly fitting to see Carol Stewart honored as a Woman Leading the Region," said UArizona President Robbins. "Her vision and leadership of Tech Parks Arizona is creating vital growth in Southern Arizona's innovation ecosystem. My sincere congratulations to Carol for this recognition of her outstanding work."