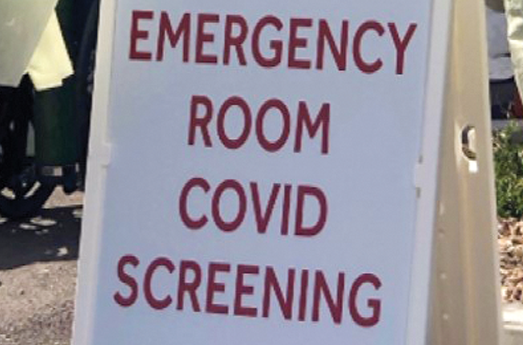 Tucson Hospitals United to Fight COVID-19
Collaboration, Information Sharing Shaped Success
By Jay Gonzales
The various emergency response plans and playbooks put in motion when the COVID-19 crisis hit Tucson in March were carefully constructed to include all the vital elements to ensure the safety of staff and patients at local medical facilities.
Beyond the inventory of items needed – personal protective equipment, beds, ventilators to name a few – another element was just as critical to the response: collaboration.
With the deadly virus bearing down on the region, the healthcare community realized from the beginning that this was not a time to compete for market share. Supplies, information and even staff were shared throughout with the goal of having the most efficient response possible.
"It was fulfilling to see all of us come together and just reaching out to each other," said Judy Rich, CEO of Tucson Medical Center. "I had met with Chad Whelan (CEO of Banner-University Medicine Tucson) a short time before that and, not knowing what was ahead, we decided that we would keep in touch."
With information coming in from all different directions – some accurate and some admittedly not – the Pima County Health Department took a lead role in providing much needed data and support, healthcare executives said.
"The Pima County Health Department has done an amazing job of pulling together all of the ambulatory care providers like us to work together," said Clinton Kuntz, CEO of MHC Healthcare, one of the region's largest integrated, primary care providers. "We've all been sharing the same message, using the same playbook, working together. I think you see that in the response in the community, and you see that Tucson has fared very well."
Dr. Robert England, who until May 30 was interim director of the Pima County Health Department during arguably the most serious crisis ever, knew it was the department's role to be a conduit of accurate information and support for everything including supplies, personal protective equipment and testing. That was not only for healthcare providers, but also for other businesses that were relying on information to determine whether they could even move forward.
"Our role from the beginning was to support partners with communication, with information as fast as we could get it, and turn it around, realizing that we've all been drinking from a fire hose in terms of messages that seem to change every day," England said.
For instance, England said, staff was pulled from other duties to be liaisons to long-term healthcare providers, clinics, shelters, first responders and the general business community, such as restaurants.
"We're trying to make sure that information isn't dying with us, even though we put it on a website and make sure that key people are aware of it," England said.
A pivotal moment in the community-wide collaboration was a March 10 meeting called by the health department before stay-at-home orders were put in place locally. It was an in-person, all-hands-on-deck meeting attended by representatives of the healthcare organizations – and in most cases, their CEOs or directors.
"That was sort of a kickoff. We were trying to get the healthcare community in the same room to be in on some of the planning," England said. "Way back in March, we didn't know whether we were going to have a surge that might look like what everybody's seen in New York. A lot was done at the state level and locally in terms of just planning how we were going to communicate and carry certain things out."
The collaboration went beyond trading ideas and information. Several of the healthcare organizations banded together to produce a community awareness media campaign with the tagline "Coming Together for You."
"We began the concept work independently but quickly realized the message resonated across the community and would be powerful with all of the partners coming together," said Julia Strange, VP of Community Benefit at TMC. "We had a common purpose and focused message so getting to consensus was pretty easy."
The campaign, produced by the local agency Hilton & Myers Advertising, came together in about two weeks from the time the idea reached the agency until it was launched in late March on television, radio, print, outdoor and social media. The organizations that contributed to the campaign were TMC, Banner, El Rio Health, Mel & Enid Zuckerman College of Public Health and Pima County.
"Our goal was to give the community confidence that their local healthcare providers and public health entities were prepared to address the challenges ahead," Strange said.