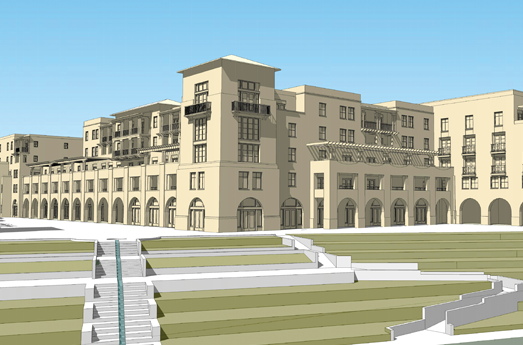 One of Rio Nuevo's Largest Projects to Date
By Christy Krueger
In 1775-76, Spanish military commander Juan Bautista de Anza led an expedition through Arizona and California that included travels along the Santa Cruz River in Tucson. Today, the trail that follows the historic journey is named after Bautista, as is a new mixed-use development on the river's west bank.
The Bautista, within the Mercado District west of downtown, is the newest project of The Gadsden Company, a family-owned real estate company founded in 2005. For several years, Gadsden has developed the commercial mixed-use parts of the district, bordered by Cushing Street, Paseo de los Zanjeros, Congress Street and the Santa Cruz River.
"The Mercado District is the flagship transit-oriented development of Menlo Park," said Adam Weinstein, Gadsden's president and CEO.
The $72.5 million Bautista development includes 253 apartment units and 16,500 square feet of retail/commercial/restaurant space plus underground parking. Construction will begin the first quarter of 2021, with completion expected in 2022. 
Stefanos Polyzoides of Moule & Polyzoides Architects & Urbanists in Pasadena, Calif., leads the design team. The firm specializes in urban centers and creating residential complexes around courtyards, winning the Congress for the New Urbanism Charter Award numerous times. Weinstein calls Polyzoides "one of the founding fathers of the new urbanism."
The Bautista will include studios, one-bedroom and two-bedroom units. "It is highly amenitized with a pool, spa, four large courtyards and an enhanced river park element," Weinstein said. "The demographics will be millennials and boomer move-downs – those who have moved from larger homes and want a more dynamic urban living experience." Rent, he said, will be at market rate, similar to current downtown apartments.
The Paseo Grande, a public walkway that weaves around the Mercado District, will run through The Bautista. There, it forms an open-air plaza lined with ground-level commercial and retail spaces while residential apartments sit above. The plaza will include water features, plantings and furniture groupings.
With the expectation of year-round Santa Cruz River water flow, Gadsden will improve the area to create an inviting park-like space. Shade, picnic tables and recreational use, as part of the enhanced Santa Cruz River Park and the 120+-mile Chuck Huckelberry Loop, will be available to the entire community.
Investments from Rio Nuevo, which calls The Bautista one of its largest projects to date, and other available funding will allow this project to go forward.
The Rio Nuevo board is providing a $2.8 million investment, which includes $1.8 million in cash and $1 million in sales tax rebates. "We'll give sales tax received from retail business back to them as a sales tax rebate," explained Brandi Haga-Blackman, Rio Nuevo's administrative director.
Gadsden is also leveraging its private equity along with outside investments through a Qualified Opportunity Zone. "This is a federal designation for certain census tracts in each state to spur economic development and job creation," Weinstein said. "The designated QOZ overlays the entirety of our Mercado District properties. Bautista is in that zone."
This past March, the Rio Nuevo board approved a deal with Gadsden to buy the land, which is valued at $11.8 million. "We're purchasing the land and giving it back to them and they'll pay rent to us; they pay the rent all up front," Haga-Blackman said.
Weinstein is enthusiastic about The Bautista's uniqueness and its expected community offerings. "It's the first Opportunity Zone-leveraged investment of its kind within the Rio Nuevo District. It allows a unique connection between the Mercado District and the Santa Cruz River Park. And it's the next phase of expanding the Mercado District with its 16,500 square feet of retail, commercial, restaurant, public plaza and River Park connection."
Rio Nuevo currently has several downtown-area developments in various phases. Approved by voters in 1999, Rio Nuevo is a tax increment finance district and is funded by a share of state sales tax dollars. Its state-appointed board of directors manages and invests these funds to create jobs and long-term growth for Tucson.