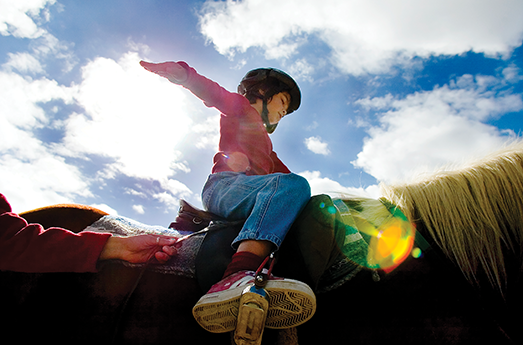 TROT Offers Valuable Equine Therapy
By Mary Minor Davis

Programs Serve Veterans, Riders of All Ages

For almost 50 years, Therapeutic Riding of Tucson has provided equine therapy services to the community and beyond.
Founded by Barbara Rector and Nancy McGibbon, TROT held its first class in the fall of 1974 with the help of the late Ruth Elizabeth "Bazy" Tankersley, owner of the former Al-Marah Arabian Farm. Enrolled were four students from the Arizona State Schools for the Deaf and the Blind.
Today, TROT is an internationally renowned organization that provides programs for people of all ages with mental and physical challenges. More than 2,000 riders and clients participate in programs annually.
Therapeutic classes are conducted as group, semiprivate or private lessons. All instructors hold Professional Association of Therapeutic Horsemanship certifications and work with parents, caregivers and participants to set appropriate goals. The instructors, with the support of a skilled team of volunteers and horses, enable students to safely develop independent riding skills.
In 2010, TROT started one of the first therapy programs for veterans and continues to partner with the Southern Arizona Veterans Administration. Yet, school-aged children represent their largest clientele. TROT partners with the Arizona State Schools for the Deaf and the Blind; Tanque Verde and Sunnyside school districts; Davis-Monthan Air Force Base Family Services; and the Southern Arizona Girl Scouts.
Thanks to financial support from Angel Charity for Children, TROT has added a clinic offering hippotherapy, a form of physical, occupational and speech therapy in which a therapist uses the characteristic movements of a horse to provide carefully graded motor and sensory input.
"I'm a veteran of the U.S. Navy," wrote Joseph Bailey in a TROT testimonial. "I have a spinal cord injury and was informed about TROT. When I visited TROT I found a very caring and helpful staff ready to teach me the fundamentals of horseback riding.
"My goal was to ride in the Tucson Annual Rodeo Parade. On February 21, 2013, the big day arrived, and all the lessons taught to me by TROT were put to use in one of the most amazing experiences in my life. I rode the route of the parade proudly and cheerfully waving to spectators."