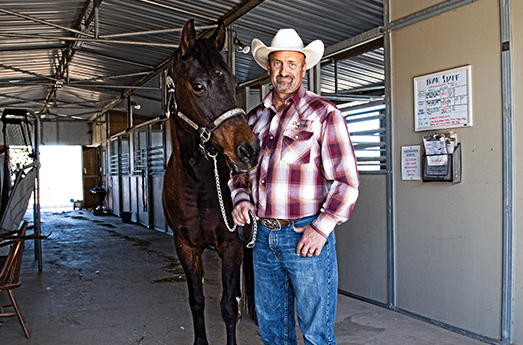 TRAK Lassoes a Fast Pitch
By Monica Surfaro Spigelman

Ranching, Animals Inspire Human Healing
Rancher Scott Tilley is all grit and heartland honesty with a passionate message about the therapeutic value of ranching and human-animal bonds.
His authentic, powerful pitch about his Therapeutic Ranch for Animals and Kids charmed a sold-out Fast Pitch audience last November and earned Tilley's nonprofit the 2019 Fast Pitch BizTucson and Tucson Electric Power to the People Award.
"Our fast-paced world has gotten us away from the basic instinct to work with our hands and know about the land and animals," Tilley said. "It's easy to lose your center these days, and there is enormous potential to get it back through our ranches."
Fast Pitch – the flagship program of Social Venture Partners Tucson – celebrated its fifth anniversary in creative capacity-building for Tucson nonprofits in 2019. TRAK was one of seven semifinalists at the November fete whose persuasive performances were awarded cash prizes at the region's top venture philanthropy event.
TRAK was founded in 2007 by Tilley and his wife, Jill, as an initiative focused on ranching and animal-assisted life skills as transformative tools for health and well-being. Since its founding, the appeal of connecting ranch animals and people has been far-reaching and is improving the mental and physical health of participants through education, ranch-life skill building, vocational training, community outreach, family events and camps.
In 2019 alone, TRAK registered more than 2,300 new participants at the ranch and activated more than 400 volunteers. TRAK also schedules service visits to schools, memory care facilities and assisted living centers all over Tucson. Hundreds more seriously ill children and their families at the Children's Clinics are visited each month.
Ranching Traditions
The pull of animals and ranching runs deep for Tilley, who worked his father's cattle ranch after high school and was running horse stables and a riding school until a little more than a decade ago. That's when he was struck with his "aha moment" that led to TRAK.
"I was running a Tucson boarding facility and at the same time helping out a local lady doing horse therapy with troubled teens," Tilley recalled. "I enjoyed the work and saw instantly how a horse could calm an autistic child or inspire a troubled teen to prefer ranch chores over video games. It reminded me of why I was in the horse business."
His wife, Jill, was a special education and rehabilitation teacher who knew what unique experiences were offered by animal interaction and ranching. The couple also had three girls and wanted their children to know ranch life, as they had.
With their own horses, a couple of sheep and rabbits, and based out of a small barn on Craycroft Road, the Tilleys set up a summer camp, developed a program with four local schools, and earned nonprofit status. From those small beginnings, the ranch evolved, moving in 2016 to a larger plot of donated land.
TRAK is now a five-acre complex with stables, a lazy river, enclosed pens and more than 100 animals – horses, miniature animals, donkeys, goats, chickens and sheep.
As ranches are disappearing throughout Pima County, Tilley is fervent about promoting the importance of Western traditions in Tucson and sees ranch life as a critical component of wellness in the region.
Tilley noted that individuals with stress and anxiety can often hide emotions in traditional therapies. Not so with animals, he said. "Animals have a sense of what's authentic," Tilley said. "I see families come here struggling, but within a week or two of hanging around and volunteering, their lives are changed."
Work the Land and Learn
TRAK uses a responsibility-based, "get your hands dirty" framework filled with learning and emotional benefits. Participants handle chores from cleaning out stalls to grooming horses. "It's their ranch and their animals," Tilley said. "The ranch way of life helps build a work ethic and an agility that inspires curiosity, team-building and even problem-solving. They take ownership and their confidence builds."
TRAK's innovative programs also include "skills for service," where kids or adults acquire hands-on experience. There are internships for vet techs and animal-education programs. TRAK also offers family memberships, camps, field trips and volunteering opportunities. A professional staff is certified in a number of therapeutic or equine programs.
Tilley and his staff have many stories about how experiential work on the ranch is making a difference in the community. For example, a nursing home senior who was becoming isolated and depressed began opening up more after a few TRAK visits. "He hardly spoke at the nursing home, but he came alive when TRAK visited," Tilley recalled. "It's not rocket science. Animals help people get back in touch with themselves."
"It's amazing how a kid who won't make her bed, and has to be dragged out of bed to go to school, will get up at the crack of dawn to come clean out stables and feed the chickens," Tilley added with a grin.
TRAK has set a goal to serve over 3,000 members of the community in 2020. TRAK's animal-assisted life skills and therapeutics program are also helping both youth and adults in learning settings that address age-appropriate life skills and mental health.
"Creating a bridge so that the community can retain access to ranching and all its powers and benefits is our TRAK vision," Tilley said. "We want people to see that getting your hands dirty can actually make you feel good. And that life is better for it."