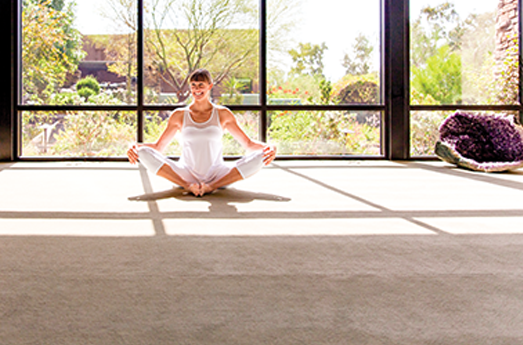 The Cachet of Canyon Ranch
By Christy Krueger

Tucson Founder Launched the Modern Spa Movement

Motivation to better one's life comes in different forms.
For Mel Zuckerman, a Tucson real estate developer, it took the death of his father after decades of unhealthy living to jolt him out of his own harmful habits.
With encouragement from his wife, Enid, Zuckerman opened a wellness spa on a property that was a former Tucson dude ranch, where the couple could live healthy lives and help others experience the same in a beautiful setting. After Canyon Ranch opened in 1979, it was Tucson's only destination spa for 16 years before Miraval came along. Canyon Ranch eventually became one of the top destination spas in the world.
"I realized that the power of physical and psychological reinvention – through exercise, diet and behavior change – was a gift I could share with other people," Zuckerman told BizTucson in 2009.
As word got out about the renowned programs in personalized and preventive wellness at Canyon Ranch, people flocked to Tucson to create their own positive experiences in mind, body and spiritual health. Locations were added in Lenox, Mass., and Las Vegas.
In 2004, Canyon Ranch At Sea was launched and is now found on 12 cruise ships. Last year, the Tucson-based brand branched out with another new concept – Canyon Ranch Wellness Retreat in Woodside, Calif., where guests stay in luxury tree houses, elevated among the giant redwoods.
"We are a true integrative wellness brand that offers comprehensive health and healing experiences," noted Lisa Fisher, director of sales, marketing and communications at Canyon Ranch Tucson.
Two of the more popular Tucson offerings, she said, are Rejuvenating Waters – a combination of steam, hydrotherapy and massage to cleanse the body and promote healing – and the Healthy Lifestyle consultation that offers guests an opportunity to examine life issues such as grief, relationships and sexuality.
Zuckerman believes that Canyon Ranch is a world leader among destination health spas in many ways. It transformed the spa industry from one of pampering to a concentration on fitness, health and wellness. It's responsible for the professionalism of the industry, and his Canyon Ranch Institute educates underserved populations around the country on how to maintain a healthy lifestyle through exercise, behavioral change and nutrition.
Canyon Ranch is one of the first local businesses to reach an international awareness, a boost for Tucson's tourism sector. And it allowed Zuckerman and his wife to help lead University of Arizona to national and international acclaim through their major donations to what is now the Mel and Enid Zuckerman College of Public Health and the Andrew Weil Center for Integrative Medicine, both housed at UArizona.
While Canyon Ranch offers exercise classes, skin treatments and outdoor sports, it takes on a more medical bent than some other large spas and has a full medical staff, including experts in exercise physiology, life management and nutrition. Dr. Richard Carmona, the former U.S. Surgeon General, serves as chief of health innovations. "We are focused on evidence-based prevention, science-based precision and high-touch personalization," Fisher said.
One of Canyon Ranch's most sought-after medical programs is the DEXA body composition assessment, which measures total body fat, lean tissue and visceral fat using a low-radiation scan. In the first phase, a physician administers the test and advises the guest on how to reduce the risk for disease, Fisher said. The second phase includes an in-depth meeting with an exercise physiologist who interprets the test data and helps the guest set goals for muscle mass and body fat levels.
In 2017, the Zuckermans decided to retire, transferring ownership to John Goff, an investor partner since 1996. This change, according to Fisher, has not made the spa less locally driven.
"Canyon Ranch Tucson remains the heartbeat of the entire brand," Fisher stressed. "In addition to ownership enjoying time on property, they have entrusted an extensive leadership team to ensure Tucson management feels empowered to make decisions in the best interest of the guests, members and homeowners."