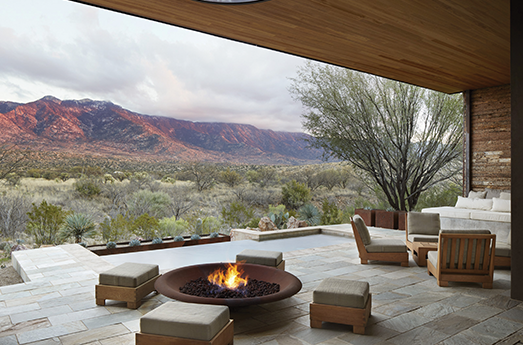 Miraval, a World-Renowned Getaway
By Christy Krueger

Tucson Spa Offers Distinctive Wellness Programs
Public baths of the Greek and Roman times may have been the forerunners of our 21st century destination health spas, but they didn't come close to the amenities and comfort offered to today's spa guests.
Case in point: Miraval Arizona.
Miraval made its entrance in 1995 at a desert clearing north of Tucson that feels like a secret getaway. It is consistently recognized as one of the top destination spas in the world by the media and travel industries. The 400-acre sanctuary accommodations include luxurious guest rooms, therapeutic and meditative offerings, physical challenges and body-renewing treatments.
It's also had its share of celebrity appearances, including Debra Messing and Ellen DeGeneres. In 2007, Oprah Winfrey made a visit with a group of women who tried their hand at Swing and a Prayer, a challenge course in which guests face their fears by climbing a 35-foot ladder and swinging from a cable.
Since it was purchased by Hyatt Hotels corporation three years ago, Miraval has expanded its brand, opening in Austin, Texas, last year and in Lenox, Mass., this spring.
Jill Harlow, corporate director of brand and marketing for Miraval Group, said Hyatt shares a philosophy with Miraval about caring for guests and helping them create a life in balance. "Hyatt saw that wellness was becoming more important to travelers and wanted to make a bold move to partnering with a best-in-class wellness brand," Harlow said.
During the past few years, Miraval has added numerous experiences here in response to guests' growing interests. These include The Retreat at Miraval, a 22-villa enclave offering the property's top accommodations; beekeeping classes; an organic farm, where guests can learn about farming practices; and a new educational kitchen. In partnership with Williams Sonoma, the Life in Balance Culinary Kitchen offers healthy cooking classes where guests learn techniques to help them make nutritious meals at home.
Other popular activities at Miraval include underwater Thai massage, the floating meditation experience and noteworthy equine programs. Founded by Wyatt Webb 25 years ago, these horse offerings are on almost every guest's itinerary, Harlow noted.
"Wyatt has been making equine therapy synonymous with the Miraval experience," she said. "Guests come from far and wide just to work with him, and we're proud to say that he's changed thousands of lives in his time at Miraval."
Although Hyatt is a giant conglomerate, Harlow said its leaders understand the importance of personalized attention and allowing Miraval's specialists to heal the way they see fit rather than following handed-down corporate mandates.
"While there are programming themes at all our resorts, the programming itself is largely different," she said. "Hyatt recognized this aspect as essential to the Miraval DNA and is therefore very supportive at fostering our experts' talent."
Harlow also explained that Miraval's philosophy is to help its guests create an experience customized to their own wellness needs. "We offer hundreds of programs that focus on mind/body/spirit well-being, which allows our guests to experience exactly what they need or something new that challenges them out of their comfort zones.
"That's often where our guests find the most growth."