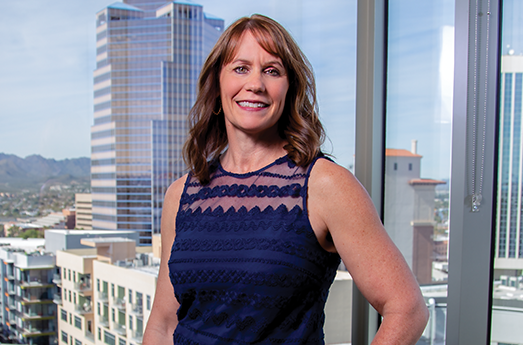 First Female President in TEP's 128-Year History
By Jay Gonzales
When Susan Gray arrived at Tucson Electric Power as a full-time engineer 23 years ago, it was easy to tell there was something different about her and where she was headed.
The most noticeable was that she was a woman in the notoriously man's world of operations at an electric utility. But what was most rare about that was it didn't seem to matter. She had the capabilities, approach, drive and acceptance to carve a path to where she is today – the first female president in the 128-year history of TEP and its umbrella company, UNS Energy.
"She's the right choice for this job because of her experience with the company, her collaborative leadership style and her business knowledge," said David Hutchens, who, until Gray's promotion Jan. 1, held the positions of president and CEO. He is still the CEO of the company, but has ceded the daily operations to Gray as he attends to more of the business with UNS Energy's parent company, Fortis. "It's the perfect time for her skills to take over that role."
With titles and responsibilities now separated at UNS Energy and TEP for the first time in decades, Gray and Hutchens work as a team to keep the company on track with the many challenges it faces, including the impact of solar power on the industry, the reduction of fossil fuel usage, the company's role in the community, and the importance of its 2,000-plus employees throughout Arizona.
"I'm running the day-to-day, so this is an opportunity for me to take on a greater responsibility," said Gray, who went from director to VP to SVP and COO and then to president in five years. She remains the company's COO.
"We just refreshed our strategy. Our CFO, Frank Marino, and I led that effort and we also created a new company vision statement and a new mission statement. I was able to lead all of that so it's not like Day 1, I'm president; now we're going to take a right turn. I'm responsible for a really well-run organization. I have the opportunity of inheriting that. A big part of it is carrying on with where we were already headed, and part of that is because I got to be part of deciding where we were headed before I was president."
Jim Pyers, a retired TEP VP and one of Gray's mentors, said it was pretty apparent Gray was headed for a leadership role when she arrived to work in his area in 1997. That came after a stint as a student intern in 1994. She left the company because it wasn't hiring at the time and worked as a consultant before being hired back as an energy management system engineer. She began making her way through the operations side of the business in various engineering positions.
"At the time, female engineers were not the norm," Pyers said. "Being an engineer was one thing, but being in operations was something entirely different."
Pyers said Gray had an approach that he knew would make her successful in the male-dominated environment.
"She knew what questions to ask and then she listened," Pyers said. "I thought that she had leadership potential as time went on. She was, for lack of a better word, durable in an environment where females were the exception."
The durability came into play from the start when Gray arrived at the University of Arizona in hopes of becoming a doctor while competing on the UArizona swim team, which was one of the top college programs at the time. She remains a competitive triathlete today. As she discovered where she wanted her career to go, she changed directions in school a few times, ultimately putting herself on the leadership path.
"I was pre-med studying biology for the first two years while I was swimming at the UA and was not a serious student at the time," Gray said. "I thought, 'Gosh, if I don't get into medical school, what am I going to do with a biology degree?'
"I thought I could switch to biomedical engineering. At the time that was a master's program, so you had to do your undergrad in either electrical or computer engineering. I didn't really know that much about computers at the time, so electrical sounded more doable to me. I pretty much started over."
It took six years to complete her undergraduate degree in electrical engineering. She later added a master's in business administration from the Eller College of Management at UArizona.
While engineering was her education and her field, leadership was her goal, Gray said.
"I enjoy solving problems and I think that's what engineers do," she said. "But I think I enjoy solving people problems more, and I realized that I had a knack for bringing people together to solve those problems. I found myself in an unofficial leadership role and I just thought that I could make a bigger difference if I took the leadership path."
Gray said that, as she began to work her way through the ranks at TEP, she didn't necessarily see gender as the challenge so much as the time it might take her to move into leadership positions. She said she was in her 30s and saw the employees who held director positions as having put in a lot of years to get there. She had started a family and thought she would be limited in her advancement because – by choice – she preferred not to spend long work weeks away from her kids.
"In some ways I was a reluctant leader, but I kept taking that next step because I felt like I could do it," she said. "I didn't necessarily aspire to be a vice president and I think part of it was just I hadn't been exposed to the requirements of the position. Probably a couple of years before I became a vice president, I started warming up to the idea that it would be something I could do and would want to do."
Then it happened – fast.
In 2015, she was promoted from director of design and construction services to VP of energy delivery. She was promoted to SVP and COO in 2019 and a year later took the helm as president.
"Being exposed to the officer group, just being part of the conversations, you learn a ton," Gray said. "You learn what kinds of questions they ask, what do they think."
She took the initiative of working with an executive coach provided by the company and, through various self-assessment tools and 360-degree reviews, learned a lot about herself that she might not have otherwise realized. The knowledge gave her confidence that she was in the right place in her career and, more importantly, capable of leading the organization.
"I think it held up a mirror and I saw some things I hadn't seen. Other people saw more potential in me than I did. But you start to recognize, 'Oh my gosh, I do have that potential,' and it builds confidence.
"I connect really well with people. I enjoy being with people at all levels in our organization. Coming up through operations, I've had an opportunity to connect with a lot of people – most of the people in this company. I think that builds some loyalty and some trust with those employees and they're more willing to follow my vision because they know me, and they know that I care about them."