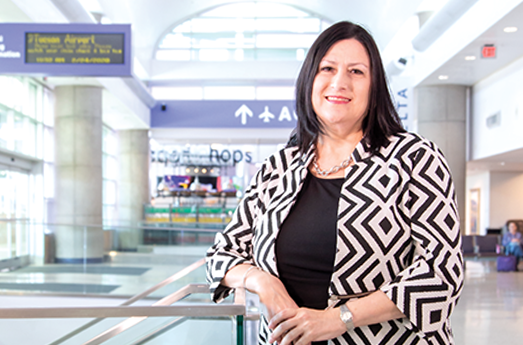 By David Pittman
Airport Chief Executive Has Aviation in Her Blood

Aviation is in the DNA of Danette Bewley, president and CEO of the Tucson Airport Authority.
"I didn't get where I am by myself. I had a lot of wonderful support, with my mom and dad being most influential," Bewley said. Her father was a decorated naval pilot flying missions over Cuba. Her mother was a flight attendant. They met in 1962 when he was flying from Key West to Miami between missions.
Bewley grew up in San Diego, where her father continued as a naval fighter pilot before working more than 35 years flying commercial airliners.
"Aviation has been what I know from birth," said Bewley, who became a pilot herself. "When I was young and someone asked, 'What are you going to be when you grow up?' …for me it was always centered on aviation. Even today, I still want to look out the window when a plane takes off. It's just so amazing and fascinating."
Bewley was named TAA president and CEO in December, after serving on an interim basis since last July. Bewley, previously TAA's vice president of operations and COO, replaced Bonnie Allin. Bewley has 30 years' experience in commercial airport management. She came to TAA in 2012 after stints with airport authorities in Reno-Tahoe, Jacksonville, Fla., and San Diego.
"Danette has a strong background as an airport executive and we're fortunate that she was already a member of the TAA team," said Lisa Lovallo, former chair of the TAA board. "Since Danette took over the leadership role, there has been a new willingness for the airport to be more closely connected to the community."
Bewley's rise to the top position at Tucson International Airport coincided with several developments:
• Sun Corridor Inc. and TAA introduced an "economic blueprint" that targets three TAA-owned land parcels for commercial development. The plan also envisions a possible new airport entrance and terminal connected to Interstate 10, "shovel ready" airport sites and incentivized trade zones.
• Officials of the National Guard Bureau, the city of Tucson, TAA and Aerovation signed a letter of intent to relocate the entrance to the ANG base from Valencia Road to South Park Avenue. Aerovation, a Tucson-based aerospace technology firm, would be moved if the gate is built. The gate, opened in 1958, does not meet current military safety and security standards. The agreement, 7 1/2 years in the making, allows design work to begin. Congressional approval may be needed for full funding of the project.
Bewley delivered her first State of the Airport Address at the TAA annual meeting Jan. 27. She reported that TUS passenger numbers grew by 5% in 2019, making it the fifth-busiest year in the airport's history.
"We were just 2,800 passengers short of topping 3.8 million passengers for the year," Bewley said. "It would've happened had it not been for the FAA's grounding of the Boeing 737 MAX in March that caused three of our largest airlines to reduce their schedules across their networks. The situation continues to affect us this year."
Bewley said TAA this year will embark on its largest ever construction endeavor – the Airfield Safety Enhancement Project. Currently, TUS has a main runway about 11,000 feet long and 150 feet wide and a smaller general aviation runway.
In the project, the general aviation runway will be demolished. A new runway will be built parallel to the main runway. A taxiway will sit between them to provide additional elements to meet current safety standards.
The project is currently estimated to cost $230 million and will take four to six years to complete. Design work is underway.
Bewley told BizTucson she's "been blessed" to work at great airports and travel throughout the country to grow her professional skills and knowledge base.
"This is the fourth airport system I've worked for and I'd like it to be my last," she said. "I really love it here. I would like to retire here in Tucson when it's time for that. This airport and all of the programs and projects we have going on are so wonderful and engaging that you can't help but feel passion for this industry."