Study Buddy Boosts Students' Cognitive Function – Naturally
Brainiac Supplements, LLC, announces the launch of Study Buddy, a doctor-recommended, herbal-based study aid specifically designed to help college and university students safely and naturally improve brain health and performance; enhancing memory, mental clarity and focus. Study Buddy's release comes at a time when experts estimate that 1 in 7 college students worldwide use "smart-drugs" to help them study and improve their grades.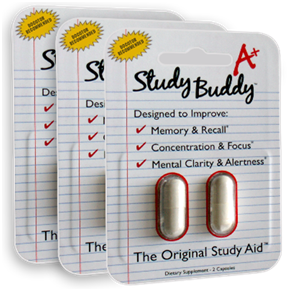 "Many students rely on some type of study supplement without realizing it, whether it's a cup of coffee to wake up, or an energy drink to stay alert," said Tyler Johansen, president of Brainiac Supplements. "Some even go further, and knowingly abuse prescription stimulants, putting themselves at major risk of harm. We created Study Buddy to be a safe, healthy way to help all students improve performance. It's a non-dependence-forming cognitive supplement, made with natural ingredients, designed to optimize brain function. This is how Study Buddy makes studying a faster, easier, more enjoyable process, all in a healthy way. It's like getting all the results, with none of the risk."
Johansen's concerns about dangerous off-label drug abuse for study purposes are well-founded. According to the 2008 National Survey on Drug Use and Health by the Substance Abuse and Mental Health Services Administration, about 1 in 4 students between the ages of 18 and 20 reported illicit use of prescription stimulants at least once. Johansen and his team look forward to Study Buddy playing a major role in positively addressing the real problem of "smart-drug" abuse; offering instead a product that safely helps students boost academic performance, diminish stress levels and improve health by providing the body and brain the nutrients it needs to function optimally.
Mohammad Mahdi Pessarakli, M.D., the company's medical director, believes the proprietary blend of vitamins, minerals, adaptogenic herbs and other bioactive compounds confer clear benefits to neurological performance and stress management, as well as even cardiovascular health.
"From my perspective, those are major contributors to enhanced quality of life, which is the most important comprehensive health outcome measure of all," said Dr. Pessarakli, who joined the company after trying Study Buddy himself. "The effects were impressive, as I stayed focused and productive. Best of all, when I went to bed, I slept like a baby. That's simply something I can't do if I go near any one of my default stimulants – green tea, yerba mate, medium-roast coffee – any time after 6 p.m."
Timothy M. Marshall, Ph.D., the company's scientific advisor, who is a trained nutritional biochemist, neuropharmacologist and a professor of chemistry and pharmacology, agrees that Study Buddy is a healthy and natural way to safely and effectively improve memory, concentration and focus while decreasing stress.
"As an expert in how nutrients and biological effectors work in the body – to influence and promote the health of the body, brain and nervous system – I offer my full support of Study Buddy as a healthy and safe nutrient-based study aid that supports healthy brain function and promotes health and well-being," Marshall said.
Study Buddy packets are sold in all Circle K stores throughout Arizona and Nevada, as well as online at www.StudyBuddySupplements.com.
For media interviews with the Study Buddy team, or for product samples, please call the contacts at the end of this press release.
ABOUT STUDY BUDDY®
Study Buddy is a doctor-recommended, herbal-based supplement, made with natural ingredients, formulated specifically for college and university students. Study Buddy is designed to improve mental performance†, (memory, concentration, focus, recall), so students can learn faster and more effectively†, without the dependence-forming attributes or safety-risks associated with other products or substances. Each packet contains two easy-to-swallow capsules packed with a science-backed blend of vitamins, minerals, adaptogenic herbs, antioxidants and other brain-boosting nutrients†. For more information, including a complete list of ingredients, go to www.StudyBuddySupplements.com.