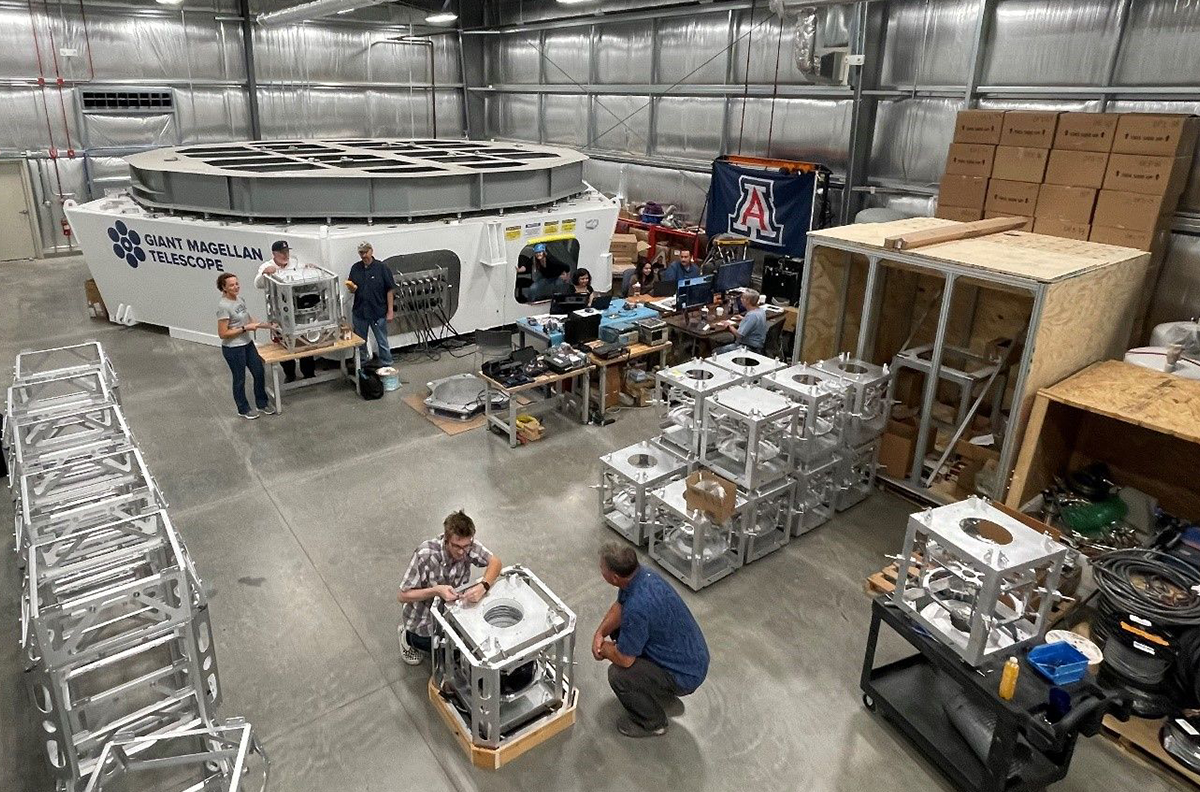 Steward Observatory Expands Research, Testing and Operations at UA Tech Park
Tech Parks Arizona has announced that the University of Arizona's Steward Observatory is expanding the Engineering and Technical Services research, testing and demonstration operations at the UA Tech Park off Rita Road and Interstate-10.
UArizona is a world leader in space sciences and as a Tier 1 research university with a moonshot goal of a billion dollars in research, activities are constantly growing. UArizona has emerged as a principal leader in infrared astronomy through the work of the staff, students and faculty of the Department of Astronomy and Steward Observatory. Public-private partnerships with industry giants such as NASA and countries around the world have put Steward Observatory on a fast-track growth trajectory.
Steward Observatory established an outpost at the UA Tech Park in July 2019 when UArizona's significant telescope research work from the James C. Wyant College of Optical Sciences and Steward Observatory enhanced the already ongoing work at the Richard F. Caris Mirror Lab and the Large Optics Shop on main campus. The concentrated research and engineering activities paired with the capabilities and facilities of the UA Tech Park have been widely successful.
Steward Observatory is once again scaling up its electrical-optical research and development activities at the UA Tech Park. The observatory will increase its footprint to approximately 25,000 square feet for offices and lab space in Building 9040 to complement the 5,000 square feet of testing and evaluation space in Building 9026. The innovative UA Tech Park campus provides the perfect platform with its ability to rapidly expand operations to accommodate high growth organizations and provide secure spaces that meet contractual obligations for federal organizations.
"The UA Tech Park provides outstanding services in a timely manner in providing high value research space," said Jeffrey Kingsley, associate director of Steward Observatory.
"The collaboration with Steward is the perfect example of how we help organizations succeed. We move at the speed of business. We are thrilled to build the infrastructure and relationship Steward needs to accommodate the hypergrowth they are experiencing," said Carol Stewart, associate VP of Tech Parks Arizona.
Tech Parks Arizona advances business through purpose-built environments which are customized to support businesses of all sizes and facilitate university-industry interaction. These capabilities are broadening Steward Observatory's industry relationships.
Jeffrey Kingsley, associate director of Steward Observatory, has diligently worked with the faculty and staff in promoting the growth that led to the team adding new faculty, students and researchers during the past three years. The Steward Observatory team at the UA Tech Park is more than 50 employees, including mechanical, electrical and software engineers as well as a number of program managers, system engineers and a variety of technicians.
Steward Observatory occupies a variety of space at the UA Tech Park for research and development, technical analysis, engineering meetings and large telescope storage space. The projects include producing telescopes and optical systems for scientific research in such areas as: surveys, space awareness, asteroids, studying objects near Earth and general astronomical observations.
With this substantial team in place, new contracts and expanded facilities, the team is making significant advancements on some big projects. Researchers and technicians from the Steward Observatory are working on the Giant Magellan Telescope test cell and mirror support system, currently preparing to ship the 6.5-m mirror, telescope cell, support system and secondary mirror system for the Tokyo Atacama Observatory Telescope. The telescope is located on the summit of Cerro Chajnantor in the Atacama Desert of northern Chile at an altitude of 18,500 feet – the highest permanent astronomical observatory in the world.
Steward is using the UA Tech Park campus to interact with university, government and industry professionals for telescope and mirror collaborations. Steward is also leading the Arizona Large Telescope Consortium, a group of university and industry professionals with similar research interests in large low-cost observatories.