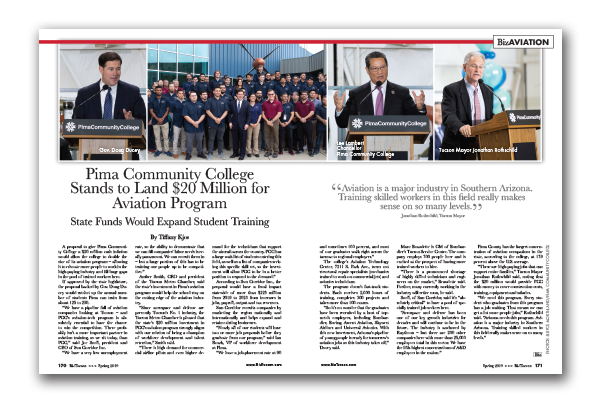 State Funds Would Expand Student Training
By Tiffany Kjos
Pima Community College Stands to Land $20 Million for Aviation Program
A proposal to give Pima Community College a $20 million cash infusion would allow the college to double the size of its aviation program – allowing it to educate more people to work in the high-paying industry and fill huge gaps in the pool of trained workers here.
If approved by the state legislature, the proposal backed by Gov. Doug Ducey would ratchet up the annual number of students Pima can train from about 125 to 250. 
"We have a pipeline full of aviation companies looking at Tucson – and PCC's aviation-tech program is absolutely essential to have the chance to win the competition. There probably isn't a more important partner in aviation training, as we sit today, than PCC," said Joe Snell, president and CEO of Sun Corridor Inc.
"We have a very low unemployment rate, so the ability to demonstrate that we can fill companies' labor needs is really paramount. We can recruit them in – but a large portion of this has to be training our people up to be competitive."
Amber Smith, CEO and president of the Tucson Metro Chamber, said the state's investment in Pima's aviation program would help the school stay on the cutting edge of the aviation industry. 
"Since aerospace and defense are presently Tucson's No. 1 industry, the Tucson Metro Chamber is pleased that the state's $20 million investment in PCC's aviation program strongly aligns with our mission of being a champion of workforce development and talent retention," Smith said. 
"There is high demand for commercial airline pilots and even higher demand for the technicians that support the aircraft across the country. PCC has a large wait-list of students entering this field, as well as a list of companies seeking this specific skill set, so the investment will allow PCC to be in a better position to respond to the demand."
According to Sun Corridor Inc., the proposal would have a fiscal impact statewide of more than $225 million from 2019 to 2023 from increases in jobs, payroll, output and tax revenues. 
Sun Corridor recruits companies by marketing the region nationally and internationally and helps expand and retain existing businesses.
"Nearly all of our students will have two or more job proposals before they graduate from our program," said Ian Roark, VP of workforce development at Pima. 
"We have a job-placement rate at 90 and sometimes 100 percent, and most of our graduates walk right across the tarmac to regional employers."
The college's Aviation Technology Center, 7211 S. Park Ave., turns out structural repair specialists (mechanics trained to work on commercial jets) and avionics technicians. 
The program doesn't fast-track students. Each receives 2,000 hours of training, completes 300 projects and takes more than 100 exams.
"So it's no wonder that the graduates have been recruited by a host of top-notch employers, including Bombardier, Boeing, Ascent Aviation, Skywest Airlines and Universal Avionics. With this new investment, Arizona's pipeline of young people is ready for tomorrow's aviation jobs as this industry takes off," Ducey said.
Marc Beaudette is GM of Bombardier's Tucson Service Centre. The company employs 700 people here and is excited at the prospect of having more trained workers to hire.
"There is a pronounced shortage of highly skilled technicians and engineers on the market," Beaudette said. Further, many currently working in the industry will retire soon, he said.
Snell, of Sun Corridor, said it's "absolutely critical" to have a pool of specially trained job seekers here.
"Aerospace and defense has been one of our key growth industries for decades and will continue to be in the future. The industry is anchored by Raytheon – but there are 200 other companies here with more than 25,000 employees total in this sector. We have the fifth-highest concentrations of A&D employees in the nation."
Pima County has the largest concentration of aviation occupations in the state, according to the college, at 179 percent above the U.S. average.
"These are high-paying jobs that can support entire families," Tucson Mayor Jonathan Rothschild said, noting that the $20 million would provide PCC with money to cover construction costs, training, equipment and salaries.
"We need this program. Every student who graduates from this program has a job waiting. That means we can get a lot more people jobs," Rothschild said. "Arizona needs this program. Aviation is a major industry in Southern Arizona. Training skilled workers in this field really makes sense on so many levels."