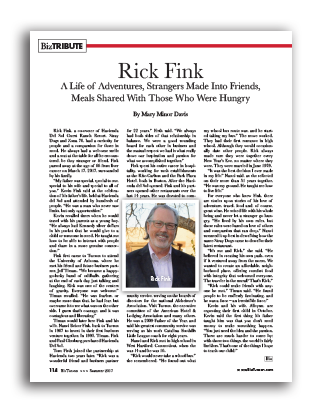 By Mary Minor Davis –
A Life of Adventures, Strangers Made Into Friends, Meals Shared With Those Who Were Hungry
Rick Fink, a co-owner of Hacienda Del Sol Guest Ranch Resort, Stray Dogs and Zona 78, had a curiosity for people and a compassion for those in need. He always had a welcome smile and a seat at the table for all he encountered, be they stranger or friend. Fink passed away at the age of 66 from liver cancer on March 17, 2017, surrounded by his family.
"My father was special, special to me, special to his wife and special to all of you," Kevin Fink said at the celebration of his father's life, held at Hacienda del Sol and attended by hundreds of people. "He was a man who never saw limits, but only opportunities."
Kevin recalled times when he would travel with his parents as a young boy. "He always had Kennedy silver dollars in his pocket that he would give to a child or someone in need. He taught me how to be able to interact with people and share in a more genuine connection."
Fink first came to Tucson to attend the University of Arizona, where he met his friend and future business partner, Jeff Timan. "We became a happy-go-lucky band of oddballs, gathering at the end of each day, just talking and laughing. Rick was one of the centers of gravity. Everyone was welcome," Timan recalled. "He was fearless, or maybe more than that, he had fear, but overcame it to see what was on the other side. I guess that's courage, and it was contagious and liberating."
Timan would later lure Fink and his wife, Nanci Beizer Fink, back to Tucson in 1987 to invest in their first business venture together. In 1995, Timan, Fink and Paul Ginsburg purchased Hacienda Del Sol.
Tom Firth joined the partnership at Hacienda two years later. "Rick was a wonderful friend and business partner for 22 years," Firth said. "We always had both sides of that relationship in balance. We were a good sounding board for each other in business and the mutual respect we had is what really drove our inspiration and passion for what we accomplished together."
Fink spent his entire career in hospitality, working for such establishments as the Ritz-Carlton and the Park Plaza Hotel, both in Boston. After the Hacienda del Sol opened, Fink and his partners opened other restaurants over the last 14 years. He was devoted to community service, serving on the boards of directors for the national Alzheimer's Association, Visit Tucson, the executive committee of the American Hotel & Lodging Association and many others. He was a 2009 Father of the Year, and said his greatest community service was serving as his son's Catalina Foothills Little League coach for eight years.
Nanci and Rick met in high school in West Hartford, Connecticut, when she was 14 and he was 16.
"Rick would never take a school bus," she remembered. "He found out what my school bus route was, and he started taking my bus." The move worked. They had their first romance in high school. Although they would occasionally date other people, Rick always made sure they were together every New Year's Eve, no matter where they were. They were married in June 1979.
"It was the best decision I ever made in my life," Nanci said, as she reflected on their more than 51 years together. "He was my ground. He taught me how to live life."
For everyone who knew Fink, there are stories upon stories of his love of adventure, travel, food and, of course, great wine. He seized life with his whole being and never let a stranger go hungry. "He lived by his own rules, but those rules were based on love of others and compassion that ran deep." Nanci summed it up best in describing how the name Stray Dogs came to describe their latest restaurant.
"It's me and Rick," she said. "He believed in creating his own path, even if it ventured away from the norm. We wanted to create an affordable, neighborhood place, offering comfort food with integrity that welcomed everyone. The traveler in the mural? That's Rick."
"Rick could make friends with anyone he met," Timan said. "He found people to be endlessly fascinating, and he was a force – an irresistible force."
Kevin and his wife, Alicynn, are expecting their first child in October. Kevin said the first thing his father taught him was that you don't need money to make something happen. "You just need the idea and the passion. Those are much harder to come by; with those two things, the world is fairly limitless. That's one of the things I hope to teach our child."