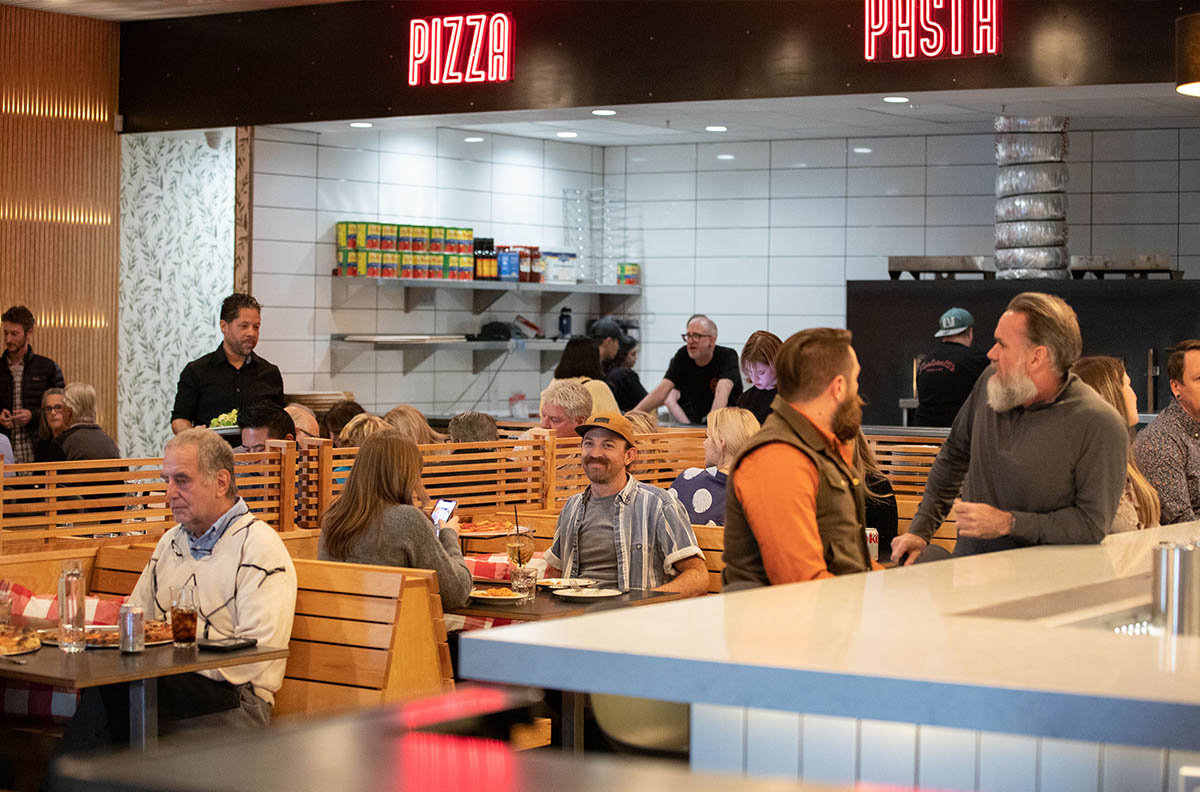 Reilly Craft Pizza & Drink Extends to Oro Valley with New Name, Concept
Local restaurateur Tyler Fenton and his siblings have a new name and concept for their Oro Valley location of Reilly Craft Pizza. Fentonelli's Pizzeria & Bar, a name inspired by a family love story dating back to the late 1970s, has opened on 7262 N. Oracle Rd. with a nod to what Fenton calls, "a New York, red sauce joint, Italian-American vibe." Reilly's flagship location on Pennington Street downtown remains unchanged and is not part of the re-brand.
As the story goes, when Fenton's parents began dating 40 years ago, his Italian mother worried that her Grandmother would disapprove of a non-Italian suitor. In an effort to appeal to her nonna, she claimed that his last name was Fentonelli. The story remains a laughing point for the family and the playfulness of it lends itself to the spirit behind the restaurant.
The renamed and renewed restaurant will replace Reilly's 12-inch pizzas with larger, 16-inch pies perfect for sharing. Fenton's signature long fermentation dough renders a crust with a crispy exterior, and a fluffy, somewhat chewy interior with a slight char. The larger pies enjoy a longer bake time with a slightly lower oven temperature, resulting in added structure delivering a familiar yet different final product that is greatly improved in its take out quality.
The Fentonelli's menu will feature six staple pies, with an option to build your own from a list of toppings. A gluten-free option will also be available, as will four house-made dipping sauces ranging from a creamy Ranch to an herby pesto.
In addition to the pizzas, scratch-made rigatoni and spaghetti will also take center stage, as will gluten-free penne, with guests encouraged to design their own pasta dishes from a line-up of proteins and savory sauces, including marinara sauce, vodka sauce, Sunday gravy (meat sauce), creamy alfredo, and shrimp scampi. Other East Coast-inspired staples on the menu include chicken parmesan, mozzarella sticks with marinara sauce, cheesy garlic bread, and parmesan-truffle crinkle fries, as well as salads and sweets. And in what Fenton calls a "not so subtle wink to Reilly," his Brussels sprouts with hot sauce and pecan brittle that quickly earned cult following status from Reilly's opening day in 2012 will stay on the menu.
Fentonelli's bar side of the menu spotlights five categories of cocktails, including three distinct expressions of the Spritz, three Negronis, three Old Fashioneds, two Margaritas, and two Mules. Wines include a sparkling, three whites, and four reds from California and abroad with several domestic and imported beers.
Lunch debuts a menu of pizza by the slice, salads, and the addition of Italian hoagies. The lunch special features a slice, simple salad, and soda for $12.
Happy hour is offered from 4:30 – 6:00 pm with rotating beverage offerings and food specials.
A children's menu is also available featuring mini pizzas and pastas.
"Our goal is to make food that is fun and nostalgic for our guests," said Fenton, co-owner and executive chef. "Our larger pizzas are great for groups and family-style sharing, our 'pick-a-noodle, pick-a sauce' pasta concept lets our guests build what will make them most happy, and our minimal tweaks to the restaurant space itself intentionally preserve its familiarity for returning guests while improving their experience," he continued.
Some added changes to the space include the addition of four beer taps, a television in the bar area, new dining chairs, and red checkered pillows scattered throughout.
Lunch is available Tuesdays – Sundays from 11:30 am – 2:30 pm. The restaurant is closed from 2:30 – 4:30 pm so staff can enjoy a team meal together and prepare for dinner service. Happy Hour runs Tuesdays – Sundays from 4:30 – 6:00 pm.  Dinner service remains on Tuesdays – Sundays from 4:30 –9:00 pm.  The restaurant is closed on Mondays.
Follow the latest news at @fentonellispizzeria on Instagram.