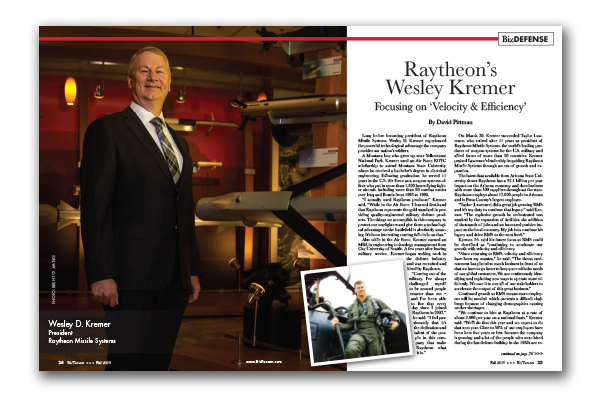 By David Pittman
Focusing on 'Velocity & Efficiency'

Long before becoming president of Raytheon Missile Systems, Wesley D. Kremer experienced the powerful technological advantage the company provides our nation's soldiers.
A Montana boy who grew up near Yellowstone National Park, Kremer used an Air Force ROTC scholarship to attend Montana State University, where he received a bachelor's degree in electrical engineering. Following graduation, he served 11 years in the U.S. Air Force as a weapon systems officer who put in more than 1,500 hours flying fighter aircraft, including more than 90 combat sorties over Iraq and Bosnia from 1993 to 1996.
"I actually used Raytheon products," Kremer said. "While in the Air Force, I learned first-hand that Raytheon represents the gold standard in providing quality-engineered military defense products. The things we accomplish in this company to protect our warfighters and give them a technological advantage on the battlefield is absolutely amazing. It's been interesting coming full circle on that."
Also while in the Air Force, Kremer earned an MBA in engineering technology management from City University of Seattle. A few years after leaving military service, Kremer began seeking work in the defense industry and was recruited and hired by Raytheon.
"Coming out of the military, I've always challenged myself to be around people smarter than me – and I've been able to live that every day since I joined Raytheon in 2003," he said. "I feel passionately that it's the dedication and talent of the people in this company that make Raytheon what it is."
On March 30, Kremer succeeded Taylor Lawrence, who retired after 11 years as president of Raytheon Missile Systems, the world's leading producer of weapon systems for the U.S. military and allied forces of more than 50 countries. Kremer praised Lawrence's leadership in guiding Raytheon Missile Systems through an era of growth and expansion.
The latest data available from Arizona State University shows Raytheon has a $2.1 billion per year impact on the Arizona economy and does business with more than 500 suppliers throughout the state. Raytheon employs about 13,000 people in Arizona and is Pima County's largest employer.
"Taylor (Lawrence) did a great job growing RMS and it's my duty to continue that legacy," said Kremer. "The explosive growth he orchestrated was marked by the expansion of facilities, the addition of thousands of jobs and an increased positive impact on the local economy. My job is to continue his legacy and drive RMS to the next level."
Kremer, 54, said his future focus at RMS could be described as "continuing to accelerate our growth with velocity and efficiency.
"Since returning to RMS, velocity and efficiency have been my mantra," he said. "The threat environment has placed so much business in front of us that we have to go faster to keep pace with the needs of our global customers. We are continuously identifying and exploiting new ways to operate more efficiently. We owe it to our all of our stakeholders to accelerate the output of this great business."
Continued growth at RMS means more employees will be needed, which presents a difficult challenge because of changing demographics causing worker shortages.
"We continue to hire at Raytheon at a rate of about 2,000 per year on a national basis," Kremer said. "We'll do that this year and we expect to do that next year. Close to 50% of our employees have been here five years or less, because the company is growing and a lot of the people who were hired during the last defense buildup in the 1980s are retiring. That's contributed to us having a new and diverse workforce, which is both amazing and exciting.
"Nearly 20% of Raytheon's more than 64,000 employees nationwide are veterans," he said. "RMS thrives on diversity. We have veterans from all military services. Diversity is important not only among our veterans, but also within our entire workforce. Our people come from different backgrounds, nationalities and upbringings; and I've learned that having that diversity contributes to our ability to innovate and offer superior solutions to our customers."
Kremer has had a meteoric career at Raytheon. He began a two-year stint as GM of Raytheon's Advanced Products Center in Dallas in 2006. He joined RMS in Tucson in 2008 as director of Systems Design and Performance Engineering. He was named director of the Standard Missile-3 program in 2010 and was promoted the next year to VP for air and missile defense.
In 2015, Kremer was bumped up to president of Raytheon Integrated Defense Systems, one of the company's four divisions, in Tewksbury, Massachusetts. In early June, about two months after Kremer became president of RMS, Raytheon Co. and United Technologies Corp. announced an agreement to combine companies in "a merger of equals."
The new company will be called Raytheon Technologies and it will combine Raytheon, a leading defense company, with United Technologies, a leading aerospace company. The merger is expected to close in the first half of 2020.
Kremer said there is less than 1% job overlap between the two companies, which likely means little to no job loss and speedy approval from federal regulators.
"The merger is about creating a leader in aerospace and defense that will make us a more robust company that will be 50% defense and 50% commercial, 50% domestic and 50% international."
Kremer said Raytheon Technologies "will enjoy enhanced resources and financial flexibility" to support significant R&D and capital investment through business cycles. He said the merger will create a juggernaut producing revenues in the neighborhood of $70 billion annually – making Raytheon Technologies the second largest defense contractor in the world.