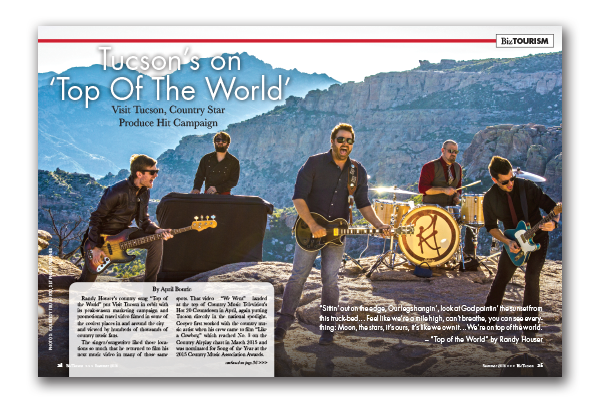 By April Bourie –
Tucson's on 'Top Of The World' Visit Tucson, Country Star Produce Hit Campaign
Randy Houser's country song "Top of the World" put Visit Tucson in orbit with its peak-season marketing campaign and promotional travel video filmed in some of the coolest places in and around the city – and viewed by hundreds of thousands of country music fans.
The singer/songwriter liked those locations so much that he returned to film his next music video in many of those same spots. That video – "We Went" – landed at the top of Country Music Television's Hot 20 Countdown in April, again putting Tucson directly in the national spotlight. Cooper first worked with the country music artist when his crew came to film "Like a Cowboy," which reached No. 3 on the Country Airplay chart in March 2015 and was nominated for Song of the Year at the 2015 Country Music Association Awards.
In fact, it was while collaborating on "Like a Cowboy" with Houser's production company, Team Two Entertainment, when Cooper first heard the words to "Top of the World." She said the song immediately conjured visions of Mount Lemmon, San Xavier mission, Gates Pass and all of Southern Arizona's allure. That was the germination of the idea for the Visit Tucson marketing campaign.
Dustin Rikert, film director at Team Two Entertainment, originally recommended Old Tucson to Houser for filming because the singer/songwriter wanted a location that was more cinematic and authentic and had that "romance of the west" feeling to it, Cooper said.
And she wanted to make sure viewers of the "Like a Cowboy" video would know it was filmed in Tucson and Southern Arizona, promoting the destination. To achieve that, she connected with Rikert through a product placement company to include a sign in the opening scene that says "Welcome to Tucson."
"Utilizing product placement in Houser's two official music videos and licensing usage of his 'Top of the World' as a sound track for our promotional travel video significantly increased awareness among highly targeted consumers – fans of country music – who also closely match our visitor profile," Cooper said. "These videos have generated more than 10 million online views and countless more on television."
According to Forbes, country music fans comprise a massive and influential cultural segment with 102 million people. And MRI reports that country music fans spent $46 billion on travel in 2010, which is 47 percent of all travel spending, she added.
"Through this campaign we were able to reach travelers who were outside the traditional travel vertical and tell them a story about Tucson that makes them want to visit."
"We've had a great time," Houser said in interview on KIIM FM. "I would encourage anybody to come out here." He and his crew were treated the authentic taste of Tucson, the only official City of Gastronomy in the nation – savoring Sonoran hot dogs from El Guelo Canello and lunch catered by El Charro.
This collaboration opened the door for Cooper to approach Houser and Rikert about the idea of using "Top of the World" in a promotional video specifically for marketing Tucson.
"Because of the terrific connection we made, the artist's manager and music label helped us negotiate a two-year licensing agreement with the songwriters for far less than any of us imagined," Cooper said.
"We wanted to portray Tucson as an outdoor mecca with a cool urban vibe," Cooper said. Team Two Entertainment produced the "Top of the World" video for Visit Tucson to showcase those attractions and sites that are Tucson treasures. They developed a script that matched the lyrics of the song and incorporated Visit Tucson's "Free Yourself" brand. To add to the video's authenticity, they developed a list of locals to be featured and decided that some of the people in the video should be actual Tucson visitors.
"We spent an entire day at Windy Point up on Mount Lemmon," Cooper said. "It was there that we found so many visitors for the video, including a father and his young son from Canada, a gentleman traveling with his dog, and a girls' getaway group consisting of a mom, a daughter and her friend from Minneapolis.
"They were delighted to participate," Cooper said. "And, they allowed us to show an authentic depiction of the variety of people who are inspired by Tucson.
Crafting the 'Top of the World' tourism campaign
Once the production was completed Visit Tucson had a video that appealed to travelers' desire to relax, rejuvenate and explore – the embodiment of the "Free Yourself" brand. Targeted specifically to outdoor adventure seekers, foodies, golfers and affluent travel segments, Visit Tucson once again also appealed to country music fans. Reaching these markets in a meaningful way was the next challenge, Cooper said.
The full-length video and a 30-second version were posted to YouTube and Facebook and the Visit Tucson website. Online storytelling by local travel writers were also promoted and increased the time viewers spent on the page from an average of one minute and 43 seconds to an average of seven minutes and 58 seconds.
Online, the video generated more than 161,000 views of the full-length "Top of the World" video and more than 118,000 views of the 30-second video. An article about the campaign itself appeared on many country music websites, blogs, CNN.com and other premium websites, resulting in several million impressions.
Here in Arizona, online marketing was enhanced with a "feet-on-the-street" activation. During the four days before Thanksgiving, Visit Tucson took over a street in the Westgate Entertainment District in Glendale, providing a climbing wall, giving away Tucson Attractions Passports, registering Phoenicians for raffles, and featuring Tucson chalk artist Ignacio, who recreated 3D images of Mount Lemmon and the Arizona-Sonora Desert Museum's Raptor Free-Flight Program. The  Phoenix metro area is the No. 1 market for visitation to Tucson.
All aboard the elevated trains in Chicago
"Chicago is a prime market for attracting travelers to Tucson. It ranks fourth in visitor spending and receives the lion's share of our peak-season advertising budget," Cooper said. This year's campaign launched in January, combining traditional marketing tactics and innovative approaches.
"We wrapped elevated trains with high-impact "Top of the World" imagery and amplified our message with video projection of iconic Tucson scenes on urban buildings. We deployed brand ambassadors – actual feet-on-the-streets – to distribute Tucson visitor guides to commuters along with steaming cups of Mexican hot chocolate.  We branded the interiors of the trains and displayed our videos on LED screens inside the train stations to complement Tucson's 'street theater' approach to engaging potential visitors. The campaign's landing page drove more than 18,000 page views."
By the end of the fiscal year, Visit Tucson had placed $989,000 in advertising with a media value of nearly $4 million, Cooper said. The campaign has been so successful that Shaun Aukland of Google Travel called it an "epic collaboration." But the story doesn't end there.
"Because we worked so well together on the first two projects, Dustin and Randy asked for our help in filming 'We Went,' " Cooper said. "We assisted in obtaining filming permits at many of the locations, including the legendary Tap Room at the Hotel Congress, Windy Point and Casino del Sol."
Houser said, "Tucson had so much to offer we just had to come back." And once again, a country music video he filmed here topped the charts.
"It's really cool how we worked to really lift both brands," Cooper said.
"We went all out with Houser. He's giving Tucson a footprint that extends far beyond our marketing and advertising budgets. And it's authentic – more meaningful than traditional forms of advertising. It's a very strategic, well-orchestrated effort."