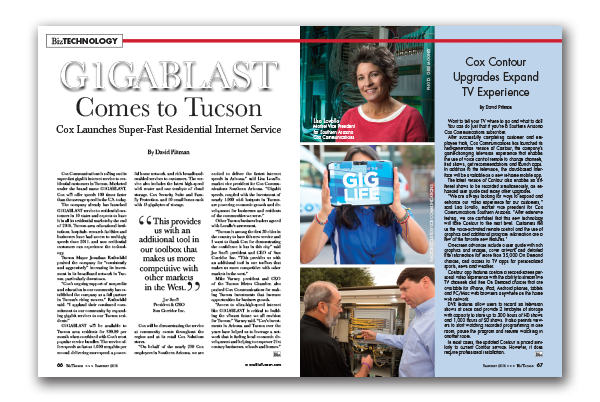 G1GABLAST Comes to Tucson
By David Pittman –
Cox Launches Super-Fast Residential Internet Service
Cox Communications is rolling out its super-fast gigabit internet service to residential customers in Tucson. Marketed under the brand name G1GABLAST, Cox will offer speeds 100 times faster than the average speed in the U.S. today.
The company already has launched G1GABLAST service to residential customers in 10 states and expects to have it in all its residential markets by the end of 2016. Tucson-area educational institutions, hospitals, research facilities and businesses have had access to multi-gig speeds since 2011, and now residential customers can experience the technology.
Tucson Mayor Jonathan Rothschild praised the company for "consistently and aggressively" increasing its investment in its broadband network in Tucson, particularly downtown.
"Cox's ongoing support of nonprofits and education in our community has established the company as a full partner in Tucson's rising success," Rothschild said. "I applaud their continued commitment to our community by expanding gigabit services to our Tucson residents."
G1GABLAST will be available to Tucson area residents for $99.99 per month when combined with Cox's most popular service bundles. The service offers speeds as fast as 1,000 megabits per second, delivering more speed, a powerful home network, and rich broadband-enabled services to customers. The service also includes the latest high-speed wi-fi router and one terabyte of cloud storage, Cox Security Suite and Family Protection, and 10 email boxes each with 15 gigabytes of storage.
Cox will be demonstrating the service at community events throughout the region and at its retail Cox Solutions stores.
"On behalf of the nearly 250 Cox employees in Southern Arizona, we are excited to deliver the fastest internet speeds in Arizona," said Lisa Lovallo, market vice president for Cox Communications Southern Arizona. "Gigabit speeds, coupled with the investment of nearly 1,000 wi-fi hotspots in Tucson, are powering economic growth and development for businesses and residents of the communities we serve."
Other Tucson business leaders agreed with Lovallo's assessment.
"Tucson is among the first 30 cities in the country to have this new service and I want to thank Cox for demonstrating the confidence it has in this city," said Joe Snell, president and CEO of Sun Corridor Inc. "This provides us with an additional tool in our toolbox that makes us more competitive with other markets in the west."
Mike Varney, president and CEO of the Tucson Metro Chamber, also praised Cox Communications for making Tucson investments that increase opportunities for business growth.
"Access to ultra-high-speed internet like G1GABLAST is critical to building the vibrant future we all envision for Tucson," Varney said. "Cox's investments in Arizona and Tucson over the years have helped us to leverage a network that is fueling local economic development and helping to empower 21st century businesses, schools and homes."