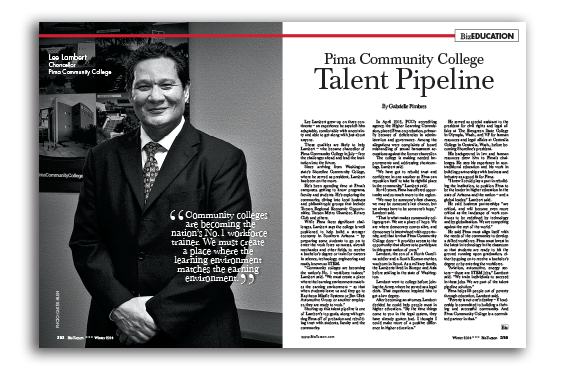 Pima Community College Talent Pipeline
By Gabrielle Fimbres
Lee Lambert grew up on three continents – an experience he says left him adaptable, comfortable with uncertainty and able to get along with just about anyone.
Those qualities are likely to help Lambert – who became chancellor of Pima Community College in July – face the challenges ahead and lead the institution into the future.
Since arriving from Washington state's Shoreline Community College, where he served as president, Lambert has been on the move.
He's been spending time at Pima's campuses, getting to know programs, faculty and students. He's exploring the community, diving into local business and philanthropic groups that include Tucson Regional Economic Opportunities, Tucson Metro Chamber, Rotary Club and others.
While Pima faces significant challenges, Lambert says the college is well positioned to help build a stronger economy in Southern Arizona – by preparing some students to go on to enter the work force as nurses, aircraft mechanics and other fields, to receive a bachelor's degree or train for careers in science, technology, engineering and math, known as STEM.
"Community colleges are becoming the nation's No. 1 workforce trainer," Lambert said. "We must create a place where the learning environment matches the earning environment – so that when students leave us and they go to Raytheon Missile Systems or Jim Click Automotive Group or another employer, they are ready to work."
Shoring up this talent pipeline is one of Lambert's top goals, along with getting Pima off of probation and rebuilding trust with students, faculty and the community.
In April 2013, PCC's accrediting agency, the Higher Learning Commission, placed Pima on probation, primarily because of deficiencies in administration and governance. Among the allegations were complaints of board mishandling of sexual harassment accusations against the former chancellor.
The college is making needed improvements and addressing shortcomings, Lambert said.
"We have got to rebuild trust and confidence in one another so Pima can reposition itself to take its rightful place in the community," Lambert said.
For 45 years, Pima has offered opportunity and so much more to the region.
"We may be someone's first chance, we may be someone's last chance, but we always have to be someone's hope," Lambert said.
"That is what makes community colleges great. We are a place of hope. We are where democracy comes alive, and democracy is intertwined with opportunity, and that is what Pima Community College does – it provides access to the opportunity that allows us to participate in this great nation of ours."
Lambert, the son of a North Carolina soldier and a South Korean mother, was born in Seoul. As a military family, the Lamberts lived in Europe and Asia before settling in the state of Washington.
Lambert went to college before joining the Army, where he served as a legal clerk. That experience inspired him to get a law degree.
After becoming an attorney, Lambert decided he could help people most in higher education. "By the time things come to you in the legal system, they have already gotten bad. I thought I could make more of a positive difference in higher education."
He served as special assistant to the president for civil rights and legal affairs at The Evergreen State College in Olympia, Wash., and VP for human resources and legal affairs at Centralia College in Centralia, Wash., before becoming Shoreline's president.
His background in law and human resources drew him to Pima's challenges. He sees his experience in non-traditional education and his work in building partnerships with business and industry as a good fit for Pima.
"I knew I could play a part in rebuilding the institution, to position Pima to be the leader in higher education in the state of Arizona and the nation – and a global leader," Lambert said.
He said business partnerships "are critical, and will become even more critical as the landscape of work continues to be redefined by technology and by globalization. We are competing against the rest of the world."
He said Pima must align itself with the needs of the community to develop a skilled workforce. Pima must invest in the latest in technology in the classroom so that students are ready to hit the ground running upon graduation, either by going on to receive a bachelor's degree or by entering the workforce.
"Aviation, automotive, energy sectors – those are STEM jobs," Lambert said. "We train individuals to succeed in these jobs. We are part of the talent pipeline solution."
Pima helps lift people out of poverty through education, Lambert said.
"Poverty is not one's destiny – if leadership is committed to building a thriving and successful community. And Pima Community College is a committed partner in that."