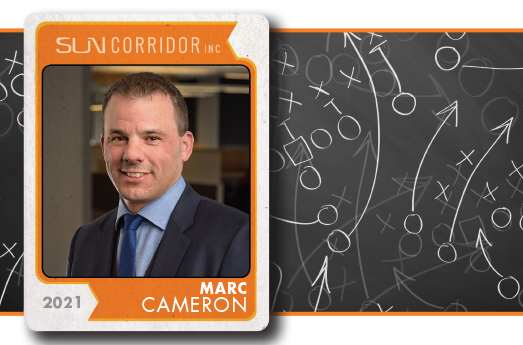 Vice President, Caterpillar Resource Industries Sales, Services and Technology Division
As we welcome you to Tucson, describe your background in your industry, and what the immediate future holds?
I started my career as a civil engineer at Peter Kiewit Sons' Inc., a large construction and engineering organization. I was given lots of opportunities in that role and it eventually led me to mining. After Peter Kiewit Sons' Inc., I spent 18 years at Rio Tinto Plc, where I held various leadership roles, including as president and CEO for Diavik Diamond Mines and the Managing Director for Kennecott Utah Copper. Recently, I led the development and execution of the end-of-life strategy for Rio's North American legacy assets. My wife, Charlie, and I plus our three sons Wyatt, Ryder, and Brooks have relocated to Tucson after I was named the VP of Caterpillar Inc. I am responsible for the Resource Industries Sales, Services and Technology Division, which includes all aspects of the go-to-market strategy for surface and underground mining, as well as services and technology. As I transition into this role and Tucson, I plan to do a lot of listening over the next few months to determine how I can best serve my team and my community.
What are your first impressions of the region?
The Tucson area is booming with opportunity! It's a diverse and welcoming community complete with top-notch universities and a great quality of life. It offers both the small-town feel and big-town amenities, which is something you can't get in a lot of cities. As an avid outdoorsman, my family and I are looking forward to further exploring Tucson's beautiful landscape and experiencing its unique culture. The people have been extremely welcoming, and I am genuinely impressed with the hospitality and kindness I've received. Thank you.
What corporate goals do you have here in Southern Arizona?
One of our priorities is to partner with local schools, colleges, and universities to develop future talent. Providing students with exposure to mining as a whole and all facets of the industry, such as engineering, technology, business, machining, and welding to name a few, will provide an opportunity for future careers. It is essential to enriching our diverse talent pipeline so that we can continue to fill critical roles. In addition to developing local talent, we want to also contribute to the region's success in attracting top talent and industries to Southern Arizona. Tucson is a place where people want to live and work. We have a collective interest to ensure our community's continued growth and economic success. Mining has a long history here and we are grateful to be part of the community in Southern Arizona.
What are you looking forward to, both personally and professionally, in moving to Tucson?
As a new resident of Tucson, I am looking forward to meeting all the people both at Caterpillar and within the community. Relationship building and networking are very important to me – especially right now with so many people working virtually. It is critical to help us build and grow, and to our mental health and safety. I am also looking forward to working with other Tucson business leaders on the greatest challenges impacting our community.