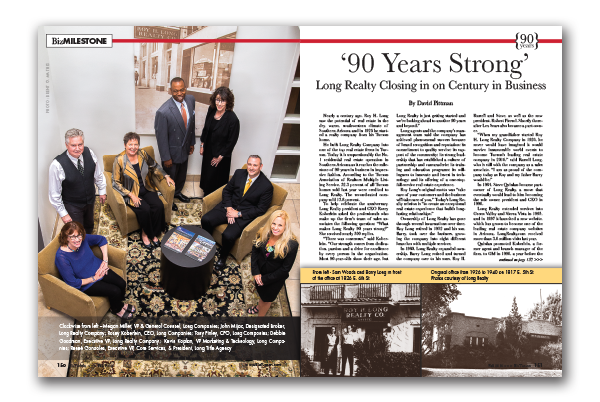 Long Realty Closing in on Century in Business
By David Pittman –
'90 Years Strong'
Nearly a century ago, Roy H. Long saw the potential of real estate in the dry, warm, southwestern climate of Southern Arizona and in 1926 he started a realty company from his Tucson home.
He built Long Realty Company into one of the top real estate firms in Tucson. Today it is unquestionably the No. 1 residential real estate operation in Southern Arizona as it reaches the milestone of 90 years in business in impressive fashion. According to the Tucson Association of Realtors Multiple Listing Service, 32.3 percent of all Tucson homes sold last year were credited to Long Realty. The second-rated company sold 13.8 percent.
To help celebrate the anniversary, Long Realty president and CEO Rosey Koberlein asked the professionals who make up the firm's team of sales associates the following question: "What makes Long Realty 90 years strong?" She received nearly 500 replies.
"There was consensus," said Koberlein. "Our strength comes from dedication, passion and a drive for excellence by every person in the organization. Most 90-year-olds show their age, but Long Realty is just getting started and we're looking ahead to another 90 years and beyond."
Long agents and the company's management team said the company has achieved phenomenal success because of brand recognition and reputation; its commitment to quality service; its support of the community; its strong leadership that has established a culture of partnership and camaraderie; its training and education programs; its willingness to innovate and invest in technology; and its offering of a one-stop, full-service real estate experience.
Roy Long's original motto was "take care of your customers and the business will take care of you." Today's Long Realty mission is "to create an exceptional real estate experience that builds long-lasting relationships."
Ownership of Long Realty has gone through several incarnations over time. Roy Long retired in 1952 and his son, Barry, took over the business, growing the company into eight different branches with multiple services.
In 1980, Long Realty expanded ownership. Barry Long retired and turned the company over to his sons, Roy II, Russell and Steve, as well as the new president, Robert Piersol. Shortly thereafter Lex Sears also became a part-owner.
"When my grandfather started Roy H. Long Realty Company in 1926, he never would have imagined it would survive innumerable world events to become Tucson's leading real estate company in 2016," said Russell Long, who is still with the company as a sales associate. "I am as proud of the company today as Roy and my father Barry would be."
In 1984, Steve Quinlan became part-owner of Long Realty, a move that eventually would lead to him becoming the sole owner, president and CEO in 1998.
Long Realty extended services into Green Valley and Sierra Vista in 1995, and in 1997 it launched a new website, which has grown to become one of the leading real estate company websites in Arizona. LongRealty.com received more than 3.8 million visits last year.
Quinlan promoted Koberlein, a former agent and branch manager of the firm, to GM in 1998, a year before the company was purchased by HomeServices of America, the second largest residential real estate brokerage in the nation. HomeServices is an affiliate of Berkshire Hathaway, a multinational holding company headquartered in Omaha, whose chairman, president and CEO is Warren Buffett, widely considered the most successful investor in history.
Koberlein said the alignment with HomeServices has provided Long Realty "with the best of both worlds." She said Long Realty has continued to run its own affairs from Tucson, while gaining extraordinary resources and a national and global presence.
HomeServices of America has a network of more than 70,000 agents nationwide. Long Realty also is a member of Leading Real Estate Companies of the World, an invitation-only network of more than 500 independent brokerages in more than 50 countries representing more than 120,000 sales associates.
Long Realty expanded its core services in 2000 by developing Long Mortgage Co., Long Title Insurance and the Long Insurance Group, to give homebuyers and sellers a sought-after, one-stop shop for real estate transactions.
"No other brokerage in Southern Arizona comes close to offering the quality full-service experience that Long Realty does," Koberlein said.
Continuing with its evolution, in 2001, Long Realty purchased the residential division of Tucson Realty & Trust, which had been the company's biggest competitor.
Three years later, Koberlein was promoted to president and CEO as Quinlan became chairman of the board, a position he still holds.
In Koberlein's first two years at the helm of Long Realty she could do no wrong as a decade-long real estate boom continued on an unprecedented record-breaking run. In 2005, Long Realty surpassed $5 billion in annual sales volume, still an all-time market high in Southern Arizona.
But in 2006, the real estate bubble burst, setting off a prolonged market downturn that didn't begin recovering until September 2011. Through it all, Koberlein and Long Realty accomplished something remarkable: turning profits, albeit small ones, every year of the Great Recession.
Koberlein said Long Realty has remained independent, autonomous and in control of its "day-to day destiny" because it has always achieved its financial goals and delivered "what we say we're going to deliver."
In 2009, Long Realty expanded its footprint into Phoenix and Mexico by adding multiple franchised locations.
Today, Long Realty has more than 1,200 licensed real estate sales associates in more than 38 offices, including 23 affiliate and property management companies.
In the 90 years Long Realty has been in business, the real estate industry has undergone constant change. During that time Long Realty has been growing, expanding and embracing new technology.
"We are always evolving and changing by trying to identify what consumers need and how we can provide them with a more positive experience," said Kevin Kaplan, Long's VP of marketing and technology. "If you are content with the status quo you may be moving backward because everything is changing around you."