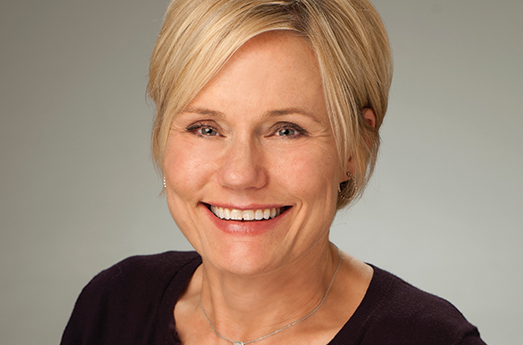 2019 Greater Tucson Leadership Alumni Excellence Award
By Romi Carrell Wittman

Kate Hoffman created Earn to Learn to help students for whom the dream of college is out of reach because of cost.
That program is the reason she's been named the 2019 Greater Tucson Leadership Alumni Excellence recipient, an award that honors the highest ideals of service and loyalty to the community and is given to someone who is utilizing leadership skills learned through the GTL program.
The general lack of financial literacy among average Americans stuck out to Hoffman as she went through the GTL class of 2008. The organization's monthly Issue Days made her realize there was a dire need to increase the financial literacy of families so they could manage their finances – especially through economic hardships – and achieve things like pursuing a college education.
Hoffman quit her job as a financial advisor with Merrill Lynch – where she managed more than $100 million in accounts – and founded the nonprofit organization Live the Solution. Its singular goal: Give families the knowledge and skills needed to make sound financial decisions. She later re-branded the organization Earn to Learn (ETL).
Using the relationships she'd forged through GTL and sheer perseverance, Hoffman built partnerships with several local organizations and launched a first-of-its-kind employer-assisted housing program.
She soon discovered Assets for Independence, a program offered by the U.S. Department of Health and Human Services to assist low-income families via matched savings accounts. Hoffman realized these funds also could help college students and their families with tuition expenses. Thanks to her collaboration with the Arizona Board of Regents and Arizona's three public universities, Earn to Learn became a reality.
Through Earn to Learn, students and their families can receive up to $8 for every $1 of savings they contribute. A total of $4,000 per student per academic year is available to use toward tuition and other qualified expenses at the University of Arizona, Arizona State University and Northern Arizona University.
"Many students come from families where college was never an option," Hoffman said. "ETL students and their families develop financial capability and stability – and they receive ongoing support that enables them to graduate with little or no debt. ETL helps them see that college is possible."
Earn to Learn has some impressive stats. Since its inception in 2013, Earn to Learn has procured more than $8.5 million in federal funding for the state of Arizona. With university matching, that figure jumps to almost $17 million in funds available for students, which is enough to offer 3,600 scholarships through 2020. Currently, some 1,500 students are part of the Earn to Learn program.
Of the students who receive scholarships, 90% come back after their freshman year. As a point of comparison, the three Arizona public universities have a combined average freshman retention rate of 82%. Further, year-over-year student retention rates are 98%, meaning virtually all Earn to Learn students stick with both the program and their education.
Hoffman's work as chief executive officer of Earn to Learn has gained national attention. Thanks to a nomination by former Senator Dennis DeConcini, Hoffman was appointed to the Obama Administration's Advisory Council on Financial Capability for Young Americans. This led to discussions at the national level regarding how to scale Earn to Learn's success and implement a similar program across the country.
Amber Smith, president of the Tucson Metro Chamber of Commerce (Chamber), has worked with Hoffman on the Chamber's workforce development initiative. In a letter of support for Hoffman's nomination, Smith said, "Kate's passion for creating a path for student success is a huge benefit for the region and for the state."
While the bulk of Hoffman's time is dedicated to Earn to Learn, she also makes time for her community. She's served on the GTL Governing Board, the Tucson Hispanic Chamber Foundation Board, Tucson Values Teachers, and the Child and Family Resources Board, to name just a few.
Adam Begody, senior account executive at the Chamber, nominated Hoffman for the GTL Alumni award. "Kate has impacted thousands of students and their families," he said. "Her accomplishments show all of us that we can be change agents … all that's necessary is to care, to be inspired, and to have the passion to see it through."
When asked about receiving the Alumni award, Hoffman was modest. "For me, this is a really exciting honor," she said. "GTL has meant so much to me. I'm just honored and grateful to receive this award."