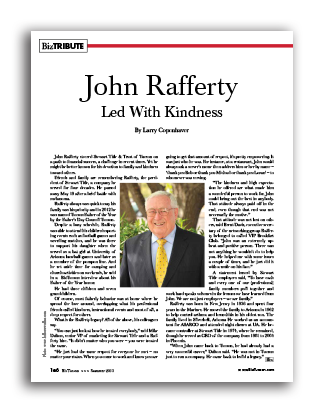 By Larry Copenhaver –
John Rafferty
Led With Kindness
John Rafferty steered Stewart Title & Trust of Tucson on a path to financial success, a challenge in recent times. Yet he might be better known for his devotion to family and kindness toward others.
Friends and family are remembering Rafferty, the president of Stewart Title, a company he served for four decades. He passed away May 19 after a brief battle with melanoma.
Rafferty always was quick to say his family was his priority and in 2012 he was named Tucson Father of the Year by the Father's Day Council Tucson.
Despite a busy schedule, Rafferty was able to attend his children's sporting events such as football games and wrestling matches, and he was there to support his daughter when she served as a bat girl at University of Arizona baseball games and later as a member of the pompon line. And he set aside time for camping and church activities on weekends, he said in a BizTucson interview about his Father of the Year honor.
He had three children and seven grandchildren.
Of course, most fatherly behavior was at home where he spread the love around, overlapping what his professional friends called kindness, instructional events and most of all, a deep respect for others.
What is the Rafferty legacy? All of the above, his colleagues say.
"You can just look at how he treated everybody," said Mike Dalton, senior VP of marketing for Stewart Title and a Rafferty hire. "It didn't matter who you were – you were treated the same.
"He just had the same respect for everyone he met – no matter your status. When you come to work and know you are going to get that amount of respect, it's pretty empowering. It was just who he was. For instance, at a restaurant, John would always ask a server's name then address him or her by name – 'thank you Bob or thank you Michael or thank you Loran' – to whomever was serving.
"The kindness and high expectation he offered are what made him a wonderful person to work for. John could bring out the best in anybody. That attitude always paid off in the end, even though that end was not necessarily the motive."
That attitude was not lost on others, said Brent Davis, executive secretary of the networking group Rafferty belonged to called VIP Breakfast Club. "John was an extremely upbeat and positive person. There was not anything he wouldn't do to help you. He helped me with some issues a couple of times, and he just did it with a smile on his face."
A statement issued by Stewart Title employees said, "To have each and every one of our (professional) family members pull together and work hard speaks volumes in the lessons we have learned from John. We are not just employees – we are family."
Rafferty was born in New Jersey in 1936 and spent four years in the Marines. He moved the family to Arizona in 1962 to help control asthma and bronchitis in his oldest son. The family lived in Silverbell, Arizona He worked as an accountant for ASARCO and attended night classes at UA. He became controller at Stewart Title in 1974, where he remained, though he served as CEO of the company from 1981 to 2004 in Phoenix.
"When John came back to Tucson, he had already had a very successful career," Dalton said. "He was not in Tucson just to run a company. He came back to build a legacy."