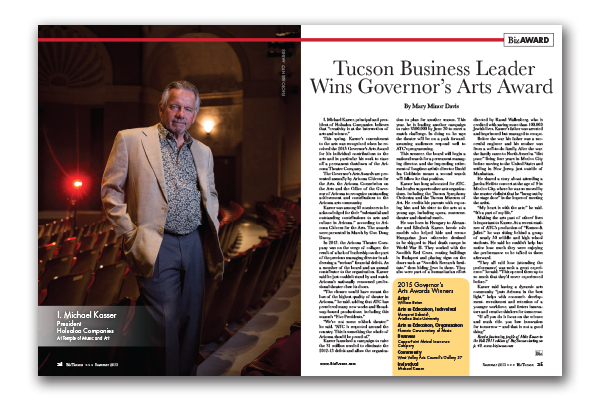 I. Michael Kasser – Governor's Arts Award
By Mary Minor Davis –
I. Michael Kasser – Governor's Arts Award
Tucson Business Leader Wins Governor's Arts Award
I. Michael Kasser, principal and president of Holualoa Companies, believes that "creativity is at the intersection of arts and science."
This spring, Kasser's commitment to the arts was recognized when he received the 2015 Governor's Arts Award for his individual contributions to the arts and in particular his work to stave off a permanent shutdown of the Arizona Theatre Company.
The Governor's Arts Awards are presented annually by Arizona Citizens for the Arts, the Arizona Commission on the Arts and the Office of the Governor of Arizona to recognize outstanding achievement and contributions to the Arizona arts community.
Kasser was among 65 nominees to be acknowledged for their "substantial and outstanding contributions to arts and culture in Arizona," according to Arizona Citizens for the Arts. The awards were presented in March by Gov. Doug Ducey.
In 2013, the Arizona Theatre Company was on the verge of collapse, the result of a lack of leadership on the part of the previous managing director in addressing a "serious" financial deficit. As a member of the board and an annual contributor to the organization, Kasser said he just couldn't stand by and watch Arizona's nationally renowned professional theater close its doors.
"The closure would have meant the loss of the highest quality of theater in Arizona," he said, adding that ATC has premiered many new works and Broadway-bound productions, including this season's "Five Presidents."
"We're not some schlock theater," he said. "ATC is respected around the country. This is something the whole of Arizona should be proud of."
Kasser launched a campaign to raise the $1 million needed to eliminate the 2012-13 deficit and allow the organization to plan for another season. This year, he is leading another campaign to raise $500,000 by June 30 to meet a match challenge. In doing so, he says the theater will be on a path forward, assuming audiences respond well to ATC's programming.
This summer, the board will begin a national search for a permanent managing director, and the impending retirement of longtime artistic director David Ira Goldstein means a second search will follow for that position.
Kasser has long advocated for ATC, but he also supports other arts organizations, including the Tucson Symphony Orchestra and the Tucson Museum of Art. He credits his parents with exposing him and his sister to the arts at a young age, including opera, museums, theater and classical music.
He was born in Hungary to Alexander and Elisabeth Kasser, heroic role models who helped hide and rescue Hungarian Jews otherwise destined to be shipped to Nazi death camps in World War II. They worked with the Swedish Red Cross, renting buildings in Budapest and placing signs on the doors such as "Swedish Research Institute," then hiding Jews in them. They also were part of a humanitarian effort directed by Raoul Wallenberg, who is credited with saving more than 100,000 Jewish lives. Kasser's father was arrested and imprisoned but managed to escape.
Before the war his father was a successful engineer and his mother was from a well-to-do family. After the war, the family came to North America "dirt poor," living four years in Mexico City before moving to the United States and settling in New Jersey, just outside of Manhattan.
He shared a story about attending a Jascha Heifetz concert at the age of 9 in Mexico City, where he was so moved by the master violinist that he "hung out by the stage door" in the hopes of meeting the artist.
"My heart is with the arts," he said. "It's a part of my life."
Making the arts part of others' lives is important to Kasser. At a recent matinee of ATC's production of "Romeo & Juliet," he was sitting behind a group of nearly 50 middle and high school students. He said he couldn't help but notice how much they were enjoying the performance so he talked to them afterward.
"They all said how (attending the performance) was such a great experience," he said. "This opened them up to so much that they'd never experienced before."
Kasser said having a dynamic arts community "puts Arizona in the best light," helps with economic development, recruitment and retention of a younger workforce, and fosters innovators and creative thinkers for tomorrow.
"If all you do is focus on the science and math side, you lose innovation for tomorrow – and that is not a good thing."
Read a fascinating profile of Mike Kasser from the Fall 2011 – Click Here