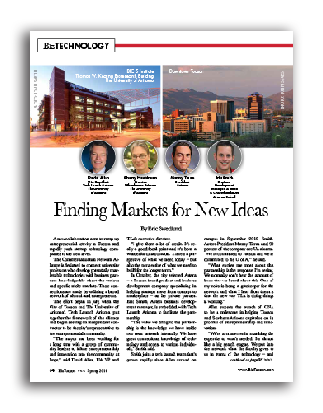 Finding Markets for New Ideas
By Eric Swedlund
A new collaboration aims to ramp up entrepreneurial activity in Tucson and rapidly push startup technology companies to the next level.
The Commercialization Network Alliance is designed to connect university professors who develop potentially marketable technologies with business partners knowledgeable about the various and specific niche markets. These connections are made by utilizing a broad network of alumni and entrepreneurs.
The effort began in July, when the City of Tucson and The University of Arizona's Tech Launch Arizona put together the framework of the alliance and began seeking an independent contractor to be the city's representative to the entrepreneurial community.
"The mayor has been working for a long time with a group of community leaders to infuse entrepreneurship and innovation into the community at large," said David Allen, UA VP and TLA's executive director.
"I give them a lot of credit. It's really a good focal point and it's been a wonderful collaboration. There's a perspective of what we need today – but also the perspective of what we need to build for the longer term."
In October, the city selected Aztera – a Tucson-based product and business development company specializing in helping startups move from concept to marketplace – as the private partner. Eric Smith, Aztera business development manager, is embedded with Tech Launch Arizona to facilitate the partnership.
"The value we bring to this partnership is the knowledge we have inside our own network internally. We have great connections, knowledge of technology and access to various individuals," Smith said.
Smith joins a tech launch team that's grown rapidly since Allen arrived on campus in September 2012. Smith, Aztera President Manny Teran and 90 percent of the company are UA alumni. "We're committed to Tucson and we're committed to the U of A," he said.
"What excites me most about this partnership is the response I'm seeing. We normally don't hear the amount of buzz that we heard about this. One of my roles is being a gatekeeper for the network and what I hear from them is that the new way TLA is doing things is working."
Allen expects the launch of CNA to be a milestone in helping Tucson and Southern Arizona capitalize on its promise of entrepreneurship and innovation.
"We're a connecter in matching the expertise to what's needed. It's almost like a big search engine. We put into the network what the faculty gives to us in terms of the technology – and what comes out is people who know an amazing amount about that field," Allen said.
UA innovators are among "a handful of people in a narrow area who are the best in the world. The technology that comes from that can also be very narrow. We need to find a response to understand that technology with people who have been doing that for a long time and have the ability to relate to the specifics of that technology."
The Commercialization Network Alliance is tied in with TLA's Wheelhouse Network, headed by Sherry Hoskinson.
"It was clear that the city wanted to establish a tangible presence in creating a new entrepreneurial environment and connect to The University of Arizona to encourage more technology-based startups that would result in more jobs and higher paying jobs," Hoskinson said.
"We structured the alliance to do those things and protect it from getting bogged down and distracted by other business. There was a lot of wisdom behind the decisions to design it as a consultant embedded in residence at Tech Launch Arizona."
The Wheelhouse Network has reached out to more than 50,000 UA alumni and maintains strong ties throughout the business community.
"We have representatives on every group and organization that relates to entrepreneurship and business growth and now have a comprehensive network that's growing all the time," she said.
"Another distinct benefit of having the network in house is our team is co-located with the license managers and Wheelhouse team members. When challenges and opportunities and needs come up, we can address them as a group. We add some scalability to what we do by being in one place."
Allen says there's no simple formulaic way to connect faculty with the right business expertise – which emphasizes how important a diverse and well-informed network can be in finding the right partners to ensure success for startup tech companies.
"This is a very flexible, highly creative morphing kind of a system, as entrepreneurial networks are," he said. "It's important to have process experts too – serial entrepreneurs from different backgrounds – but we absolutely need those domain experts to help us learn about what the markets are for the technologies we have."
As a comprehensive research university with a wide breadth of faculty expertise, TLA needs to be able to put the right people together to capitalize on the opportunities that a technology presents for new business ventures.
"Faculty seem to be very appreciative of the quality of people who are there," Allen said. "It's kind of amazing when you see a faculty member who's been working for their professional adult life in a particular technology get to meet people working in that area.
"We have to make it a meaningful relationship for them or they don't come back. That's the way we figure out how well it's working. We expect this to be a very sustainable network."