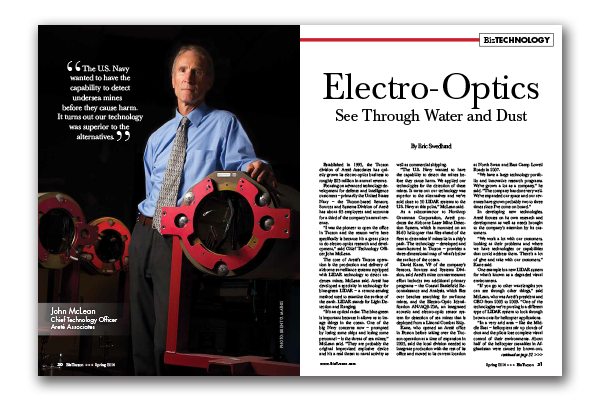 Electro-Optics See Through Water and Dust
By Eric Swedlund –
Established in 1993, the Tucson division of Areté Associates has quietly grown its electro-optics business to roughly $25 million in annual revenue.
Focusing on advanced technology development for defense and intelligence customers – primarily the United States Navy – the Tucson-based Sensors, Sources and Systems Division of Areté has about 65 employees and accounts for a third of the company's annual revenue.
"I was the pioneer to open the office in Tucson and the reason we're here specifically is because it's a great place to do electro-optics research and development," said Chief Technology Officer John McLean.
The core of Areté's Tucson operation is the production and delivery of airborne surveillance systems equipped with LIDAR technology to detect undersea mines, McLean said. Areté has developed a specialty in technology for blue-green LIDAR – a remote-sensing method used to examine the surface of the earth. LIDAR stands for Light Detection and Ranging.
"It's an optical radar. The blue-green is important because it allows us to image things in the ocean. One of the big Navy concerns now – prompted by losing some ships and losing some personnel – is the threat of sea mines," McLean said. "They are probably the original improvised explosive device and it's a real threat to naval activity as well as commercial shipping.
"The U.S. Navy wanted to have the capability to detect the mines before they cause harm. We applied our technologies for the detection of these mines. It turns out our technology was superior to the alternatives and we've sold close to 50 LIDAR systems to the U.S. Navy at this point," McLean said.
As a subcontractor to Northrop Grumman Corporation, Areté produces the Airborne Laser Mine Detection System, which is mounted on an H-60 helicopter that flies ahead of the fleet to determine if mines lie in a ship's path. The technology – developed and manufactured in Tucson – provides a three-dimensional map of what's below the surface of the ocean.
David Kane, VP of the company's Sensors, Sources and Systems Division, said Areté's mine countermeasure effort includes two additional primary programs – the Coastal Battlefield Reconnaissance and Analysis, which flies over beaches searching for surf-zone mines, and the Electro-Optic Identification AN/AQS-20A, an integrated acoustic and electro-optic sensor system for detection of sea mines that is deployed from a Littoral Combat Ship.
Kane, who opened an Areté office in Boston before taking over the Tucson operation at a time of expansion in 2005, said the local division needed to integrate production with the rest of its office and moved to its current location at North Swan and East Camp Lowell Roads in 2007.
"We have a large technology portfolio and innovative research programs. We've grown a lot as a company," he said. "The company has done very well. We've expanded our space and our revenues have grown probably two to three times since I've come on board."
In developing new technologies, Areté focuses on its own research and development as well as needs brought to the company's attention by its customers.
"We work a lot with our customers, looking at their problems and where we have technologies or capabilities that could address them. There's a lot of give and take with our customers," Kane said.
One example is a new LIDAR system for what's known as a degraded visual environment.
"If you go to other wavelengths you can see through other things," said McLean, who was Areté's president and CEO from 2003 to 2009. "One of the technologies we're pursing is a different type of LIDAR system to look through brown-outs for helicopter applications.
"In a very arid area – like the Middle East – helicopters stir up clouds of dust and the pilots lose complete visual control of their environments. About half of the helicopter casualties in Afghanistan were caused by brown-out, not enemy fire or anything like that. So we're building technology now that basically allows the pilots to see through dust clouds," he said.
Also in the works for Areté is the world's smallest, lightest and most compact LIDAR system – a prototype designed to mount on the underside of a small unmanned aerial vehicle. The 44-pound payload, which has flown on three different aircraft to date and is anticipated to undergo further testing this summer at Camp Pendleton, is a drastic reduction from the 220-pound LIDAR portion of the ALMDS, McLean said.
"We spend about 7 percent of our revenue on our own research and development – wild ideas we want to try out. But we pay a lot of attention to what the federal government agencies are interested in, in terms of priorities. We look at matching some of our technologies for those applications," he said. "That's our business model. We'll take some R&D, try to develop some new technologies to look at an emerging need, show the government that we have a solution and then go after the government contracts."
There are also widespread civilian applications for Areté technologies, McLean said.
For two examples, the U.S. Geological Survey is interested in measurements of the Colorado River drainage, and governments and the oil-extraction industry alike have interests in measuring ocean surface currents in real time, to predict where oil might wash ashore following a spill.
Founded in Northridge, Calif. in 1976, Areté is an employee-owned company with more than 300 employees in seven locations.