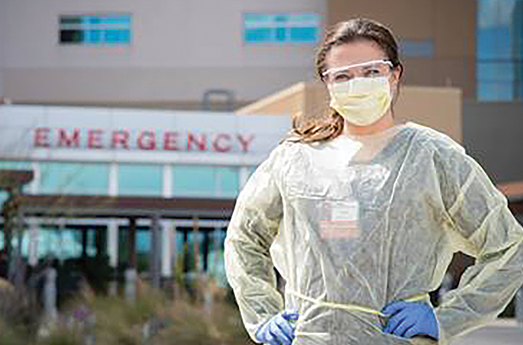 Pandemic Forces Hospitals to Reflect, Revamp
By Jay Gonzales
Since the early days of the COVID-19 pandemic, the one thing that has been certain is that uncertainty rules the day and will for some time to come.
As the healthcare industry learned to cope with the pandemic, another certainty has emerged – COVID-19 will impact the industry for years, maybe generations, both physically and financially. Something as simple as a doctor visit will look vastly different than it did a few months ago.
Yet, there have been a lot of lessons learned about the state of healthcare, both good and bad, that provide opportunities to reflect, adapt and move forward.
"We've learned a lot. There are certain things that certainly will change," said Frank Molinaro, CEO of the Carondelet Health Network, which is made up of St. Joseph's Hospital, St. Mary's Hospital and Holy Cross Hospital in Nogales. "As a country, we learned where we get our supplies from makes a difference."
Clinton Kuntz, CEO of MHC Healthcare, one of the region's largest primary-care providers, was more blunt about the future supply chain for gowns, masks, gloves and everything else needed in a hospital setting.
"We've got to be able to buy medical supplies here in the United States because that almost broke our healthcare system in and of itself," Kuntz said.
The physical aspect of going to a medical facility will also see dramatic changes, as practices put in place during the pandemic become the norm.
"I think infection prevention and surveillance, as important as they were, are going to be the No. 1 focus for people in hospitals going forward – making sure that people coming in feel safe and have different pathways through the hospital so there's a separation of the risks," Molinaro said.
Technology has already had a large impact on the industry, through the growth of telemedicine or telehealth, in which thousands of patients who needed to see doctors for routine visits during the stay-at-home order instead had virtual doctor visits on computers or mobile devices.
"I think we've been on this path, but it's been a slower path," said Nancy Johnson, CEO of El Rio Health, a local primary-care provider with more than 110,000 patients.
Johnson pointed out that insurance companies and Medicaid already covered telehealth visits, but with sanitary concerns over medical facilities going forward, those virtual visits will be more common. Still, she expects some pushback.
"I think we're still going to have a population that really wants that face-to-face experience," she said. "In our health organization, when you come in for a face-to-face visit, you're most likely using our pharmacy or using our laboratory or maybe getting your mammogram. Because we have many services embedded under our health centers, I think people will still come in because there's lots of other needs that we address there."
Going to a medical facility will simply look different going forward, according to healthcare providers. There will be more spacing of patients in waiting rooms. Areas might be sectioned off. Appointments may be spaced further apart to limit the number of patients in a waiting room.
Patients must adjust, but what they can't do is avoid healthcare.
"One of the things that we've seen across the country is that more and more people are putting off care," said Kevin Stockton, regional president and market CEO for Northwest Healthcare, which includes Northwest Medical Center and Oro Valley Hospital. "They're having health issues, they're calling EMS (emergency medical services). EMS is coming out to the house, then they refuse transport to the hospital because they're afraid of contracting some disease or COVID.
"What we're rolling out is we want to be able to have our doctors do a telehealth visit for those patients to say, 'No, this is serious; you need to come in,' and be able to screen them instead of them just making a decision without the best information. We hope that that will help take care of patients better."
Like most businesses, healthcare will face a long financial recovery at all levels. While the urgency and nature of the pandemic made it seem that the healthcare companies were overwhelmed, they were not. Hospital beds and doctors' offices were empty and business – except for the COVID-19 crisis – came to a standstill. The financial hit was significant because patients who would normally see a doctor for routine visits or elective surgeries put them on hold.
"Every healthcare provider has been hit hard financially by this pandemic," said Dr. Chad Whelan, CEO of Banner – University Medicine Tucson. "The federal and state funds to offset these hits are essential and welcomed, but they're not going to come close to covering our losses.
"At the same time, we're rethinking what this new normal looks like and how we safely care for people with COVID in our midst. We're also going to have to understand the long-term impact and what the forecasts look like for our financial future. It's just one more time where we're trying to do two things at once and neither of them are easy. It's not an easy balancing act."
Recovering financially will depend on how each business has adjusted and planned for a new future.
"We're still dealing with the day-to-day crisis, but we're also trying to figure out, when this crisis is done, how do we come out of it and what do we want to look like," Kuntz said. "We have the flexibility right now to make business changes we might not have before.
"The businesses that aren't afraid of change and working in a new model, no matter what that looks like, will be the ones that come out of this stronger. And that goes across the board, not just healthcare. Everybody's business model will look different when this is over."