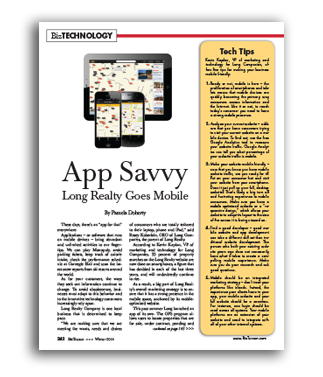 App Savvy Long Realty Goes Mobile
By Pamela Doherty
These days, there's an "app for that" everywhere.
Applications – or software that runs on mobile devices – bring abundant and unlimited activities to our fingertips. We can play Monopoly, avoid parking tickets, keep track of calorie intake, check the performance schedule at Carnegie Hall and scan the latest snow reports from ski resorts around the world.
As for your customers, the ways they seek out information continue to change. To avoid obsolescence, businesses must adapt to this behavior and to the innovative technology consumers increasingly rely upon.
Long Realty Company is one local business that is determined to keep pace.
"We are making sure that we are meeting the wants, needs and desires of consumers who are totally tethered to their laptop, phone and iPad," said Rosey Koberlein, CEO of Long Companies, the parent of Long Realty.
According to Kevin Kaplan, VP of marketing and technology for Long Companies, 35 percent of property searches on the Long Realty website are now done on smartphones, a figure that has doubled in each of the last three years, and will undoubtedly continue to rise.
As a result, a big part of Long Realty's overall marketing strategy is to ensure that it has a strong presence in the mobile space, anchored by its mobile-optimized website.
This past summer Long launched an app of its own. The GPS program allows users to locate properties that are for sale, under contract, pending and recently sold using an Apple or Android phone or iPad. Those looking for a home can find current listings by entering a street name or by circling areas of interest on the screen. When driving around, they can scan neighborhoods and access listing details using a live camera view from their device.
"We looked at our competition on the web and felt that we were in a unique position to develop this app and take control," Kaplan said.
According to Kaplan, search sites such as Zillow and Trulia upload information that is limited in scope and often out of date. In contrast Long's information comes from the Multiple Listing Service and is updated every 15 minutes. The database includes about 66,000 properties throughout Arizona.
"We want to help people make good decisions. People in the market who want to buy need to have timely, accurate data that is readily available," Kaplan said.
Kaplan's in-house team of 10 includes marketing and IT professionals who are charged with providing platforms, systems and content for agents. Long's app developer – a contracted vendor that specializes in real estate – took more than half a year to research and create the customized tool.
He points out that while the app has run smoothly, there is always a need for continuous refinement and continual updates to work out any bugs, incorporate user preferences and keep abreast of operating systems.
Long realtor Pasty Sable said, "One of the main reasons I joined Long is because their technology is far superior to anything else I've seen." In addition to the app, Sable points to the ability clients have to text an address to Long and receive current listing information and photos in a matter of seconds.
Sable's clients range in age from the mid-20s to the 80s, and "most have proven to be technologically savvy," she said.
"The industry and the consumer will always be on the hunt for something better and we need to be open to what's coming down the pike," added Kaplan. "While we are really good, we are never done. There's always a lot to think about."
Tech Tips
Kevin Kaplan, VP of marketing and technology for Long Companies, offers five tips for making your business
mobile friendly:
1. Ready or not, mobile is here – the proliferation of smartphones and tablets means that mobile devices are quickly becoming the primary way consumers access information and the Internet. Like it or not, to reach today's consumer you need to have a strong mobile presence.
2. Analyze your current website – odds are that you have consumers trying to visit your current website on a mobile device. To find out, use the free Google Analytics tool to measure your website traffic. Google Analytics can tell you what percentage of your website traffic is mobile.
3. Make your website mobile friendly – now that you know you have mobile website traffic, are you ready for it? Put on your consumer hat and visit your website from your smartphone. Does it just pull up your full, desktop website? That's likely a big turn off and frustrating experience to mobile consumers. Make sure you have a mobile optimized website or a "responsive design," which allows your website to adapt its layout to the size of the screen it is being viewed on.
4.Find a good developer – good mobile website and app development can take a different skill set than traditional website development. The person who built your existing website years ago does not necessarily have what it takes to create a compelling mobile experience. Make sure you do your research and ask good questions.
5. Mobile should be an integrated marketing strategy – don't treat your platforms like islands. Instead, the experience your clients have in your app, your mobile website and your full website should be a seamless. For instance, one login should be used across all systems. Your mobile platforms are an extension of your website and need to integrate with all of your other internal systems.