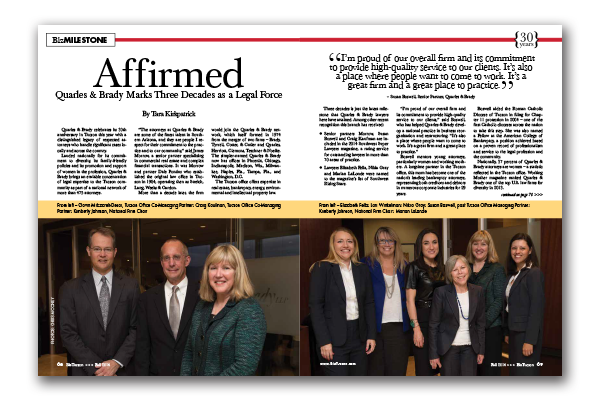 Affirmed – Quarles & Brady Marks Three Decades as a Legal Force
By Tara Kirkpatrick –
Quarles & Brady celebrates its 30th anniversary in Tucson this year with a distinguished legacy of respected attorneys who handle significant cases locally and across the country.
Lauded nationally for its commitment to diversity, its family-friendly policies and its promotion and support of women in the profession, Quarles & Brady brings an enviable concentration of legal expertise to the Tucson community as part of a national network of more than 475 attorneys.
"The attorneys at Quarles & Brady are some of the finest talent in Southern Arizona, and they are people I respect for their commitment to the practice and to our community," said James Morrow, a senior partner specializing in commercial real estate and complex financial transactions. It was Morrow and partner Dale Pontius who established the original law office in Tucson in 1984, operating then as Streich, Lang, Weeks & Cardon.
More than a decade later, the firm would join the Quarles & Brady network, which itself formed in 1974 from the merger of two firms – Brady, Tyrrell, Cotter, & Cutler and Quarles, Herriott, Clemons, Teschner & Noelke. The simpler-named Quarles & Brady now has offices in Phoenix, Chicago, Indianapolis, Madison, Wis., Milwaukee, Naples, Fla., Tampa, Fla., and Washington, D.C.
The Tucson office offers expertise in real estate, bankruptcy, energy, environmental and intellectual property law.
Three decades is just the latest milestone that Quarles & Brady lawyers here have attained. Among other recent recognition this branch has received:
Senior partners Morrow, Susan Boswell and Craig Kaufman are included in the 2014 Southwest Super Lawyers magazine, a rating service for outstanding lawyers in more than 70 areas of practice.
Lawyers Elizabeth Fella, Nikia Gray and Marian LaLonde were named to the magazine's list of Southwest Rising Stars.
"I'm proud of our overall firm and its commitment to provide high-quality service to our clients," said Boswell, who has helped Quarles & Brady develop a national practice in business reorganization and restructuring. "It's also a place where people want to come to work. It's a great firm and a great place to practice."
Boswell mentors young attorneys, particularly women and working mothers. A longtime partner in the Tucson office, this mom has become one of the nation's leading bankruptcy attorneys, representing both creditors and debtors in numerous corporate industries for 29 years.
Boswell aided the Roman Catholic Diocese of Tucson in filing for Chapter 11 protection in 2004 – one of the first Catholic dioceses across the nation to take this step. She was also named a Fellow at the American College of Bankruptcy, a position achieved based on a proven record of professionalism and service to the legal profession and the community.
Nationally, 37 percent of Quarles & Brady attorneys are women – a statistic reflected in the Tucson office. Working Mother magazine ranked Quarles & Brady one of the top U.S. law firms for diversity in 2013.
"Women (and men as well) can work part-time and still pursue and achieve partner status, which is not common in the industry, and mothers returning to work are allowed to phase their way back to full-time hours over several months," Boswell said.
The firm also is committed to training and mentoring within its ranks.
"We have an extensive training program, both firm-wide and within the practice groups," Boswell said. "We make an effort to provide additional training to our associates by having them attend court hearings and participate in depositions and other activities unique to their practice areas so they can observe more-experienced lawyers in those settings.
"We also have a significant mentorship program, assigning to all associates a mentor outside their practice group, who acts as a sounding board and career guide. Diverse associates benefit from a second, diverse mentor as well, in order to ensure that they are fully prepared for career advancement."
Quarles & Brady's local focus is widely praised.
"While Quarles & Brady is a national firm, there is a deep commitment and often decades of work supporting each of the cities where we have offices," Morrow said.
"They have been an invaluable asset to the chamber for years and years," said Michael Varney, president and CEO of Tucson Metro Chamber, which has relied on Quarles & Brady's pro-bono assistance.
"Not only has that saved us money, but we feel we are in the hands of the ultimate legal talent," Varney said. "Whenever a legal issue arises, we know we have people whom we can turn to, who will be there for us."
Michele Mirto, director of the Volunteer Lawyers Program for Southern Arizona Legal Aid, said Quarles & Brady has helped her program for more than 20 years.
"I think they realize that they are uniquely qualified with a skill set to help the community, Mirto said. "They've been an enormous help to our program." The firm recently lent its legal secretaries to SALA for a new administrative support initiative.
Attorneys support and volunteer at Carrillo Intermediate Magnet School's reading program, Tucson Community Food Bank, Children's Village, Making Strides Against Breast Cancer and the United Way Days of Caring, Morrow said.
Earlier this year, Quarles & Brady, with its proficiency in intellectual property law, partnered with the University of Arizona's James E. Rogers College of Law to launch a new legal clinic aimed at the complexities of start-up companies. The firm offers its experts to the clinic, in which students act as junior attorneys representing such companies, advising them on IP protection, venture funding and commercializing their innovations.
"I'm proud that Quarles & Brady attorneys have a high level of professionalism and integrity, and they bring genuine passion to their legal practice and client representation," Morrow said.