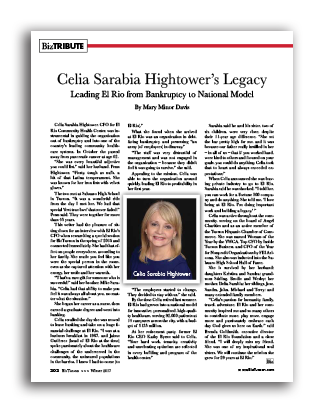 Celia Sarabia Hightower's Legacy
By Mary Minor Davis –
Leading El Rio from Bankruptcy to National Model
Celia Sarabia Hightower, CFO for El Rio Community Health Center, was instrumental in guiding the organization out of bankruptcy and into one of the country's leading community healthcare systems. In October she passed away from pancreatic cancer at age 62.
"She was every beautiful adjective you could list," said her husband, Penn Hightower. "Fiesty, tough as nails, a bit of that Latina temperament. She was known for her iron fists with velvet gloves."
The two met at Sahuaro High School in Tucson. "It was a wonderful ride from the day I met her. We had that special 'first true love' that never faded," Penn said. They were together for more than 45 years.
This writer had the pleasure of sitting down for an interview with El Rio's CFO when researching a special section for BizTucson in the spring of 2016 and connected immediately. She had that effect on people everywhere, according to her family. She made you feel like you were the special person in the room, even as she captured attention with her energy, her smile and her warmth.
"That's a rare gift for someone who is successful," said her brother, Mike Sarabia. "Celia had that ability to make you feel it was always all about you, no matter what the situation."
She began her career as a nurse, then earned a graduate degree and went into banking.
Celia recalled the day she was moved to leave banking and take on a huge financial challenge at El Rio. "I was at a business breakfast in 1987, and Jaime Gutiérrez (head of El Rio at the time) spoke passionately about the healthcare challenges of the underserved in the community, the uninsured populations in the barrios. I knew I had to come (to El Rio)."
What she found when she arrived at El Rio was an organization in debt, facing bankruptcy, and possessing "an army (of employees) in disarray."
"The staff was very distrustful of management and was not engaged in the organization – because they didn't feel it was going to survive," she said.
Appealing to the mission, Celia was able to turn the organization around quickly, leading El Rio to profitability in her first year.
"The employees started to change. They decided to stay with us," she said.
By the time Celia retired last summer, El Rio had grown into a national model for innovative, personalized, high-quality healthcare, serving 92,000 patients at 14 campuses across the city, with a budget of $135 million.
At her retirement party, former El Rio CEO Kathy Byrne said to Celia, "Your hard work, tenacity, creativity and unrelenting optimism are reflected in every building and program of the health center."
Sarabia said he and his sister, two of six children, were very close, despite their 11-year age difference. "She set the bar pretty high for me, and it was because our father really instilled in her – in all of us – that if you worked hard, were kind to others and focused on your goals, you could do anything. Celia took that to heart and always exceeded expectations."
When Celia announced she was leaving private industry to go to El Rio, Sarabia said he was shocked. "I told her, you can work for a Fortune 500 company and do anything. She told me, 'I love being at El Rio. I'm doing important work and building a legacy.' "
Celia was active throughout the community, serving on the board of Angel Charities and as an active member of the Tucson Hispanic Chamber of Commerce. She was named Woman of the Year by the YWCA, Top CFO by Inside Tucson Business, and CFO of the Year for Nonprofit Organizations by FEI Arizona. She also was inducted into the Sahuaro High School Hall of Fame.
She is survived by her husband; daughters Kristina and Sandra; grandsons Stirling, Brodie and Wesley; her mother, Delia Sarabia; her siblings, Jose, Sandra, John, Michael and Terry; and many extended family members.
"Celia's passion for humanity, family, travel, adventure, El Rio and her community inspired me and so many others to contribute more, play more, engage more and passionately embrace each day God gives us here on Earth," said Brenda Goldsmith, executive director of the El Rio Foundation and a close friend. "I will deeply miss my friend. She was one of my inspirational soul sisters. We will continue the mission she grew for 29 years at El Rio."