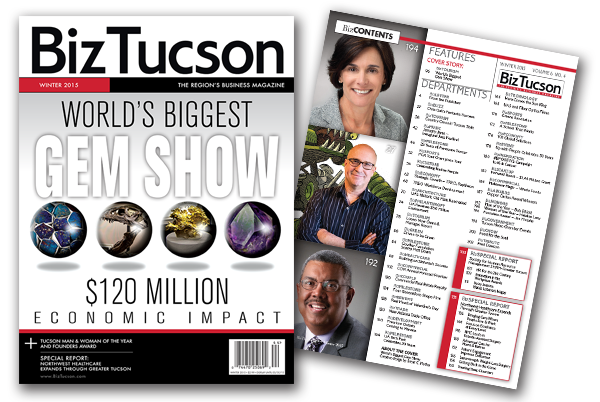 From The Publisher –
Tourism in this region has an annual economic impact of $2 billion and events have always been central to this success.
The crown jewel of events is the Tucson Gem, Mineral & Fossil Showcase. People from 25 countries and seven continents attend this event that's attracted global attention for 60 years. The most recent report commissioned by Visit Tucson shows a whopping annual economic impact of $120 million. Kimberly Schmitz files a fascinating in-depth report on the biggest gem show on the planet. Glittering gems and minerals, intriguing fossils and much more will be on display at some 40 shows throughout the city. This year our urban core will shine bright, with the first sparkling modern streetcars and a new one-week pass to accommodate gem show visitors and locals.
Visit Tucson is the region's destination-marketing organization that works to attract more events and expand our substantial tourism base, which means more jobs and increased economic impact to come. Visit Tucson recently partnered with country crooner Randy Houser, who filmed his hit video "Like A Cowboy" at Old Tucson. VP of Marketing Allison Cooper leveraged every angle to drive more country fans to the Visit Tucson website. These efforts earned an outstanding achievement award from the Western Association of Convention & Visitors Bureaus.
From riding on two wheels at El Tour de Tucson, to riding bucking broncos at La Fiesta de los Vaqueros, this town has a long list of events that drive tourism. This issue highlights the 25th anniversary of what is now known as the Tucson Association of Realtors Shootout, the latest PGA Champions Tour and the inaugural Tucson Jazz Festival. The Amerind Museum attracts visitors with stunning art and artifacts of native cultures from Alaska to Argentina. The research and tourism treasure dates to the 1930s.
Healthcare is the centerpiece of our special report, with in-depth coverage by Dan Sorenson and Mary Minor Davis. The Northwest Healthcare system now spans the metro area, including two hospitals, six urgent care centers, physician offices – and soon – the region's first freestanding emergency center. CEOs Kevin Stockton of Northwest Medical Center and Jae Dale of Oro Valley Hospital share their vision for the future of healthcare and their ongoing commitment to meet or exceed national standards for specialized care.
The Society for Human Resource Management of Greater Tucson is one of the nation's strongest chapters with 420 members and several national awards. SHRM-GT focuses on training and networking for HR professionals through monthly events, the annual Innovation in the Workplace awards and a nationally prominent speaker each spring.
Mark your calendars for Feb. 7th and a Loews Ventana Canyon gala, as Greater Tucson Leadership honors Man of the Year Bob Elliott, Woman of the Year Helaine Levy and Founders of the Year Jim Murphy.
The landmark resort has been managed by Loews Hotels and Resorts since it opened 30 years ago. In November, Loews became majority owner of the resort, with the founding Estes family retaining a small ownership interest. This is a wonderful sign that corporate America is bullish on investing in Tucson tourism.
Creative genius Chris Gall is the focus of BizBUZZ. This illustrator and author is our own Desert Disney. His fanciful books have legions of followers around the globe. Netflix and DreamWorks discovered Gall's Dinotrux books and plan to produce 300 episodes featuring animated creatures that are half dinosaur and half monster truck. Learn more about this hometown artist and his astounding success. Who knows, maybe his Dinotrux critters will be at Toys "R" Us by Christmas 2016? Keep this guy on your radar!
Steven E. Rosenberg
Publisher & Owner
BizTucson