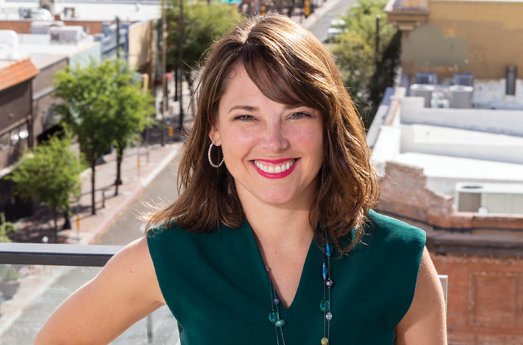 Tucson Metro Chamber CEO Amber Smith
More Collaboration, Better Community
By Romi Carrell Wittman
When Amber Smith took the reins of the Tucson Metro Chamber in January 2018, her motto was "better together." Since then, the president and CEO has built on that concept and greatly expanded it, making the Chamber an integral part of the Southern Arizona community, as well as a resource for businesses big and small.
"I really wanted to see the Chamber take on a more collaborative role, communitywide," Smith said. One thing has stood out over the last two years of several changes. "The most significant thing we've done is to innovate an organization that had been stagnant for a number of years," she said.
Smith has overseen a great deal of change. Perhaps the most visible was the move from the Chamber's old headquarters near St. Mary's Road to a new location on Broadway in the heart of downtown. Though the move was to address some practical issues – the old building was too big for the Chamber's needs – it also served to signal that the Chamber was headed in new and exciting directions.
Under Smith's leadership, the Chamber has become a proactive force in many areas, including education, workforce development, talent attraction, and advocacy at the city, state and federal levels.
"The Chamber has adapted," said Tim Medcoff, a managing partner at Farhang & Medcoff law firm and chair of the Chamber's board of directors. "It's no longer the good old boys network where deals are done in backrooms with a bunch of guys making all the decisions. Amber is a good reflection of that change."
Medcoff added that it's important to have a diversity of voices and Smith, with her laser focus on collaboration and connectedness, has helped to get those voices in the room. "Diversity matters," Medcoff said. "It helps us make better decisions and takes into account the community in which we live."
Amanda Brockman, assistant VP of Cradle to Career, a workforce development partnership with the United Way of Tucson and Southern Arizona, said Smith has helped bring attention to the needs of communities that are often marginalized. "Amber has a microphone and she's been willing to use it to support programs," Brockman said. "She's been extraordinary to work with."
This multifaceted work makes the Chamber extremely valuable to the community. "The Chamber drives objectives that bolster and support our economy. We're in the process of meeting with city, county and private sector leaders," Medcoff said. "We ask what the community actually needs."
Smith has had a long career of public service, including working in the office of the late U.S. Sen. John McCain from Arizona in constituent services and as an intergovernmental relations associate for Racy & Associates, a firm that specializes in policy and government affairs. Prior to joining the Chamber, she was the executive director of Metropolitan Pima Alliance for nine years. Not coincidentally, the MPA's mission is advocacy, education and relationships.
Smith has worked hard to connect with the various chambers serving communities surrounding Tucson so they can be a strong and unified voice for a business community that comprises small mom-and-pop businesses and multinational firms. She also has strengthened ties between the Chamber and Sun Corridor Inc., the region's economic development engine. Smith has also embraced education, childcare and housing insecurity – all factors that affect economic success.
In April, not long after the COVID-19 stay-at-home orders from Arizona Gov. Doug Ducey were put in place, the Chamber unveiled Pipeline AZ, a one-stop shop for job seekers to connect with local employers. It's a statewide initiative based on technology that the Chamber piloted.
But perhaps the biggest achievement under Smith's leadership has been the sense that the Chamber is a resource for everyone. "There was a perception that the Chamber only focused on big-business needs," she said. "The Chamber had only been communicating to members, not the community at large."
Smith immediately realized this was not what the community needed. "We changed the way we communicate," she said. "Our goal is to strengthen all of our partnerships so that we can all advocate together."
When asked what the chamber will look like in five years, Smith didn't hesitate. "I want the Chamber to be known as 100% the resource for business."
CLICK HERE TO READ THE FULL TUCSON METRO CHAMBER SPECIAL REPORT