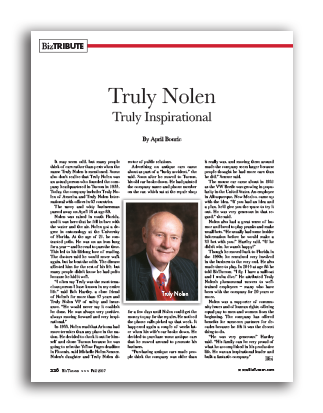 Truly Nolen Truly Inspirational
By April Bourie –
It may seem odd, but many people think of cars rather than pests when the name Truly Nolen is mentioned. Some also don't realize that Truly Nolen was an actual person who founded the company headquartered in Tucson in 1955. Today, the company includes Truly Nolen of America and Truly Nolen International with offices in 63 countries.
The savvy and witty businessman passed away on April 18 at age 89.
Nolen was raised in south Florida, and it was here that he fell in love with the water and the air. Nolen got a degree in entomology at the University of Florida. At the age of 21, he contracted polio. He was on an iron lung for a year – and he read to pass the time. This led to his lifelong love of reading. The doctors said he would never walk again, but he beat the odds. The disease affected him for the rest of his life, but many people didn't know he had polio because he hid it well.
"I often say Truly was the most tenacious person I have known in my entire life," said Bob Hartley, a close friend of Nolen's for more than 47 years and Truly Nolen VP of safety and insurance. "He would never say it couldn't be done. He was always very positive, always moving forward and very inspirational."
In 1955, Nolen read that Arizona had more termites than any place in the nation. He decided to check it out for himself and chose Tucson because he was going to miss the Yellow Pages deadline in Phoenix, said Michelle Nolen Senner, Nolen's daughter and Truly Nolen director of public relations.
Advertising on antique cars came about as part of a "lucky accident," she said. Soon after he moved to Tucson, his old car broke down. He had painted the company name and phone number on the car, which sat at the repair shop for a few days until Nolen could get the money to pay for the repairs. He noticed the phone calls picked up that week. It happened again a couple of weeks later when his wife's car broke down. He decided to purchase some antique cars that he moved around to promote his business.
"Purchasing antique cars made people think the company was older than it really was, and moving them around made the company seem larger because people thought he had more cars than he did," Senner said.
The mouse car came about in 1961 as the VW Beetle was growing in popularity in the United States. An employee in Albuquerque, New Mexico, came up with the idea. "If you had an idea and a plan, he'd give you the space to try it out. He was very generous in that regard," she said.
Nolen also had a great sense of humor and loved to play pranks and make small bets. "He usually had some insider information before he would make a $5 bet with you," Hartley said. "If he didn't win, he wasn't happy!"
Though he moved back to Florida in the 1990s, he remained very involved in the business to the very end. He also made time to play. In 2014 at age 86 he told BizTucson, "I fly, I have a sailboat and I scuba dive." He attributed Truly Nolen's phenomenal success to well-trained employees – many who have been with the company for 20 years or more.
Nolen was a supporter of community issues and of human rights, offering equal pay to men and women from the beginning. The company has offered benefits for same-sex partners for decades because he felt it was the decent thing to do.
"He was very generous," Hartley said. "His family can be very proud of what he accomplished in his productive life. He was an inspirational leader and built a fantastic company."