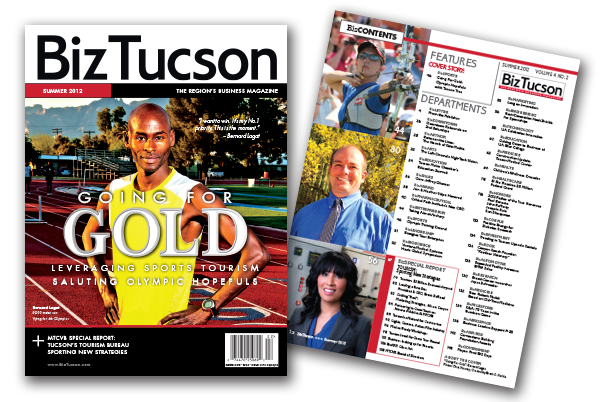 From The Publisher –
In business we all try to leverage our assets – and go for the gold.
As a mid-size market we'll never attract the NBA, MLB or NFL, but being anchored by an NCAA Division I university has made us a great college sports town. Our city also has become an Olympic training ground for some of the world's finest athletes and coaches.
This edition is in part a celebration and a salute to our Olympic hopefuls. Their dedication and commitment to excellence make us proud. Steve Rivera provides us with a preview of some of the stellar performers with Tucson ties who are going for Olympic gold in London – more than 50 athletes in a wide variety of sports (on land, sea and air).
The best sentiment of all comes from three-time Olympic medalist Bernard Lagat, who tells us, "In the other Olympics I was just happy to be there. I just wanted to do my best. Now I want to win. It's my No.1 priority. This is the moment." He's trying to become the first American to win the 5000-meter run since Bob Schul did it in Tokyo in 1964. Lagat is preparing for his fourth Olympic games.
Vying for coveted Olympic team status is Brigetta Barrett, a University of Arizona junior majoring in theater arts. At press time, she had the No. 3 best high jump in the world.
Then there's Tucson's tourism team at the Metropolitan Tucson Convention & Visitors Bureau and their new strategic partnership with UA Athletics Crew. The MTCVB team and Greg Byrne & Co. have collaborated to create a vision for what our community can become.
Hosting and producing more championship sporting events will attract more visitors to our expanding selection of venues, causing our region's revenues to climb.
Other strategies, including focusing on the film industry and partnering with the university's Hanson Arizona Film Institute are outlined in the report. In our special report on tourism, you'll also get the opportunity to meet Brent DeRaad, the new president & CEO of MTCVB. DeRaad has a passion for the industry and a vision for our Sonoran desert. He's calling for an increased marketing investment in 10 major markets. Tourism is our region's $2.5 billion industry, and is definitely goin' for gold.
The BizTucson "dream team" of Rivera, Christy Krueger, Teya Vitu, Edie Jarolim, Gabrielle Fimbres, Romi Carrell Wittman and "Coach" Donna Kreutz lead the way with medal-worthy reports.
This issue has something for every reader's taste. Vitu reports on Len Jessup, the UA business college dean, as well as UA Engineering Assistant Professor Erica Corral. Vitu also provides us with an interesting glimpse of the new CEO of the Critical Path Institute, Dr. Carolyn Compton. Eric Swedlund files a compelling report on UA breast cancer researcher Joyce Schroeder.
You're sure to be inspired by Fimbres' profiles on four Father of the Year honorees, selected by the Father's Day Council Tucson. Besides being role model dads and true givers to our community, they're committed to efforts to fund vital type 1 diabetes research at Steele Children's Research Center.
There's a wide variety of business covered in this edition: the arts, investment, medicine, automotive, construction, aerospace, real estate, accounting, technology and more.
To top it off, for all who dream of writing the great American novel, we have a real-life mom who walked away from a career in banking to self-publish three novels. Read a fascinating account of how creative marketing – along with Amazon and Kindle – got Kate Mathis "on the radar," as they say. Her first novel climbed to No. 14 out of the Top 100 Kindle e-books.
Have a terrific summer, and don't forget to start it in your own backyard. Check out the resort update on page 101 for some cool staycation ideas.
Steven E. Rosenberg
Publisher & Owner,
BizTucson