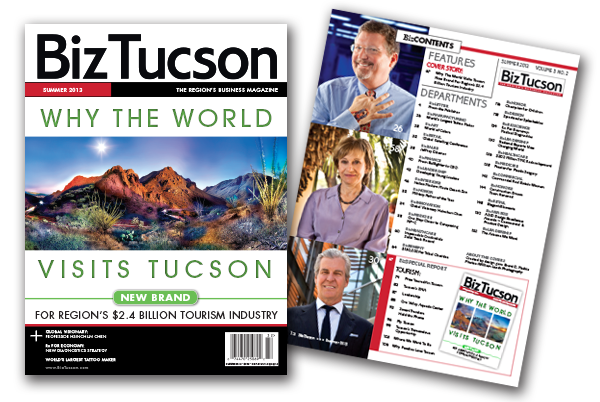 SUMMER ISSUE 2013 – Why The World Visits Tucson
From the Publisher
Tourism pumps $2.4 billion a year into Southern Arizona's economy. Marketing this destination is big business.
We're known worldwide for the spectacular desert and rugged mountains that surround us – not to mention 350+ days of sunshine. Add to that our array one-of-a-kind experiences and you have an authentic tourist mecca.
Think world-class accommodations, outdoor adventure, cuisine, cultural heritage, iconic attractions and only-in-Tucson events sure to inspire even the most seasoned traveler. It's all in our backyard.
For the past year, the convention and visitors bureau now known as Visit Tucson conducted extensive research to discover what specifically draws people to Tucson – with input from tourism stakeholders, Tucson tourists and travelers who have yet to visit. The next step was developing a brand architecture to shape the future of tourism marketing for the next decade.
Visit Tucson's President & CEO Brent DeRaad, a widely respected marketing pro, and Michael Luria, Visit Tucson's board chair and longtime Tucson businessman, led this community-wide collaborative process.
The process itself was remarkable. First, an all-star selection committee unanimously chose MMGY Global, a best-in-class branding and marketing firm. After months of comprehensive research and analysis, key components of our brand essence were presented, along with the idea that you could Free Yourself in Tucson. That resonated with the entire room of tourism stakeholders. There was enthusiastic consensus.
"This is going to pay big dividends for Tucson in the future," said Loews Ventana Canyon's Managing Director Brian Johnson. An influential participant, he was impressed with DeRaad's commitment "to take the time and do this the right way."
Discover Tucson's DNA. Read the BizTucson Special Report on the re-branding of destination Tucson, with insightful articles by freelance journalists Edie Jarolim, Joan Liess and others. I think you'll agree that the opportunity to grow this industry is unlimited – and critically important to our economic future. Hats off to "Coach" Donna Kreutz, who led BizTucson's tourism team to produce the in-depth section that begins on p. 67.
This edition features other reports that tie into our theme of why the world visits Tucson.
Every spring, the Global Retailing Conference draws industry icons and executives, as well as local students. It's presented by the Terry J. Lundgren Center for Retailing at the University of Arizona – named for the UA alum who is Macy's president & CEO. Tara Kirkpatrick writes about this "Super Bowl of Retail."
Tucson tourists chill in water features designed by Aqua Design International, including dramatic pools at The Ritz-Carlton, Dove Mountain, JW Marriott Starr Pass Resort and Casino Del Sol Resort, Spa and Conference Center. This local firm also designs for clients around the globe. See Christy Krueger's Spectacular Splashables.
Already a bioscience hub, this region could attract more research companies by focusing on the emerging niche of medical diagnostics. Dan Sorenson highlights a new study produced by Dr. Raymond L. Woosley for Tucson Regional Economic Opportunities.
Recent research breakthroughs offer hope to halt the progression of the rare NP-C disease that claimed three of Dr. Michael and Cindy Parseghian's children. Read Gabrielle Fimbres' compelling update.
The future also looks bright at The University of Arizona Health Network with new President & CEO Dr. Michael Waldrum at the helm. Fimbres interviews this physician with Impeccable Credentials + A Solid Track Record. At Tucson Medical Center, a $200 million campus improvement project culminates with the opening of the orthopaedic and surgical tower. Sheryl Kornman reports.
And finally, did you know that Tucson is the global leader for temporary tattoos? Tattoo Manufacturing has grown into a $25 million business. Mary Minor Davis takes us inside this factory of fun.
Steven E. Rosenberg
Publisher & Owner
BizTucson