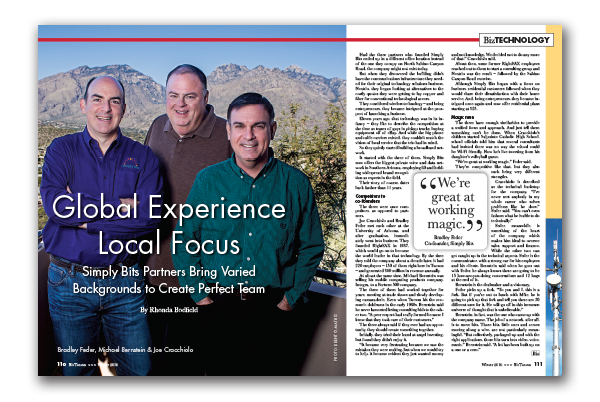 Simply Bits Partners Bring Varied Backgrounds
By Rhonda Bodfield –
Global Experience Local Focus Simply Bits Partners Bring Varied
Backgrounds to Create Perfect Team
Had the three partners who founded Simply Bits ended up in a different office location instead of the one they occupy on North Sabino Canyon Road, the company might not exist today.
But when they discovered the building didn't have the communications infrastructure they needed for their original technology solutions business, Nextrio, they began looking at alternatives to the costly quotes they were getting to lay copper and fiber for conventional technological access.
They considered wireless technology – and being entrepreneurs, they became intrigued at the prospect of launching a business.
Eleven years ago, that technology was in its infancy – they like to describe the competition at the time as teams of guys in pickup trucks, buying equipment off of eBay. And while the big phone and cable carriers existed, they couldn't match the vision of local service that the trio had in mind.
So they quietly started building a broadband network.
It started with the three of them. Simply Bits now offers the biggest private voice and data network in Southern Arizona, employing 60 and holding widespread brand recognition as experts in the field.
Their story, of course, dates back farther than 11 years.
Competitors to co-founders
The three were once competitors, as opposed to partners.
Joe Cracchiolo and Bradley Feder met each other at the University of Arizona, and after graduation, immediately went into business. They founded RightFAX in 1987, which would go on to become the world leader in that technology. By the time they sold the company about a decade later, it had 220 employees – 150 of them right here in Tucson – and generated $60 million in revenue annually.
At about the same time, Michael Bernstein was selling his mobile computing products company, Integra, to a Fortune 500 company.
The three of them had worked together for years, meeting at trade shows and slowly developing camaraderie. Even when Tucson hit the economic doldrums in the early 1980s, Bernstein said he never lamented losing consulting bids to the other two. "A peer respect had really formed because I knew that they took care of their customers."
The three always said if they ever had an opportunity, they should create something together.
Initially, they tried their hand at angel investing, but found they didn't enjoy it.
"It became very frustrating because we saw the mistakes they were making, but when we would try to help, it became evident they just wanted money and not knowledge. We decided not to do any more of that," Cracchiolo said.
About then, some former RightFAX employees reached out to them to start a consulting group and Nextrio was the result – followed by the Sabino Canyon Road exercise.
Although Simply Bits began with a focus on business, residential customers followed when they would share their dissatisfaction with their home service. And, being entrepreneurs, they became intrigued once again and now offer residential plans starting at $25.
Magic men
The three have enough similarities to provide a unified focus and approach. And just tell them something can't be done. When Cracchiolo's children started Salpointe Catholic High School, school officials told him that several consultants had insisted there was no way the school could be Wi-Fi friendly. Now he's live tweeting from his daughter's volleyball game.
"We're great at working magic," Feder said.
They're competitive like that, but they also each bring very different strengths.
Cracchiolo is described as the technical backstop for the company. "I've never met anybody in my whole career who solves problems like he does," Feder said. "You can't even fathom what he is able to do technically."
Feder, meanwhile, is something of the heart of the company, which makes him ideal to oversee sales, support and finance. While the other two can get caught up in the technical aspects, Feder is the communicator, with a strong ear for his employees and his clients. Bernstein said when he goes out with Feder, he always knows there are going to be 15 how-are-you-doing conversations and 12 hugs at the end of it.
Bernstein is the dealmaker and a visionary.
Feder picks up a fork. "To you and I, this is a fork. But if you're out to lunch with Mike, he is going to pick up that fork and tell you there are 30 different uses for it. He will go off in this immense universe of thought that is unbelievable."
Bernstein, in fact, was the one who came up with the company name. The job of a network, after all, is to move bits. Those bits, little ones and zeroes moving along a wire, are not particularly meaningful. "But collectively, packaged up and with the right applications, those bits turn into video, voice, music," Bernstein said. "A lot has been built up on a one or a zero."