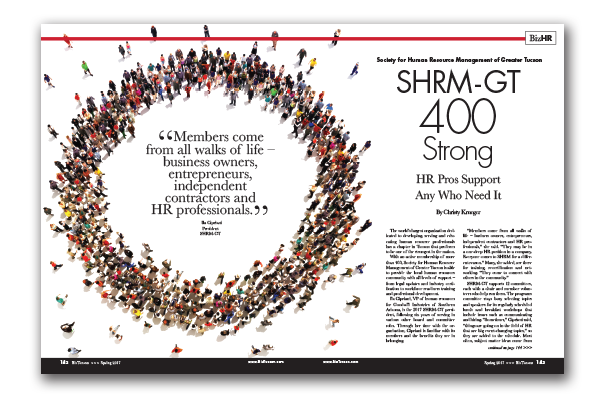 By Christy Krueger – 
HR Pros Support Any Who Need It
The world's largest organization dedicated to developing, serving and educating human resource professionals has a chapter in Tucson that professes to be one of the strongest in the nation.
With an active membership of more than 400, Society for Human Resource Management of Greater Tucson is able to provide the local human resources community with all levels of support – from legal updates and industry certification to workforce readiness training and professional development.
Ila Cipriani, VP of human resources for Goodwill Industries of Southern Arizona, is the 2017 SHRM-GT president, following six years of serving in various other board and committee roles. Through her time with the organization, Cipriani is familiar with its members and the benefits they see in belonging.
"Members come from all walks of life – business owners, entrepreneurs, independent contractors and HR professionals," she said. "They may be in a one-deep HR position in a company. Everyone comes to SHRM for a different reason." Many, she added, are there for training, recertification and networking. "They come to connect with others in the community."
SHRM-GT supports 12 committees, each with a chair and member volunteers who help run them. The programs committee stays busy selecting topics and speakers for its regularly scheduled lunch and breakfast workshops that include issues such as communicating and hiring. "Sometimes," Cipriani said, "things are going on in the field of HR that are big event-changing topics," so they are added to the schedule. Most often, subject matter ideas come from attendees who are surveyed for their requests.
Three times a year SHRM-GT holds special events, such as the all-day Law Update Conference in April. "We invite law firms that specialize in employment law. They update us on the court system, what new laws there are and practical tips," Cipriani said.
For the National Speaker Event held every fall, SHRM-GT invites a high-profile presenter who speaks on broader work-related topics that are of interest to the general business community. It is open to the public.
SHRM-GT's largest event is the Celebrating Innovation in the Workplace Awards in November. Requiring months of preparation, work is divided between three committees to assure it runs smoothly and is well-attended. "This recognizes innovative programs across all spectrums," Cipriani explained.
Other committees include the newly created digital presence committee, which works to create a social media presence on Facebook, Twitter and LinkedIn, and the professional certification committee. This important group puts together study sessions that prepare members for the various levels of human resources certification testing, and have been shown to improve test success rates.
Cipriani is especially proud of SHRM-GT's workforce readiness committee that is partnering with Junior Achievement to offer training to youth in the community. "We engage with high school kids as they make the decisions of what they want to do," she said.
Connecting with the younger generation is another step in SHRM-GT's commitment to helping the local workforce reach its potential. "We're a tremendous HR professional resource for anyone in the greater Tucson community. We're working hard this year to put ourselves out there to help more people."