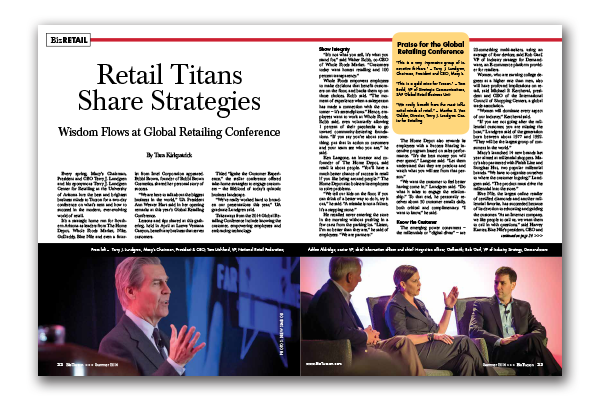 Retail Titans Share Strategies – Wisdom Flows at Global Retailing Conference
By Tara Kirkpatrick –
Every spring, Macy's Chairman, President and CEO Terry J. Lundgren and his eponymous Terry J. Lundgren Center for Retailing at the University of Arizona lure the best and brightest business minds to Tucson for a two-day conference on what's next and how to succeed in the modern, ever-evolving world of retail.
It's a strategic home run for Southern Arizona as leaders from The Home Depot, Whole Foods Market, Nike, GoDaddy, Blue Nile and even a futurist from Intel Corporation appeared. Bobbi Brown, founder of Bobbi Brown Cosmetics, shared her personal story of success.
"We are here to talk about the biggest business in the world," UA President Ann Weaver Hart said in her opening remarks at this year's Global Retailing Conference.
Lessons and tips shared at this gathering, held in April at Loews Ventana Canyon, benefit any business that serves customers.
Titled "Ignite the Customer Experience," the stellar conference offered take-home strategies to engage customers – the lifeblood of today's quixotic business landscape.
"We've really worked hard to broaden our presentations this year," UA graduate Lundgren said.
Takeaways from the 2014 Global Retailing Conference include knowing the customer, empowering employees and embracing technology.
Show Integrity
"It's not what you sell, it's what you stand for," said Walter Robb, co-CEO of Whole Foods Market. "Customers today want honest retailing and 100 percent transparency."
Whole Foods empowers employees to make decisions that benefit customers on the floor, and backs them up on those choices, Robb said. "The moment of experience when a salesperson has made a connection with the customer – it's serendipitous." Hence, employees want to work at Whole Foods, Robb said, even voluntarily allowing
1 percent of their paychecks to go toward community-bettering foundations. "If you say you're about something, put that in action so customers and your team see who you are," he said.
Ken Langone, an investor and co-founder of The Home Depot, said retail is about people. "You'll have a much better chance of success in retail if you like being around people." The Home Depot also bolsters its employees to solve problems.
"We tell our kids on the floor, if you can think of a better way to do it, try it out," he said. "A mistake is not a failure, it's a stepping stone."
He recalled never entering the store in the morning without pushing in a few carts from the parking lot. "Listen, I'm no better than they are," he said of employees. "We are partners."
The Home Depot also rewards its employees with a Success Sharing incentive program based on sales performance. "It's the best money you will ever spend," Langone said. "Let them understand that they are precious and watch what you will see from that person."
"We want the customer to feel better having come in," Lundgren said. "Do what it takes to engage the relationship." To that end, he personally receives about 50 customer emails daily, both critical and complimentary. "I want to know," he said.
Know the Customer
The emerging power consumers – the millennials or "digital divas" – are 20-something multi-taskers, using an average of four devices, said Rob Garf, VP of industry strategy for Demandware, an E-commerce platform provider for retailers.
Women, who are earning college degrees at a higher rate than men, also will have profound implications on retail, said Michael P. Kercheval, president and CEO of the International Council of Shopping Centers, a global trade association.
"Women will dominate every aspect of our industry," Kercheval said.
"If you are not going after the millennial customer, you are missing the boat," Lundgren said of the generation born between about 1977 and 1992. "They will be the largest group of consumers in the world."
Macy's launched 14 new brands last year aimed at millennial shoppers. Macy's also partnered with Finish Line and Sunglass Hut, two popular millennial brands. "We have to organize ourselves to where the customer is going," Lundgren said. "The product must drive the millennial into the store."
Blue Nile, the largest online retailer of certified diamonds and another millennial favorite, has succeeded because of its devotion to educating and guiding the customer. "As an Internet company, we like people to call us, we want them to call in with questions," said Harvey Kanter, Blue Nile's president, CEO and chairman of the board. The strategy works because customers routinely submit glowing feedback for Blue Nile.
Embrace Technology
Intel Corporation Futurist Brian David Johnson gave the audience a taste of what might be ahead for retail:
• Hologram stores
• Intelligent fashion – clothes that interact with the retail space, telling the store when inventory is low
• Intelligent shelves – displays that can, for example, hide or cover products that have peanuts from shoppers who suffer peanut allergies
• Drones – small, flying robots that can deliver online orders within minutes or hours – a technology already noted by Amazon as a future pursuit
"Silo" systems, in which one computer program solved one problem in the past, won't keep up with today's savvy consumer. One comprehensive, seamless platform is essential for retail. "We can't move fast enough," said Ashlee Aldridge, senior VP, chief information officer and chief integration officer for Golfsmith. "The customer experience must be the same across the platform." Even more, associates must be technology-proficient within the store. "Technology is only as good as the people who are using it," she said.
Express parking via mobile phone app, same-day delivery of purchases and online menu ordering in food courts are some of the new technologies that will transform malls and lure shoppers outside their homes – courtesy of systems such as Deliv and iBeacon. "The future is not a shopping center, but an experience center," said Kercheval of the ICSC.
A new boutique called Hointer is creating huge buzz in Seattle. The store – and its technology – enable customers to use their mobile phones to scan and study clothing, send choices to a dressing room, summon a stylist and then pay for the items on the way out. Founded by former Amazon executive Nadia Shouraboura, Hointer has cut inventory costs and freed up store associates to talk to customers instead of hustling back and forth to find sizes, she said.
"If you have a phenomenon where the store is cheaper to run and the experience is better, it's going to take off," Shouraboura said.
SAP, a German multinational software corporation, released the results of a survey at the conference in which UA students asked roughly 100 retailers a series of marketing questions. The survey found that social media, digital customer data and brand awareness are retailers' top challenges. Half of participants said they know social media and other "listening" digital strategies are important, but see a gap in their ability to use them.
"The marketing of your business is the real power," said Tom Redd, VP of strategic communications for SAP's Global Retail Business Unit. "How you market your business is critical. Technology is a weapon in retail."