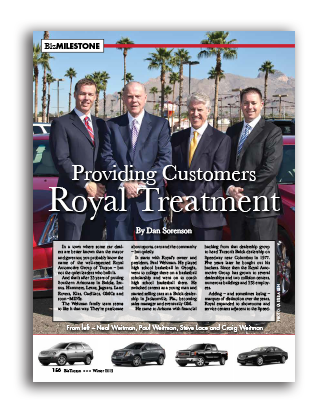 Providing Customers Royal Treatment
By Dan Sorenson
In a town where some car dealers are better known than the mayor and governor, you probably know the name of the well-respected Royal Automotive Group of Tucson – but not the quiet leaders who built it.
And that's after 35 years of putting Southern Arizonans in Buicks, Isuzus, Hummers, Lexus, Jaguars, Land Rovers, Kias, Cadillacs, GMCs and soon –MINIs.
The Weitman family team seems to like it that way. They're passionate about sports, cars and the community – but quietly.
It starts with Royal's owner and president, Paul Weitman. He played high school basketball in Georgia, went to college there on a basketball scholarship and went on to coach high school basketball there. He switched careers as a young man and started selling cars at a Buick dealership in Jacksonville, Fla., becoming sales manager and eventually GM.
He came to Arizona with financial backing from that dealership group to head Tucson's Buick dealership on Speedway near Columbus in 1977. Five years later he bought out his backers. Since then the Royal Automotive Group has grown to several dealerships and two collision centers, numerous buildings and 358 employees.
Adding – and sometimes losing – marques of distinction over the years, Royal expanded to showrooms and service centers adjacent to the Speedway dealership, and later to the Tucson Auto Mall and the 22nd Street automotive strip near Swan Road.
"Success is about treating customers like a guest in your own home," Weitman frequently says, adding that this is the reason his business has been able to survive while other businesses were struggling.
The ownership team also expanded to include Weitman's sons Neal, GM of the two Lexus stores and Jaguar-Land Rover, and Craig, GM of Royal Buick-GMC-Cadillac. Royal is also overseen by VP Steve Lace who joined the company in 2000.
Outside the automotive world, sports – especially basketball – run in the Weitman blood. "Sports was a big deal around our house," Craig said.
Like his father, Craig coached high school sports – but in his case football, in the San Diego area during and after college. He said neither he nor his brother felt any great pressure to join the business. Other than a recollection of detailing cars over Christmas break in fourth or fifth grade so he could buy his mother a Christmas gift, Craig spent little time in his childhood around the dealership. As he got older he discovered a love for coaching while in college.
"After college I took a job with an insurance company. I quit that to continue coaching football full time. After that season was over I worked with a software company, but the calling for coaching was too great and I ended up returning for the next football season." Ultimately he decided he couldn't keep taking jobs then quitting to coach the next season. He joined the car business and worked his way up from the bottom.
Neal also spent some time "hanging around the lot, washing cars" in high school, but didn't grow up absolutely knowing he'd be a car guy either. "I'd come in over summer break (in college). I thought it deserved a chance, to see if I would like it. I went through training. I started selling in the winter of 1994. I did that for four or five years. I wanted to fit in like anybody else."
Over the years, Royal's various dealerships have piled up more than their fair share of sales and service quality awards – including several #1 national satisfaction awards.
But the company M.O. has been to keep a low profile for the individuals involved.
"They're very humble people," said Todd Helmick, Royal's marketing director. They are not out to make news – which happened with an offhand media mention that Paul Weitman was friends with legendary University of Arizona men's basketball coach Lute Olson. When pressed, Weitman admits,"Lute's a friend – but I like to keep it low."
He said, "I'm a big Arizona supporter. I played in high school. I went to college on a basketball scholarship. And, having coached it, I'd have to say it's my sport. I love college basketball.
"Lute and I just became friends and I guess we have been since he got here 25 or 26 years ago. We've traveled together, had New Year's Eve together. I even named a horse after him – Midnight Lute. Won the Breeders Cup twice," he said, warming to one of his favorite subjects.
"Here's how that name came up. Tarkanian (Jerry, head coach of University of Nevada, Las Vegas) and Lute were after the same player – Tom Tolbert. Tark thought he had Tolbert, but at the last minute Tolbert decided to get to Arizona. And Tark said, 'Midnight Lute got him,' meaning at the last minute. We were looking to name a horse and named him Midnight Lute." The thoroughbred is owned by Weitman, fellow car dealer Karl Watson and other partners.
Whether the subject is coaching, thoroughbred racing or the automotive industry, the recurring theme seems to be making careful and thoughtful choices every step of the way. However, Weitman is the first to admit that some things just can't be foreseen. He started out with one of the four General Motors "sister" brands that survived the U.S. automotive shake out – Buick. He also chose a bunch of other winners on the way to the present day lineup.
Weitman's first pick to expand was Toyota's Lexus, almost instantly the biggest success in the then-new Japanese luxury car market.
Saturn was being offered to them by GM at about the same time, but his dad turned it down, Neal said. Even Hummer and Isuzu – two of their GM brands that did go down – had some good years and produced customers who are still loyal to Royal, according to the Weitman brothers and Lace.
"Some luck is involved for all of us with things in our lives," Paul Weitman said, downplaying the Lexus acquisition. "I can't say I knew Lexus was going to be good."
There might have been a bit more luck, along with good business instincts, particularly with some of the latter picks – the Jaguar of then-questionable reliability, the oddball Land Rover and the giant love-it-or-hate-it Hummer SUV.
Shortly thereafter Jaguar made massive improvements in reliability. Land Rover made its biggest mark ever in the United States and Hummer became an almost instant hit and celebrity vehicle.
Royal's latest acquisition is the city's long-awaited first MINI dealership, another apparent coup. The re-creation of a tiny 1960s-1970s-era British econo car, MINI is actually made by a division of BMW. Nationwide, BMW dealers seem the natural proprietors for the wildly popular little performance-oriented cars. However, Royal recently landed the long-awaited Tucson dealership, expected to open in early 2013 at 4635 E. 22nd St. This is welcome news for the estimated 1,000 plus Tucson-area MINI owners who have been driving to Phoenix for sales and service.
Royal's luck – or uncanny acumen – helped it survive the U.S. auto manufacturer bloodbath of the last decade. General Motors first killed off Oldsmobile in 2004, then Saturn, Hummer and Pontiac in 2010. During the auto bailout, GM left its dealers in the dark while they decided who would stay and who would go under in a new realignment of dealers.
Royal Buick, long established in Tucson and with a solid reputation, seemed a sure thing. But GM execs announced that Royal was out of the Buick business. Just down the street, Quebedeaux Pontiac/GMC, which already had lost out with the end of the Pontiac line, became the Buick dealer under the realignment. Another longtimer, Don Mackey, the veteran Cadillac/GMC dealer, also lost his dealer status. It was a crazy time.
Ultimately Royal came out ahead – buying Mackey's Cadillac operation at the Tucson Auto Mall, being awarded a GMC dealership and, oddly, the city's second Buick rights.
Buick was always something special – it was the line just under the Cadillac – the car driven by doctors and pastors of thriving congregations. It was the GM car with a quiet dignity – no flash or bombastic advertising. Buick bridged eras, though conservatively. Golf pros drove Buicks. Tiger Woods pitched for Buick. Buick competed with Ford's Crown Victoria and the Mercury Grand Marquis for the big car market in Green Valley.
"We do skew luxury," said Neal, noting the group's high-end line up of Lexus, Cadillac, Jaguar and Land Rover. "But it doesn't matter" what the line, "people want to be treated well." Customer service is a longtime hallmark of Royal.
"We focus on fundamentals that other people maybe miss. How we greet people – we try to master the simple stuff," Neal said. "Southern hospitality," Craig added.
Royal's entry-level brand was Kia. Kia had a rough time with quality in its first couple years, Paul Weitman said. "I think we were the third Kia dealer in the United States. I can remember after we had it for a while, about six months, I didn't think the quality was as good as it should be. I called the Kia people and they came to see me. I said, 'We're not accustomed to our customers not being treated right. I'm going to give you the franchise back.' They said, 'Please, would you just give us a few months?'"
Weitman said the problem was a labor dispute and some sabotage of wiring harnesses by disgruntled employees at the Korean factory. "I said, 'Sure.' So, they got that straightened out and since that the quality has improved. Their quality has come up the entire time," said Weitman. "They've got a 10-year warranty."
Marketing Director Helmick said Royal has managed to mesh its old-fashioned service-oriented approach with the modern necessity of Internet marketing. "We've definitely recognized the need to be relevant in the Internet world," he said. "We need to be hyper transparent. You won't see one set of pricing online and then come into the dealership and see another. When we present the numbers, there's nothing confusing."
In fact, in late 2008 Royal introduced what it calls "a highly researched and streamlined selling method." All vehicles are marked with the lowest price right up front – and Royal sales consultants are no longer paid on commission.
In an industry with a lot of turnover, "we've got a lot of people who have been with us for a long time," Neal said. According to Helmick, the average tenure for management staff is 18 years.
VP Lace added, "The majority of our sales people have never sold anywhere else."