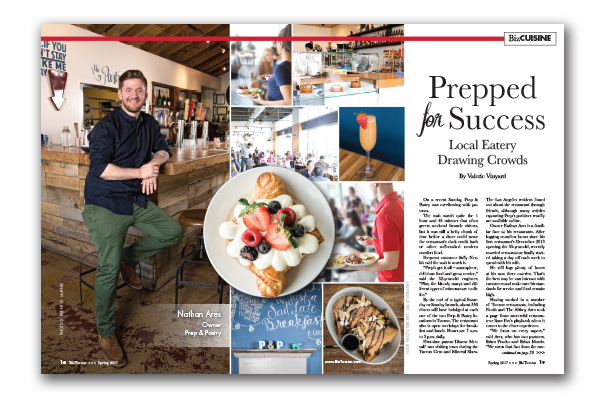 By Valerie Vinyard – 
Local Eatery Drawing Crowds
On a recent Sunday, Prep & Pastry was overflowing with patrons.
The wait wasn't quite the 1 hour and 45 minutes that often greets weekend brunch visitors, but it was still a hefty chunk of time before a diner could savor the restaurant's duck confit hash or other well-crafted modern comfort food.
Frequent customer Sally Nezbit said the wait is worth it.
"Prep's got it all – atmosphere, delicious food and great service," said the 32-year-old engineer. "Plus, the bloody marys and different types of mimosas are to die for."
By the end of a typical Saturday or Sunday brunch, about 550 diners will have indulged at each one of the two Prep & Pastry locations in Tucson. The restaurant also is open weekdays for breakfast and lunch. Hours are 7 a.m. to 3 p.m. daily.
First-time patron Dianne Metcalf was visiting town during the Tucson Gem and Mineral Show. The Los Angeles resident found out about the restaurant through friends, although many articles espousing Prep's positives readily are available online.
Owner Nathan Ares is a familiar face at his restaurants. After logging countless hours since his first restaurant's December 2013 opening, the 33-year-old, recently married restaurateur finally started taking a day off each week to spend with his wife.
He still logs plenty of hours at his now three eateries. That's the best way he can interact with customers and make sure his standards for service and food remain high.
Having worked in a number of Tucson restaurants, including North and The Abbey, Ares took a page from successful restaurateur Sam Fox's playbook when it comes to the diner experience.
"We focus on every aspect," said Ares, who has two partners, Brian Pracko and Brian Morris. "We stress that fact from the moment you walk in to the moment you're out the door."
The first Prep opened at 3073 N. Campbell Ave. in the space that was previously Amelia Grey's Café and Catering. With its high pitched ceilings and exposed beams, the 2,600-square-foot location has the feel of a French farmhouse and can seat 90 inside and out.
Last July, a slightly larger Prep opened at Grant and Wilmot in a new 6,000-square-foot building that it shares with fast-casual restaurant Sauce Pizza and Wine. Think San Francisco chic with an open ceiling and industrial track lights. That location can seat 120.
And now, Prep & Pastry's gift cards can be purchased at Costco.
In summer 2015, the partners also opened dinner and weekend brunch spot Commoner & Co., which is in the space that was formerly The Abbey on East Sunrise Drive. Ares said the neighborhood welcomed Commoner "with open arms."
With all of their restaurants, Ares said it's important to create the atmosphere that people want, as well as making sure high service standards are maintained.
And of course, it's about the food. GM Vinh Nguyen calls Prep's menu "brunch food on crack."
"We do it so differently," he said. "Nate is very in tune to everything. He knows all the latest trends. He can almost predict them."
Take the Monte Cristo. The brioche French toast is made daily at the restaurants sometime after midnight. The produce and ingredients are fresh and local.
Ares and Executive Chef Izzy Gonzalez, who started as a line cook for Prep, like to take classic dishes and put their own twist on them.
"I like to call it Mad Hattering," Ares said with a laugh. "We take a classic dish and tweak it and make it our own."
One dish to benefit from such a technique is Prep & Pastry's unique take on the Cubano sandwich ($11). Instead of pulled pork, cooks use duck confit and ham and include house-made pickles with stone-ground mustard.
Another standout is The Beni, which is a delicious combination of pork belly, asparagus, soft poached eggs and herbed cheese hollandaise on house-made cheddar biscuits ($10).
Even the alcohol choices aren't run of the mill. The eight or nine mimosa flavors include the French 75, which comes with a splash of gin. And Nguyen said their bloody marys are spectacular.
Sometimes the creativity goes even further. Take the restaurant's dossant ($4), a hybrid between a croissant and a donut. Various flavors such as red velvet, chocolate churro and vanilla berry are put in the rotation, but their signature flavor is maple bacon.
Ares discovered his pastry chef, Hannah Houlden, when she walked into Prep one day.
"She is a fireball," he said. "When I saw her style and some of her work, I would not let her go. My main goal is to make her a big deal."
Everything except for the white and wheat bread and baguette is baked in-house, with the end goal being to bake everything on site.
"I always tell everyone a lot of places have good service and a lot of places have good food," Nguyun said. "The vision of the owners is the culmination of great hospitality and amazing food."
Perhaps because it's still early in the year, Nguyen has noticed customers trying to make healthier choices.
"People are very aware of what they're eating," he said. "We play that balance between good for you and just good."
So, what's in the future?
"Moving forward, I will focus on the breakfast end. I love waking up early and ending my day early," Ares said.
The keys to his success make sense.
"I went out and found the best of the best," said Ares, including choosing general managers who "know how to make the angriest customer happy. We take the time to do the work. We really knock it out of the park in keeping that standard day in and day out.
"I enjoy life right now, knowing you have people that have started with you from the beginning you can trust. You surround yourself with people that are better than you."