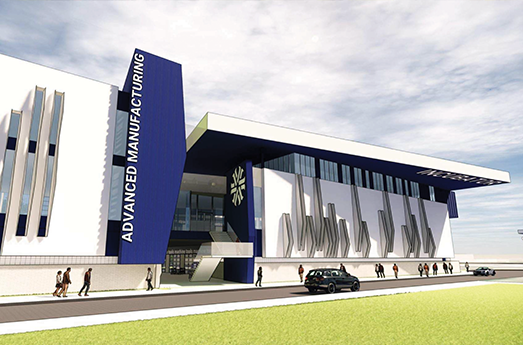 Pima Community College's New Advanced Manufacturing Building
Planned Centerpiece for Regional Skilled Workforce, Economic Development
By Rodney Campbell
It's common knowledge for Pima Community College students who want to sign up for a welding course when the new semester schedule is released: Be quick and have a reliable WiFi connection.
The courses aren't available long. The schedule is posted at midnight and the classes are filled within half an hour. It's a testament to welding's popularity among students. But it's also a sign that the college needs to ensure that similar courses keep up with growing demand.
"Space has been a real problem," said Greg Wilson, dean of PCC's Applied Technology since 2014.
Wilson and the college will take a huge step toward solving that issue when ground is broken this fall on an advanced manufacturing building at its downtown campus. The facility, which will be three stories and approximately 100,000 square feet when it opens in spring 2022, will be the centerpiece of the college's efforts to attract students and aid in regional economic development.
The new facility will be the hub of PCC's Center for Excellence in Applied Technology. It will bring together machining, welding, automation/robotics, optics and computer-aided design. The new facility will be the biggest building on campus, a necessary addition for growing programs.
The plan for the $35 million facility started in 2017. Knowing it would be securing a revenue bond to cover construction costs, PCC held an industry summit that fall that drew 120 industry partners to Tucson to provide input and guidance on how the new building would best be used, including opportunities for those already in their careers.
"Our industry partners made it clear that they send their employees to Phoenix for training," Wilson said. "This building isn't just a place with shiny new equipment. It's part of a much bigger picture for what the college is doing for Southern Arizona."
That spirit of cooperation continued throughout planning. Wilson calls the building a "maker space" where all three stories will provide opportunities for industry partners and students to collaborate.
"It's a space where ideas can germinate and grow," Wilson said.
The advanced manufacturing building will be part of a three-facility complex that will include 45,000 square feet of space for auto technology and 20,000 square feet for building and construction technology – 10 times the room it has now.
The applied technology programs combined have 1,250 students. Wilson plans to eventually triple that total by building on existing relationships with the University of Arizona, high schools, programs such as Pima Joint Technical Education District and local industry.
"We want to strengthen our partnerships with high school students," Wilson said. "We also want to help students who start at JTED make seamless transitions to Pima or industry."
Wilson and his team are also finding support from corporations. PCC has a partnership with Caterpillar, which moved its Surface Mining and Technology Division to Tucson from the Midwest last year. Caterpillar is sending its applied technology academy engineers to PCC to learn machine welding and prototyping methods. Trane is ready to begin working with the building and construction and robotics programs. DMG Mori, one of Germany's largest manufacturers of cutting machine tools and a manufacturer of CNC-controlled lathes and milling machines, sent 36 of its best technicians to Tucson for training as part of its apprenticeship program. Each participant went through 120 hours of training.
These alliances are beneficial to Pima and its students. The jobs that students seek are in high demand across the country, but it would be nice to have the option to stay in Tucson. The local economy would benefit, too.
"A program of this caliber that offers the right kind of training for high-demand positions will have immediate and longterm impacts on those in the program and communitywide for employers," said Amber Smith, president and CEO of Tucson Metro Chamber.
The program's real potential will be realized once the advanced manufacturing building opens and students don't have to burn the midnight oil to sign up for the more popular courses. Better class availability will provide more opportunities to learn – a recipe for regional success.
"We intend to bring a lot of industry to Tucson," Wilson said. "We want the rest of the country to know we have a skilled workforce in Southern Arizona. We're going to be a draw."