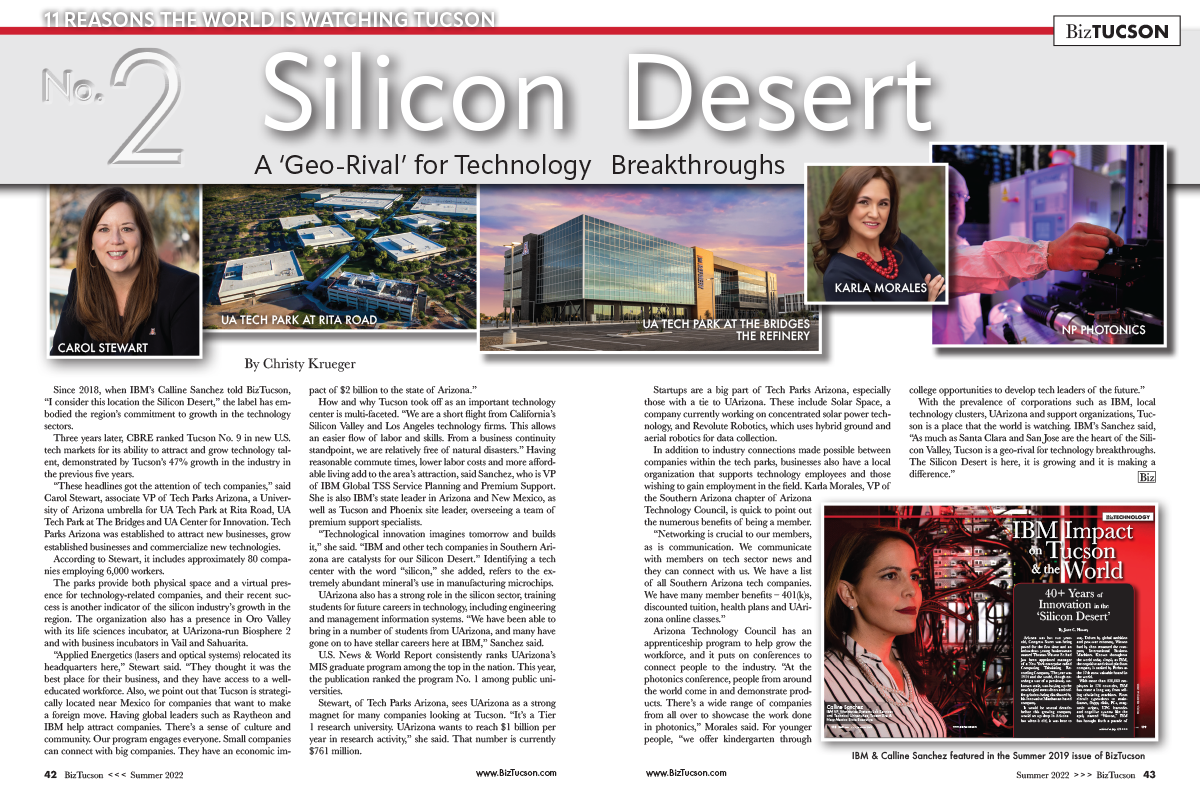 A 'Geo-Rival' for Technology Breakthroughs
11 REASONS THE WORLD IS WATCHING TUCSON
By Christy Krueger
Since 2018, when IBM's Calline Sanchez told BizTucson, "I consider this location the Silicon Desert," the label has embodied the region's commitment to growth in the technology sectors.
Three years later, CBRE ranked Tucson No. 9 in new U.S. tech markets for its ability to attract and grow technology talent, demonstrated by Tucson's 47% growth in the industry in the previous five years.
"These headlines got the attention of tech companies," said Carol Stewart, associate VP of Tech Parks Arizona, a University of Arizona umbrella for UA Tech Park at Rita Road, UA Tech Park at The Bridges and UA Center for Innovation. Tech Parks Arizona was established to attract new businesses, grow established businesses and commercialize new technologies.
According to Stewart, it includes approximately 80 companies employing 6,000 workers.
The parks provide both physical space and a virtual presence for technology-related companies, and their recent success is another indicator of the silicon industry's growth in the region. The organization also has a presence in Oro Valley with its life sciences incubator, at UArizona-run Biosphere 2 and with business incubators in Vail and Sahuarita.
"Applied Energetics (lasers and optical systems) relocated its headquarters here," Stewart said. "They thought it was the best place for their business, and they have access to a well-educated workforce. Also, we point out that Tucson is strategically located near Mexico for companies that want to make a foreign move. Having global leaders such as Raytheon and IBM help attract companies. There's a sense of culture and community. Our program engages everyone. Small companies can connect with big companies. They have an economic impact of $2 billion to the state of Arizona."
How and why Tucson took off as an important technology center is multi-faceted. "We are a short flight from California's Silicon Valley and Los Angeles technology firms. This allows an easier flow of labor and skills. From a business continuity standpoint, we are relatively free of natural disasters." Having reasonable commute times, lower labor costs and more affordable living add to the area's attraction, said Sanchez, who is VP of IBM Global TSS Service Planning and Premium Support. She is also IBM's state leader in Arizona and New Mexico, as well as Tucson and Phoenix site leader, overseeing a team of premium support specialists.
"Technological innovation imagines tomorrow and builds it," she said. "IBM and other tech companies in Southern Arizona are catalysts for our Silicon Desert." Identifying a tech center with the word "silicon," she added, refers to the extremely abundant mineral's use in manufacturing microchips.
UArizona also has a strong role in the silicon sector, training students for future careers in technology, including engineering and management information systems. "We have been able to bring in a number of students from UArizona, and many have gone on to have stellar careers here at IBM," Sanchez said.
U.S. News & World Report consistently ranks UArizona's MIS graduate program among the top in the nation. This year, the publication ranked the program No. 1 among public universities.
Stewart, of Tech Parks Arizona, sees UArizona as a strong magnet for many companies looking at Tucson. "It's a Tier 1 research university. UArizona wants to reach $1 billion per year in research activity," she said. That number is currently $761 million.
Startups are a big part of Tech Parks Arizona, especially those with a tie to UArizona. These include Solar Space, a company currently working on concentrated solar power technology, and Revolute Robotics, which uses hybrid ground and aerial robotics for data collection.
In addition to industry connections made possible between companies within the tech parks, businesses also have a local organization that supports technology employees and those wishing to gain employment in the field. Karla Morales, VP of the Southern Arizona chapter of Arizona Technology Council, is quick to point out the numerous benefits of being a member.
"Networking is crucial to our members, as is communication. We communicate with members on tech sector news and they can connect with us. We have a list of all Southern Arizona tech companies. We have many member benefits – 401(k)s, discounted tuition, health plans and UArizona online classes."
Arizona Technology Council has an apprenticeship program to help grow the workforce, and it puts on conferences to connect people to the industry. "At the photonics conference, people from around the world come in and demonstrate products. There's a wide range of companies from all over to showcase the work done in photonics," Morales said. For younger people, "we offer kindergarten through college opportunities to develop tech leaders of the future."
With the prevalence of corporations such as IBM, local technology clusters, UArizona and support organizations, Tucson is a place that the world is watching. IBM's Sanchez said, "As much as Santa Clara and San Jose are the heart of the Silicon Valley, Tucson is a geo-rival for technology breakthroughs. The Silicon Desert is here, it is growing and it is making a difference."