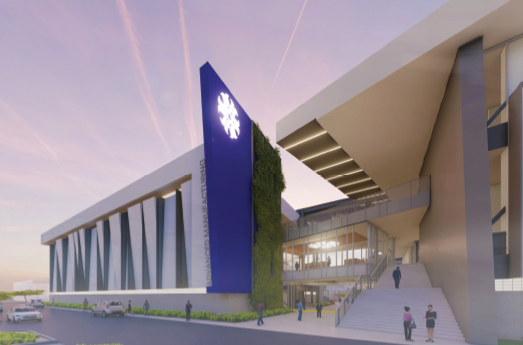 Pima Community College Raises Beams on New Advanced Manufacturing Building
By Loni Nannini
Pima Community College is taking advanced manufacturing to the next level, literally and figuratively, with the start of construction on Phase 3 of the Center for Excellence in Applied Technology.
At the Downtown Campus the beams were raised this past fall for the Advanced Manufacturing Building, which features nearly 100,000 square feet of space on three levels with state-of-the-art equipment and learning spaces.
Slated to finish later this year, the project has a budget of approximately $35 million. It is the hub of the Centers of Excellence, which includes a 45,000-square-foot Auto Technology facility, a 60,000-square-foot Science and Technology Building and the recently expanded Aviation Technology Center.
"The Advanced Manufacturing Building is a working model of how industry operates," said Greg Wilson, PCC dean of applied technology. "Our goal is to produce a ready-skilled workforce for industry that builds the local economy, and this building reinforces that mission. We know that our industry partners are desperate for folks with skills, and this building allows us to stay current and to follow – and perhaps even to help drive – industry trends."
Students can gain first-hand experience through programs in machine tool, welding, automation/robotics and computer aided design. The facility features a Flexible Industry Training (FIT) Lab, which will provide learning space where local industry can network with PCC to up-skill and re-skill employees and students, and a 10-ton gantry train that utilizes "Smart Crane" technology to deliver heavy and large materials directly from flatbed trucks to specified areas throughout the facility.
"There is also an Idea Lab, which is a 'maker space,' if you will, on the first floor for students and faculty to collaborate and bring ideas to fruition," Wilson said. "The Advanced Manufacturing Building will also feature an Optics and Photonics Lab developed in partnership with Optics Valley, the world-class businesses and institutions hub in Tucson that provides research, services and products in optics, photonics and astronomy. This is key for sectors such as aerospace and defense, microelectronics, medical instrumentation, automotive and nanotechnology."
The building is crowned on the third floor by a CAD department with top-of-the-line visualization and prototyping technologies that will enable students to tie together planning, ideas, design and implementation. The space also has offices and a business incubator to further encourage project-based learning, exchange of ideas and innovation with local startups – all to enrich student experiences.
"We are really on the frontier of reshaping what education will look like going into the future," said PCC Chancellor Lee Lambert. "The Advanced Manufacturing Building, along with the Auto Technology Building and other spaces, serve as places to see new models for workforce education emerge that integrate 21st century skills with industry-recognized credentials as part of flexible workforce pathways and micro pathways. These pathways don't necessarily require a whole semester or a whole year for learners to walk away with something tangible and meaningful as part of their educational journeys."
Lambert and Wilson emphasized that the entire building construction project, designed by DLR Group with the Chasse Building Team as general contractor, has been made possible with the support of local, regional and national industry partners such as Caterpillar, Raytheon Missiles & Defense, PVB Fabrications, Competitive Engineering, CAID Industries, M3 Engineering & Technology, GLHN Architects & Engineers, Nolato GW Tucson, Sargent Aerospace, AGM Container Controls and many others.
The companies recognize the value of investing in education that will deliver a workforce with 21st century skills for the entire community, according to Wilson.
"In the long-term, spaces like this help to attract more businesses to the area, which helps to drive the economy and provide better-paying jobs for everyone," said Wilson.