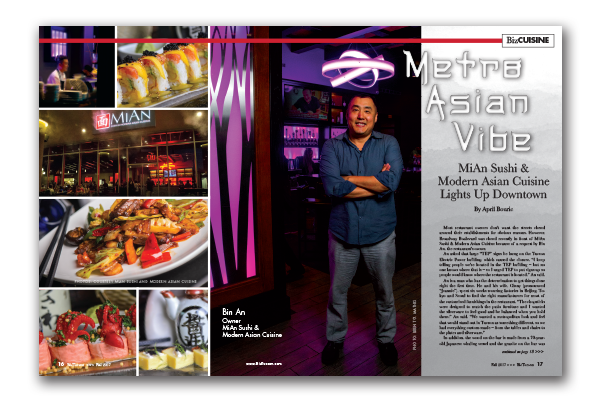 MiAn Sushi & Modern Asian Cuisine Lights Up Downtown
By April Bourie –
Most restaurant owners don't want the streets closed around their establishments for obvious reasons. However, Broadway Boulevard was closed recently in front of MiAn Sushi & Modern Asian Cuisine because of a request by Bin An, the restaurant's owner.
An asked that large "TEP" signs be hung on the Tucson Electric Power building, which caused the closure. "I keep telling people we're located in the TEP building – but no one knows where that is – so I urged TEP to put signs up so people would know where the restaurant is located," An said.
An is a man who has the determination to get things done right the first time. He and his wife, Ginny (pronounced "Jeannie"), spent six weeks scouring factories in Beijing, Tokyo and Seoul to find the right manufacturers for most of the customized furnishings in the restaurant. "The chopsticks were designed to match the patio furniture and I wanted the silverware to feel good and be balanced when you hold them," An said. "We wanted a metropolitan look and feel that would stand out in Tucson as something different, so we had everything custom-made – from the tables and chairs to the plates and silverware."
In addition, the wood on the bar is made from a 70-year-old Japanese whaling vessel and the granite on the bar was carved from the ground in a Chinese quarry known to have the best quality granite. The "chandelier" above the bar looks like bands of light swirling around each other and the colors change every few minutes, matching the colors in the panels in the columns throughout the restaurant. An's determination paid off. The effect is definitely striking and something customers and passersby stop to admire.
It's no surprise that An is a hardworking and dedicated business man. He grew up in a restaurant family as the oldest son of Kwang C. An, current owner of Mr. An's Teppan Steak, Sushi and Seafood on Oracle Road and former owner of several other restaurants in Tucson, including Sakura on the east side.
"We worked really hard in my dad's restaurants. I started full time at the age of 11 and worked in every aspect of his restaurants, from the back end to the front end, and also in management," said the younger An. "As I got older, I worked 70 to 90 hours a week for my dad. I was the president of all of his companies for 26 years." Although the younger An has no formal degree in culinary arts or restaurant management, the experience in his father's restaurants was a terrific education, teaching him all of the ins and outs of the restaurant industry.
In addition to working for his father, An owned a restaurant called Sapporo in Scottsdale for five years, selling it in 2005 and returning to work for his father in Tucson. Then, in 2012, TEP approached him to open a restaurant on the bottom floor of its new headquarters, built in 2011. "I was honored that they asked me, but the timing just wasn't right then," said An. TEP asked again in February 2016 – and this time An accepted.
"I know the industry well and I felt downtown Tucson had grown quite a bit over those four years," he said. TEP made him an offer he couldn't refuse – including 80 valet parking spaces and a clean slate for his restaurant. "The space didn't even have electrical outlets in it – which was kind of strange for being located in the TEP building," he said. Construction started in October 2016 and the restaurant opened in March 2017.
In addition to his trip to Asia to find just the right furnishings during the planning and development of the restaurant, An worked diligently to find the perfect culinary team. Chef Young Min Choi, MiAn's executive chef, was working at the high-end Japanese restaurant Nobu in  Caesars Palace in Las Vegas. Choi is also a good friend of An's and the godfather to An's daughter Misha. "I asked him to come and work for me in Tucson and he agreed," An said. Choi was trained and worked in Japan and specializes in sushi, as well as Japanese, Korean and French cuisine. The kitchen's head chef, Chef Lan, also trained and worked in Japan for many years and specializes in dishes from Taiwan, Japan and Korea.
"We're trying to bring a different flair and flavor to Tucson," An said. "The menu is about trying new things and a different style, something other cities aren't necessarily ready for. It's a mixed fusion of Chinese, Japanese and Korean. That's why it's called 'MiAn Sushi & MODERN Asian Cuisine.' "
Some of the most popular dishes on the menu include "Casper the Friendly Ghost," a striking plate of sushi that includes the red arms of pickled baby octopus emerging from the top. Another popular dish is the "Real Choi Roll," named after the chef. The roll, which includes spicy tuna inside and salmon outside, is wrapped in a banana leaf and tin foil placed on a bed of a mixture of salt, vodka and sugar – that is lit on fire. "It cooks and smokes the roll, bringing out the flavors," An said.
Those who understand the Spanish language may think that "MiAn" means "My An" since this is the younger An's own restaurant, a separate entity from his father's establishments. The truth is that when An's daughter Misha was younger, she couldn't say her full name and called herself "Mi An." The nickname stuck and An chose to name his restaurant after his daughter.
When asked if he made the right decision to open his restaurant in downtown Tucson, An replied that he couldn't be happier with the location. "Not only is TEP a very gracious landlord, but the clientele and other businesses downtown are so friendly. It's great to be part of downtown Tucson's growth," he said. The businesses downtown work well together and often have happy hours and events at each other's establishments, he said. This makes it easier to get to know the other restaurants and businesses in downtown Tucson and refer them to customers.
"The Downtown Tucson Partnership is thrilled to have MiAn Sushi open in downtown Tucson," said Kathleen Eriksen, Downtown Tucson Partnership CEO. "This new addition has enlivened the Broadway corridor between Scott and Sixth Avenue with its Miami-style seating, sleek modern fire pit and outdoor cool misting system. MiAn has transformed the entire corner – and just in time for the new AC Marriott to open a half a block down the street."