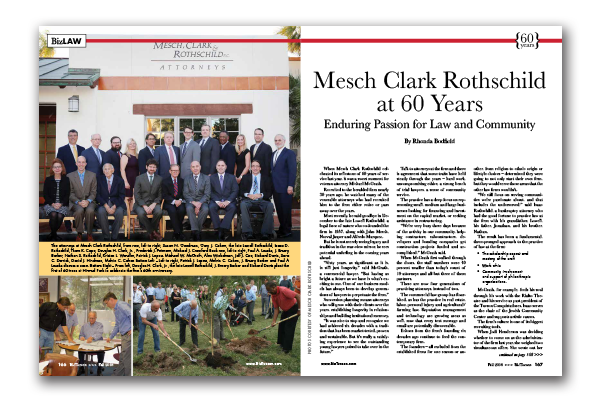 Mesch Clark Rothschild at 60 Years
By Rhonda Bodfield –
Enduring Passion for Law and Community
When Mesch Clark Rothschild celebrated its milestone of 60 years of service last year, it was a sweet moment for veteran attorney Michael McGrath.
Recruited to the heralded firm nearly 30 years ago, he watched many of the venerable attorneys who had recruited him to the firm either retire or pass away over the years.
Most recently, he said goodbye in December to the late Lowell Rothschild, a legal force of nature who co-founded the firm in 1957, along with John Mesch, Norval Jasper and Alfredo Marquez.
But he is not merely seeing legacy and tradition in the rear-view mirror, he sees potential unfurling in the coming years ahead.
"Sixty years, as significant as it is, is still just longevity," said McGrath, a commercial lawyer. "But having as bright a future as we have is what's exciting to me. One of our business models has always been to develop generations of lawyers to perpetuate the firm."
Succession planning means attorneys who will grow with their clients over the years, establishing longevity in relationships and building institutional memory.
"It was nice to stop and recognize we had achieved six decades with a tradition that has been market-tested, proven and sustainable. But it's really a satisfying experience to see the outstanding young lawyers poised to take over in the future."
Talk to attorneys at the firm and there is agreement that some traits have held steady through the years – hard work, uncompromising ethics, a strong bench of trial lawyers, a sense of community service.
The practice has a deep focus on representing small, medium and large businesses looking for financing and investment on the capital market, or seeking assistance in restructuring.
"We're very busy these days because of the activity in our community, helping contractors, subcontractors, developers and bonding companies get construction projects funded and accomplished," McGrath said.
When McGrath first walked through the doors, the staff numbers were 40 percent smaller than today's count of 19 attorneys and all but three of them partners.
There are now four generations of practicing attorneys, instead of two.
The commercial law group has flourished, as has the practice in real estate, labor, personal injury and agricultural/farming law. Reputation management and technology are growing areas as well, now that every text message and email are potentially discoverable.
Echoes from the firm's founding six decades ago continue to feed the contemporary firm.
The founders – all excluded from the established firms for one reason or another, from religion to ethnic origin or lifestyle choices – determined they were going to not only start their own firm, but they would serve those areas that the other law firms wouldn't.
"We still focus on serving communities we're passionate about, and that includes the underserved," said Isaac Rothschild, a bankruptcy attorney who had the good fortune to practice law at the firm with his grandfather, Lowell, his father, Jonathan, and his brother, Nathan.
The result has been a fundamental, three-pronged approach to the practice of law at the firm:
• The scholarship aspect and mastery of the craft
• Work ethic
• Community involvement and support of philanthropic organizations.
McGrath, for example, feeds his soul through his work with the Rialto Theatre and his service as past president of the Tucson Conquistadores. Isaac serves as the chair of the Jewish Community Center and supports artistic causes.
The firm's culture is one of its biggest recruiting tools.
When Jodi Henderson was deciding whether to come on as the administrator of the firm last year, she weighed two simultaneous offers. She wrote out her pro and con list. "It came down to the firm's belief in giving back to the community – that's truly what made the difference for me. The culture here is that you're encouraged to find something that speaks to your heart and they'll give you the tools and flexibility to get involved," said Henderson. She leaves work early when she's needed to help teach community literacy programs at an eastside library branch.
The firm is also fiercely local, hiring law students almost exclusively from the University of Arizona, and largely hiring attorneys from within its rank of law clerks. "Where my grandfather and his colleagues were starting a place to work because they couldn't be hired, we've tried to create a destination law firm that balances work life and the ability to serve the community through the resources of a law firm," Isaac Rothschild said. "That's part of the evolution we've had."
Sara Derrick, part of the transactional law group, is one of those home-grown attorneys, joining the firm as a second-year law clerk.
"I researched local Tucson firms and I was drawn to the diversity, experience and reputation of the firm," she said, adding that her in-laws were clients of Jonathan Rothschild in the years before he was called to serve as Tucson's mayor. He would end up serving as her mentor.
Derrick said she was impressed by the breadth of knowledge of the firm's attorneys, as well as their accessibility and the opportunities she was granted. "I was entrusted with a lot of responsibility as a new lawyer – something that doesn't always happen in law firms," she said.
Isaac Rothschild, who specializes in business reorganization, has absorbed different guidance from each of his mentors. Empathy. Treating each case as an individual, even if the legal arguments might seem similar. "Court decisions truly can be some of the biggest things that can happen in a person's life, whether it's personal or professional, and each problem requires its own unique solution."
By the time he was in his second year of law school, he realized he wanted to join the firm. His friends at larger firms typically had short tenures – roughly one in 10 were at the firm they started with after five years – and almost always only if they had been fortunate enough to land a mentor.
"Here, I had an entire law firm eager to be my mentor. When we hire an attorney, it is our hope that every single one becomes a partner and we start investing in them right away – because they will be the future of this law firm and leaders in our community."