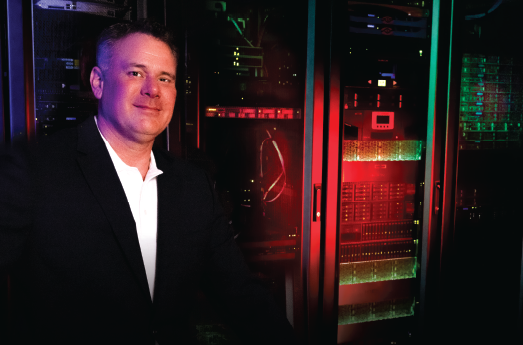 LOGIN Thrives with Personal Touch
20 Years of Relationships
By Rodney Campbell
In a market dominated by much-larger competitors, Tucson-based LOGIN relies on personal service to satisfy its Southern Arizona customers.
LOGIN offers phone and internet service, networking, co-locating and cloud and data solutions to businesses. That pits the company, which has 25 employees, against national and international corporations that have countless resources and seemingly unlimited marketing budgets. It's almost impossible to watch a network or basic cable program that doesn't have commercial breaks with ads from a big-name internet service provider.
No matter, said LOGIN President Matt Ramsey. Years of experience have shown that a smaller provider can compete if it delivers on its promises.
"We can do everything the big boys do," he said. "What has worked well for us is being transparent and doing the right thing. It builds up a lot of capital."
Ramsey's interest in technology started when he was a student at the University of Arizona in the early '90s. He spent much of his time on campus at the computer lab where he learned the ins and outs of the new technology.
"I was fascinated by the internet," Ramsey said. "I just dove headfirst into educating myself. I needed to know how it worked."
That education led to an internship at a local internet service provider and a job at a business-to-business company. Eventually, he and a business partner started LOGIN in 2001, not long before the terrorist attacks in New York City, Washington, D.C. and Pennsylvania. Since no one was in the mood to celebrate at the time, LOGIN's Tucson Metro Chamber of Commerce ribbon-cutting was put off. Practically forgotten, the ceremony was finally held in November 2021.
The past two decades have been more than a prelude to a Chamber celebration. LOGIN grew its staff, moved into a larger facility, expanded its offerings and studied which businesses would best benefit from its many services.
e learned over the years what our customer archetype is," said Ramsey, who bought out his business partner in July 2019. "We've done a lot of education internally to target and pursue the right customers."
Part of that education includes making sure customers are familiar with the products and services they receive. Sometimes, LOGIN's support complements a company's own IT department. Other times, LOGIN is their tech team. That can lead to budget issues if the company's first move is to call their vendor.
"We had a customer who required a significant amount of support," Ramsey said. "They loved our responsiveness and we helped educate them to become a better consumer."
Ramsey said LOGIN considers clients to be partners. He and his team holds check-in calls with customers throughout the year to discuss their pain points and ensure that LOGIN's services are meeting their needs.
One of LOGIN's early clients is a local OBGYN who has delivered Ramsey's children and stepchildren. Another has been a customer of Ramsey's for more than 25 years, predating his time owning LOGIN. That business uses a larger national provider to connect to LOGIN's network. When that carrier's service began causing the business to experience connectivity issues, LOGIN provided an alternative at no charge, solving the issue and keeping a customer happy.
Ramsey says his company "lives for local relationships."
"We run into clients and partners around town or at the grocery store," he said. "What do you want that interaction to be like?"
LOGIN has seen its positive online reviews climb over the past few years. Its customers have been quick to post positive reviews about LOGIN and are happy to share stories about happy collaborations.
"I've worked with LOGIN for over 15 years and there is a reason for that," said Ed Farias, system administrator for Visit Tucson. "They are simply the best at what they do. As long as I have a choice as to which provider we will use for voice and phone, the choice will be LOGIN."
Challenges crop up daily; Ramsey calls the internet "fluid." Along those lines, a couple of LOGIN's customers have had their servers flooded by water leaks. Nationwide, a Google crash caused massive problems in late 2021.
COVID was the biggest challenge of all, sending people across the country home to work in 2020. The change was sudden, especially for small businesses that were understandably worried about how the pandemic would impact their finances. LOGIN's customers had a partner that was ready to help with the transition and eliminate downtime.
"We made necessary changes to voice infrastructure for people to take their phones home," Ramsey said. "When you take a phone home and hook it to your DSL connection, the voice quality might not be great. We rapidly introduced a soft phone, where you download a piece of software to use on your laptop or cell phone."
With the ability to offer a stable connection to all of its clients, LOGIN's newest venture is managed video surveillance. The service includes hard-wired, high-definition cameras that can capture images that can deter would-be criminals. Better yet, those cameras are backed up to remote servers, offering reliable security.
"What's the first thing someone does when they break into a business?" Ramsey said. "They break the surveillance cameras. All of that that information has to be backed up offsite."
LOGIN's suite of services mirrors that of larger providers. As a company that works every day with its local customers, that hometown connection gives them an advantage. When clients call for support, there's a good chance they will know the person on the other end of the line.
"We have a very tight relationship with customers," said LOGIN Chief Operating Officer Joe Fico. "They find it easier to work with us. Working with the bigger companies is a pain. When something happens, we can set up a ticket for them in the middle of the night. If power goes out, like if a car hits a pole, we keep track of the status. When the power comes back on, everything will be fine."
ADVERTORIAL